UCLA study finds a third of COVID patients experience extended symptoms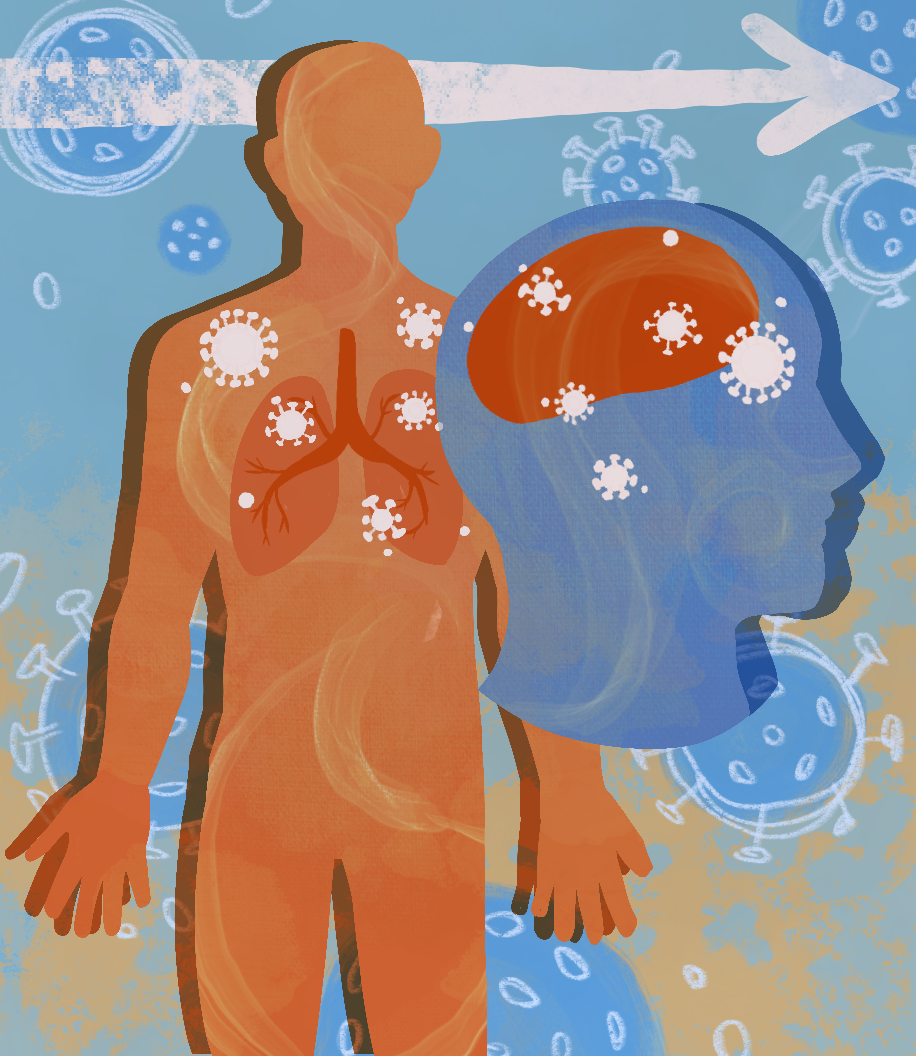 (Katelyn Dang/Illustrations director)
This post was updated May 25 at 11:21 p.m.
UCLA researchers found that around 30% of those infected with COVID-19 develop symptoms that can last for several months.
In a study published April 7, researchers determined the demographic and clinical characteristics of a pool of more than a thousand participants who had been infected with COVID-19 and followed them to assess possible risk factors for post-acute sequelae of COVID-19, commonly known as "long COVID."
Dr. Kristin Schwab, a pulmonologist and critical care physician at UCLA Health, said the symptoms of long COVID-19 can range widely in severity, from being minor inconveniences to leaving previously healthy patients bedbound and unable to work full time. The symptoms can also be physical or mental, with some patients exhibiting chest pain and fatigue while others experience hallucinations or difficulty concentrating, she added.
The study collected data on COVID-19 infected adults 30, 60 and 90 days after their infections by surveying them with questions about their symptoms. Of the 1,038 participants, 309 developed long COVID-19.
The researchers studied factors such as preexisting conditions and symptoms including shortness of breath, loss of smell, muscle weakness and cognitive dysfunction, said Dr. Sun Yoo, an author of the study and medical director of the Extensivist Program and Care Transitions at UCLA Health. Individuals previously hospitalized for COVID-19 and patients with diabetes or a higher body mass index were more likely to develop long COVID-19, while those with Medicaid rather than commercial health insurance or who had a history of organ transplant were less likely to develop long COVID-19, Yoo said.
Factors commonly associated with COVID-19 infection and risk of death such as age, ethnicity and ranking social vulnerability index – a measure of the vulnerability of a community when exposed to stresses on human health – were not associated with the development of long COVID-19, Yoo added.
The findings of the study emphasize the need to clarify how long COVID-19 should be diagnosed, Yoo said.
A lack of clear diagnostic criteria for long COVID-19 has presented an issue for scientists and medical professionals since it makes long COVID-19 more difficult to study, said Lauren Wisk, an assistant professor in the division of general internal medicine and health services research.
"It's hard to identify people that definitely have (long COVID-19) and then to look at what predicts having it, and then also to look at what is the trajectory of your symptoms," Wisk said. "That becomes really important when you think about how we focus on what are the best treatment regimens to alleviate the symptoms that come along with long COVID."
Part of the reason the definition of long COVID-19 is not clear is that different organizations have different guidelines regarding the timeline of the condition because research on the condition is in early stages, said Schwab. Some say that long COVID-19 symptoms need to develop 12 weeks after acute COVID-19 infection while others set the line at four weeks, she said.
The exact cause of long COVID-19 is still unknown, Schwab said. She added some believe the virus persists in the body after acute infection or that long COVID-19 is a hyperimmune response, meaning that symptoms are caused by the patient's overactive immune system.
Public awareness of the issue is also vital, as people should be informed about the warning signs of long COVID-19, said Dr. Teresa Liu, National Research Service Award research fellow at UCLA Health and co-author of the study. She added that while people perceive COVID-19 as mild now, they should be aware that long COVID-19 can be extremely severe, and they could be at risk for developing it.
As COVID-19 mutates, more people will continue to get infected, and researchers must determine risk factors for developing long COVID-19, Liu said. She added that knowing which individuals are at higher risk for developing long COVID-19 allows health care systems to be able to track and tailor support for people who have been diagnosed with COVID-19 to help prevent them from being debilitated by long COVID-19.
The study also mentions additional areas of study relating to other potential characteristics that might contribute to the development of long COVID-19, Yoo said. Along with other researchers, Yoo is currently studying the degree of cognitive dysfunction patients with long COVID-19 have, as well as whether other predisposing conditions make it more likely for someone to develop long COVID-19, she said.
Some of the characteristics under study are preexisting mental conditions such as dementia or anxiety and demographic factors such as gender, Liu said.
"It's pretty apparent that there are large swaths and populations of people who are coming down with these long COVID symptoms that really need additional support from the health care system," Liu said. "And how we offer that to them sort of is dependent on how we're able to figure out who they are, and what kind of treatments are available."