UCLA softball prepares to face Grand Canyon in Los Angeles Regional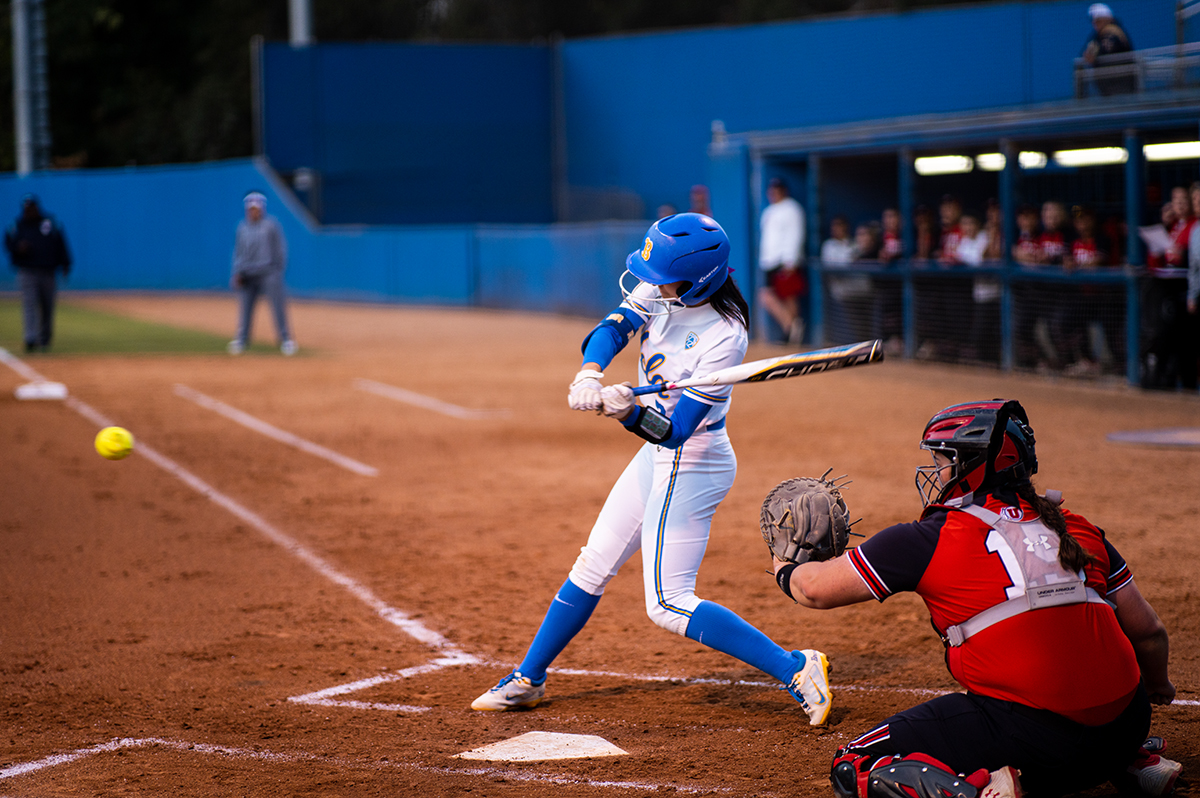 Redshirt senior infielder Briana Perez swings at a pitch in a game against Utah on April 29. Perez is one of eight current UCLA softball players from the team's 2019 championship-winning roster. (Patrick Shao/Daily Bruin)
softball
---
Grand Canyon
Friday, 7 p.m.
Easton Stadium
ESPN2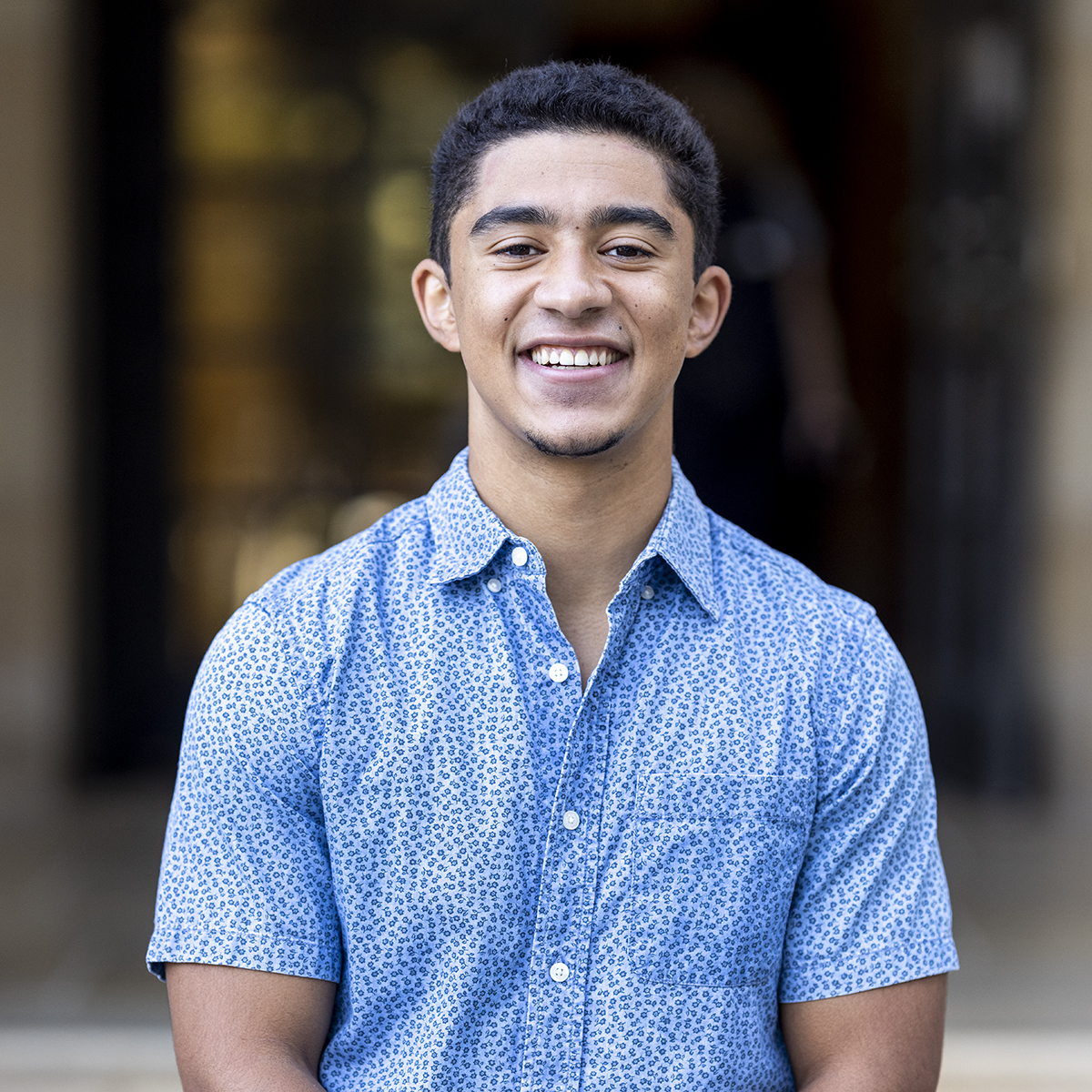 Eight current Bruins were on the roster when their team won its 12th NCAA title in 2019.
Over half of this year's blue and gold squad was present during last year's postseason run that ended in the quarterfinals of the Women's College World Series.
Now in 2022, all of those players have more postseason experience than the entire history of the program they'll be facing to start this year's tournament run.
No. 5 seed UCLA softball (43-8, 19-5 Pac-12) will begin its quest for a 13th championship when it hosts a Grand Canyon program (39-14, 19-5 WAC), making its first NCAA tournament appearance in school history. In contrast, the Bruins are hosting a regional for the seventh-straight postseason in their 37th overall tournament showing.
Redshirt senior infielder Briana Perez, a starter on UCLA's 2019 national championship-winning team, said the pressure of the tournament caused her to "black out" earlier in her career, but added that she knows what to expect heading into her final postseason run.
"Things are gonna get crazy. They're gonna get stressful, but this is when, as a team, we kind of get closer," Perez said. "Freshman and sophomore year, I kind of just blacked out. Honestly, I couldn't really tell you much about it because I was new to it."
In addition to the Pac-12 Defensive Player of the Year in Perez, the Bruins have postseason experience throughout the roster, including within their pitching staff.
Both redshirt junior pitcher/first baseman Megan Faraimo and redshirt senior pitcher Holly Azevedo pitched during the 2019 postseason run, including in the first victory of the WCWS Championship Series against Oklahoma, and the duo split time as the team's No. 2 pitcher after Faraimo sustained an injury midway through last year's tournament.
Faraimo and Azevedo's experience combined with the addition of graduate student pitcher Lauren Shaw, who led the Pac-12 in ERA as the program's first left-handed pitcher since 2017, gives the blue and gold several options in the circle.
The trio had the three lowest opposing batting averages in the Pac-12 this season, as Faraimo led the conference in strikeouts by a margin of 60 and Azevedo ranked second behind Shaw in ERA.
When asked if Faraimo, who won the Pac-12 Pitcher of the Year award this season, will get the start in the circle for the Bruins on Friday, coach Kelly Inouye-Perez said a decision has not yet been made because of the depth of the team's pitching staff.
"If you watched us last weekend and the last couple of weekends of conference you know we're pitching everybody," Inouye-Perez said. "There's no pattern, we're in postseason and it's a new season so it depends on who matches up and everyone's ready to go into a ballgame at any time."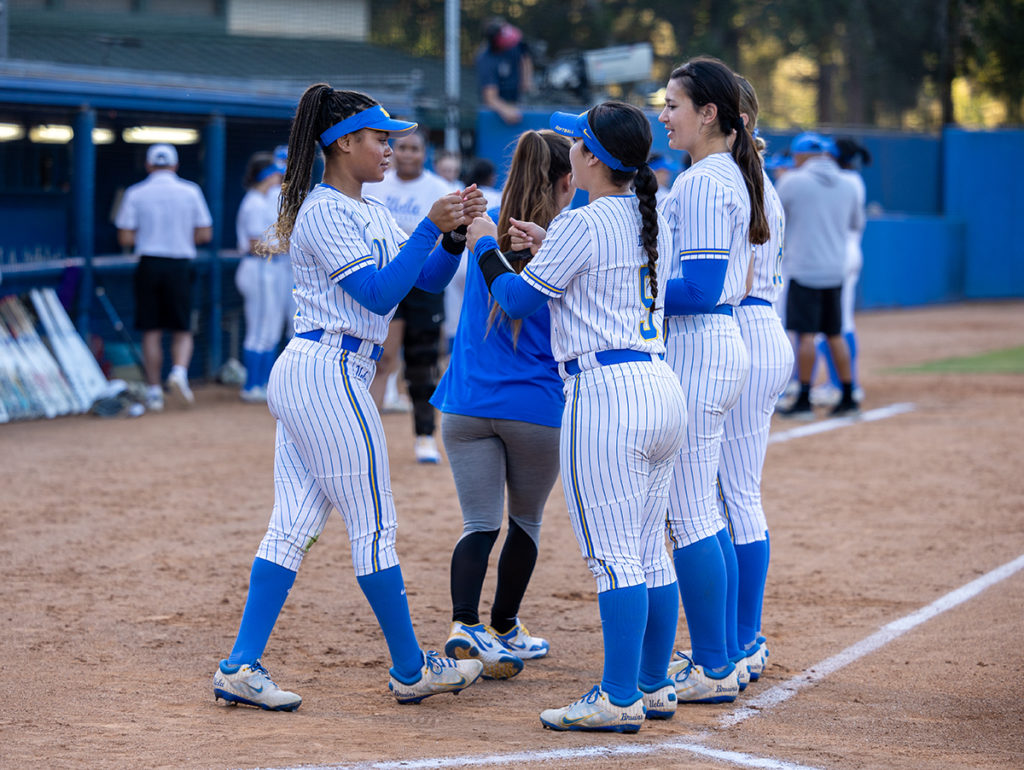 Regardless of who starts in the circle, UCLA's pitching staff and its 1.41 ERA – the second-lowest in the nation – will have the edge against Grand Canyon's pitchers and their 52nd-ranked 2.70 ERA. But, offensively, the Antelopes have a lineup that ranks 10th in the nation with a .330 batting average – five spots higher than the blue and gold's .319 average.
While Grand Canyon lost 6-5 to Oregon State in its only matchup against a Pac-12 opponent this season, the Antelopes have won 12 of their last 16 contests and are coming off a come-from-behind victory in the WAC Tournament that earned them their first NCAA tournament berth.
Inouye-Perez said she's not shocked by Grand Canyon's recent softball success given the investments in athletics that the university has made.
"Grand Canyon in general is up and rising in a lot of different sports so there's obviously a lot of support," Inouye-Perez said. "They're backing their school with some facilities. … I'm not surprised that they're doing a great job of doing what they have to do to be in this postseason."
The Bruins, along with their postseason experience, will play the Antelopes in Game 2 of the Los Angeles Regional on Friday at 7 p.m. at Easton Stadium.
Carlson is currently a staff writer on the football, men's basketball and women's basketball beats. He was previously a reporter on the softball and men's golf beats.
Carlson is currently a staff writer on the football, men's basketball and women's basketball beats. He was previously a reporter on the softball and men's golf beats.