Annual symposium works to make health care, research more gender inclusive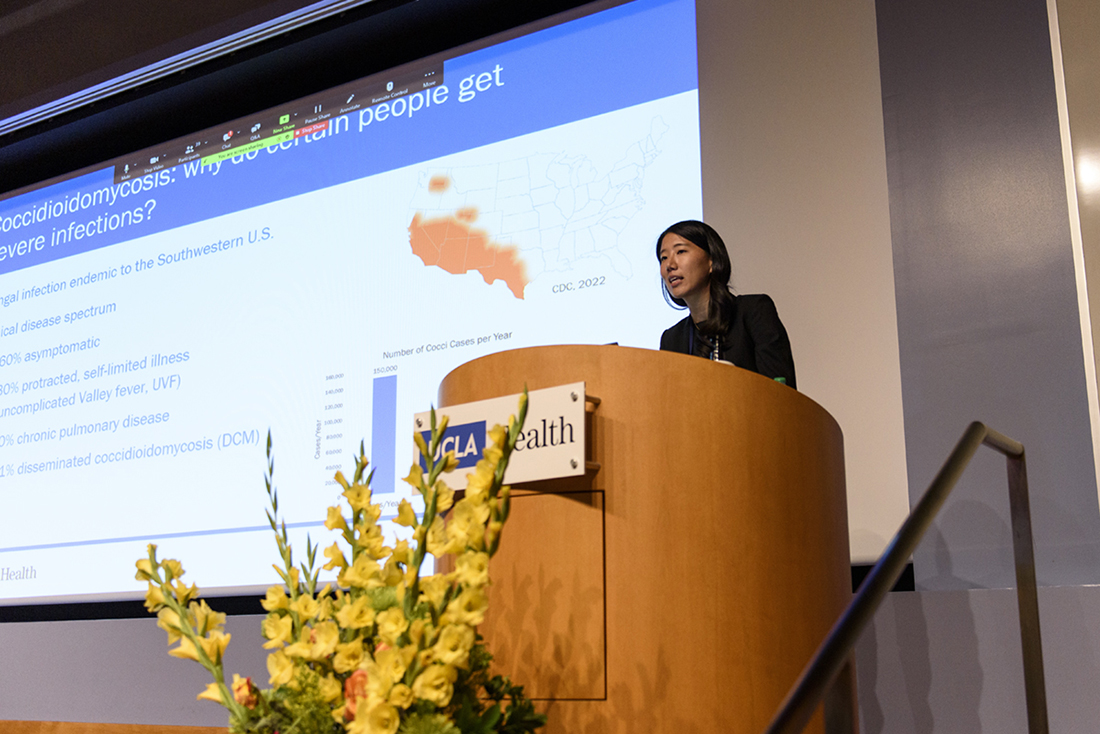 Dr. Terrie Ahn gives a presentation during the Ninth Annual UCLA Children's Discovery and Innovation Institute Symposium. Ahn's presentation was during the portion of the symposium on infection, inflammation and immunity. (Jason Zhu/Daily Bruin staff)
Researchers and clinicians discussed new methods to make health care and research more gender inclusive at the Ninth Annual UCLA Children's Discovery and Innovation Institute Symposium.
Each year, the UCLA Children's Discovery and Innovation Institute chooses a scientific theme for the event that it believes is timely and important, said Dr. Steven Mittelman, division chief of pediatric endocrinology at UCLA Health and one of the organizers of the symposium. The theme for the 2022 symposium, held at Ronald Reagan UCLA Medical Center on Friday, was the science of gender.
Because of his own work with children who are exploring their gender, Mittelman said he hoped this event could help doctors learn how to help these patients, who can be marginalized when they seek health care. He added that many people, especially scientists, do not understand the nuances of issues of sex and gender.
Mittelman said he also wanted to share the insights he has gained in his experience as the parent of a nonbinary child.
"You think you know what you're talking about until it affects you personally and your family personally, and so watching them struggle and learning myself what it all means was a really important, impactful journey for me, and I wanted to share some of that with the institution at large," he said.
The symposium featured both researchers from the sciences and humanities as well as medical professionals.
Sid Jordan, a doctoral student in social welfare and one of the event's organizers, said he wanted to facilitate collaboration and conversation between researchers in fields such as biological sciences and gender studies.
Jordan said he wanted this event to help scientists at UCLA and across the country face the scientific field's history of conducting studies that have harmed transgender and nonbinary communities. Speaking from his experience as a transgender person who does research on transgender health, he added that has seen researchers conduct studies on transgender people without consulting transgender community organizations, which can help cause these harms because of a lack of researchers' lived experience.
Rebecca Jordan-Young, chair of the department of women's, gender and sexuality studies at Barnard College, said that the way research is conducted can misrepresent the real experiences of their respondents. Reliance on questionnaires, which can bias answers, should be reduced, and representation within the clinical and research community should be increased to allow for identification of weaknesses in their research, she said.
Many speakers discussed shortcomings in current medical and research practices when it comes to gender-affirmation, as well as ways to alleviate these issues.
Dr. Daphna Stroumsa, a clinical lecturer in obstetrics and gynecology at the University of Michigan, said transgender people face disparities in treatment because of structural barriers in medical care. According to the United States Trans survey, almost a quarter of respondents indicated they had avoided medical care because they were afraid of discrimination, they said, adding that a similar percentage reported needing to teach their provider about trans care to receive the care they needed.
Stroumsa, an organizer of the event, said the requirement that patients provide a letter from a mental health professional before starting hormone therapy is an example of a barrier that transgender people could face when seeking care. This letter policy can limit access to hormone therapy for those without access to therapists, erode patient-provider trust and uphold the historical conflation of mental illness and transness, they added.
Speakers also discussed the importance of moving past a sex-gender binary.
Deboleena Roy, the senior associate dean at Emory College of Arts and Sciences, said some feminist and queer scholars have argued that biology and culture are not completely separate domains, meaning that sex and gender are not necessarily separate either. These scholars argue that the ideas that underlie the concept of sex are not immutable, as culture and language affect our understanding of biology, and biology affects our understanding and expression of sex and gender, she said.
Sari van Anders, the Canada 150 research chair in social neuroendocrinology, sexuality and gender/sex at Queen's University, said a study she conducted suggested testosterone level changes can be linked to competitive and non-competitive behaviors rather than sex differences. Such results indicate that testosterone levels are related to gender/sex, which combines sex and gender, they said, adding that this gives a new framework for studying hormone levels in the context of both sex and social situations, which include gender and experiences like sexism.
This research is an example of how gender/sex research can expand past the gender-sex binary, she said.
Speakers also spoke about current anti-trans bills in American politics and the effects they have on marginalized trans communities.
Stroumsa said 214 new anti-LGBTQ bills have been filed across the country as of March 15 and that many of these directly target trans youth. These bills worsen disparities in health care through policies such as religious exemptions that allow medical providers to refuse to give procedures like gender affirmation surgery, a lack of which can impact the mental health of transgender people by exacerbating depression, anxiety and suicidality, they said.
Scientific research has been used to advance anti-trans politics, and this is an example of why scientists should be mindful of the far-reaching effects of their research, Jordan said.
The symposium was an example of how scientists and academics could help stand up for and listen to communities being targeted, as the event included people from the communities being affected by these policies, Mittelman said.
Mittelman said he hopes those who attended the event left with a greater understanding of the complexity of gender.
"When we try to categorize people, we do them a disservice, and so we're doing our best to come together and understand people for who they are," Mittelman said. "So I hope that people got a taste of that complexity and rich diversity that exists in all people."