USAC recap – March 8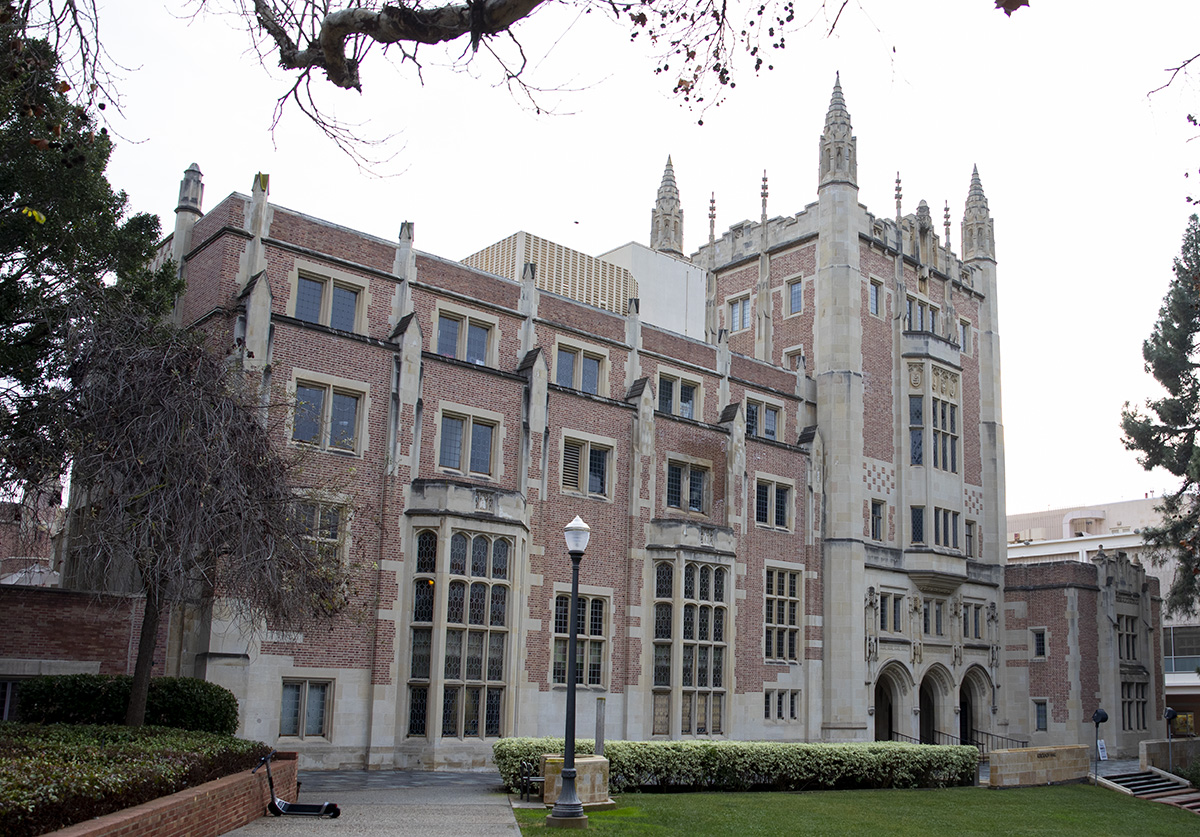 Kerckhoff Hall (pictured) houses the Undergraduate Students Association Council offices. The council discussed mask mandates and Greek life at its March 8 meeting. (Ashley Kenney/Photo editor)
The Undergraduate Students Association Council discussed two resolutions calling on UCLA administration to reinstate the mask mandate and to terminate the existence of Greek life.
The council is the official student government representing the undergraduate student body at UCLA. Council meetings take place remotely every Tuesday at 7 p.m. and are open to all students. Students can find the links for meetings on the internal vice president's Facebook page or watch a livestream on the USAC Live! channel on YouTube.
Public comment:
Radha Patel, the chair of the California Public Interest Research Group at UCLA, said CALPIRG is focusing on its affordable textbooks campaign, which aims to make course textbooks either cheaper or completely free. Patel added that CALPIRG will continue working to ban single-use plastics and provide cleaner transportation in Los Angeles.
Special presentations:
David Wiedeman, UCLA Transportation's interim director for commuter and parking services, said UCLA is working to increase mobility around campus. The university aims to do this by providing approximately 250 Lyft e-bikes for rental use and launching Metro Bike Share and Metro Micro on campus. Wiedeman added that UCLA is considering raising campus parking fees by about 4.6%.
Agenda:
The council approved an allocation of $2,500 from the Supplemental Fund for Service to one Community Service Commission organization and one non-Community Service Commission organization.

The council allocated $163,435.11 from the ASUCLA Board of Directors Programming Fund to 43 non-USAC entities and one USAC entity.

The council allocated $17,283.97 from the Contingency Programming Fund to 21 non-USAC entities.

The council appointed Juan Flores, a third-year public affairs student, to the Student Risk Education Committee.

The council appointed Jeffry Umana, a second-year history and political science student, and Bea Sardillo, a second-year public affairs student, to the Student Activities Center Board of Governors.

The council appointed Phoebe Chiu, a third-year economics and psychology student, to the John Wooden Center Board of Governors.

The council approved a guideline change for the Student Wellness Commission to remove food from the list of items that it cannot fund.

The council discussed passing a resolution about reinstating the mask mandate after it was lifted, particularly because of the disproportionate effect of COVID-19 on disabled students.

After an offensive banner was displayed in front of Sigma Alpha Epsilon following the UCLA-USC basketball game, the council discussed writing a letter and passing a resolution to abolish Greek life because of concerns about sexual violence and misogyny within fraternities.
Officer reports:
President Breeze Velazquez said that the UCLA administration discussed the removal of the mask mandate and weekly COVID-19 test requirements.

External Vice President Sarah Wang said that her office has been working on events to promote civic engagement.

Academic Affairs Commissioner Angelina Quint said the Academic Senate and university administration are continuing to deny student leaders' calls for remote learning access. Quint added that the senate's Undergraduate Council discussed the possibility of offering online-only undergraduate degree programs in the future for accessibility purposes. Quint also said that they are working on the open syllabi initiative, which would allow students to view class syllabi prior to enrollment.
Wang is the 2022-2023 Opinion editor. She was previously an assistant Opinion editor.
Wang is the 2022-2023 Opinion editor. She was previously an assistant Opinion editor.