Emma Spitz to wrap up UCLA golf career at NCAA championships, go professional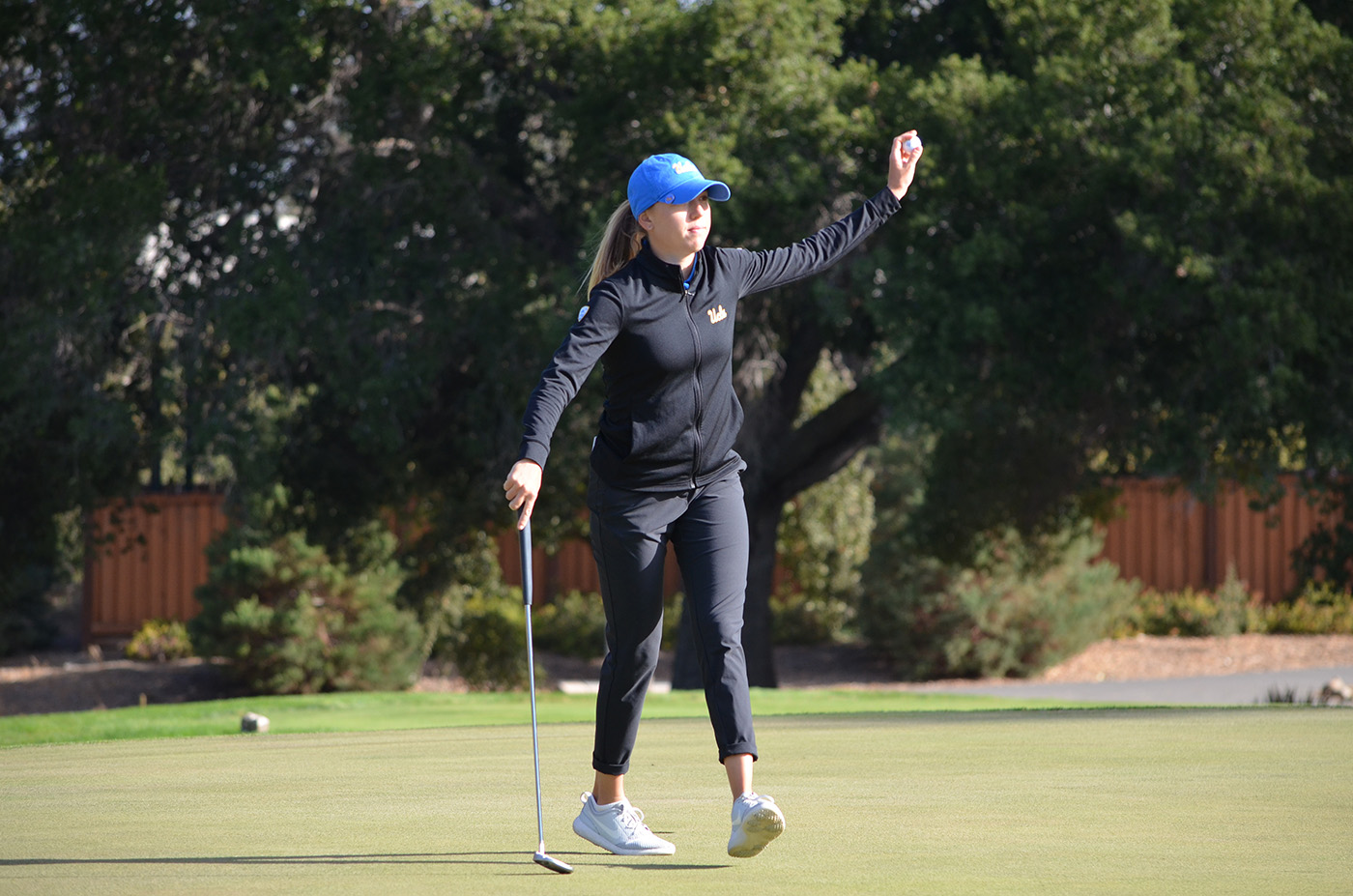 Junior Emma Spitz walks off the green after completing a hole. Spitz will play in her final tournament with UCLA women's golf when the Bruins take on the NCAA championships beginning Friday. (Courtesy of Alicia Um Holmes/UCLA Athletics)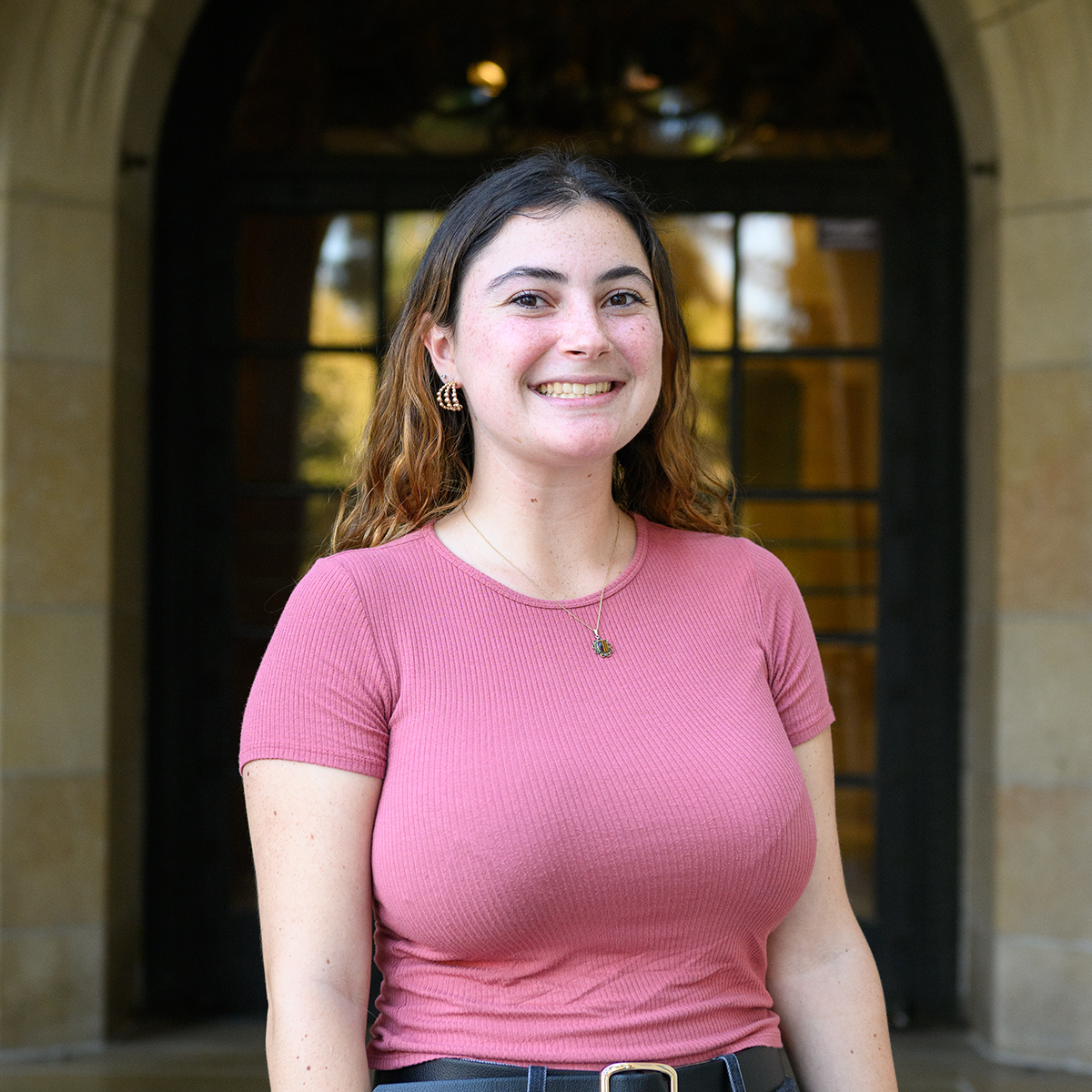 Nineteen top-10 finishes.
Forty rounds under par.
One more shot at a national title.
After three seasons with UCLA women's golf, Emma Spitz will head to the professional ranks. But the junior has one more tournament left in her collegiate career: the 2022 NCAA championships.
Spitz finished in second place individually at last year's NCAA championships in Scottsdale, Arizona, and coach Carrie Forsyth said the two-time First Team All-American has the same potential for success this year.
"Her game looks really solid, and there's no reason going in to expect that she wouldn't do just as well and perhaps even win this tournament this year," Forsyth said.
In her time donning the blue and gold, Spitz has totaled 15 strokes under par across 78 rounds, but it's not just statistics on the course that have caught people's eyes, according to Forsyth.
"When you play with Emma, you're always impressed by not only how good she is as a player but also just who she is as a person and as a competitor," Forsyth said. "Everybody envies UCLA and having Emma Spitz on our team. I get more compliments about her as a person and as a player than just about any kid I've ever coached."
On Monday, Spitz was announced as a finalist for the ANNIKA Award, an accolade Forsyth said recognizes the best player of the year in terms of winning record in addition to character and sportsmanship. The winner is voted on by players, coaches and golf media, and 2022 marks the third straight year Spitz has been named a finalist for the award.
Spitz said even though she thinks her chances of winning the award this year are slim, she's honored to be in the finalist group again and see her dedication pay off.
"It's really special," Spitz said. "I think it's just a nice recognition to the hard work that we put in, and it's nice to see that other people appreciate it too."
UCLA has a history with the ANNIKA Award, with two Bruins having won the accolade since its conception in 2014. Alison Lee, who played for UCLA in the 2013-2014 season, was awarded the inaugural ANNIKA Award as a freshman before turning professional.
Forsyth noted the similarities between Spitz and previous winners Lee and Bronte Law – who won the award in 2016 while playing for the Bruins – in terms of work ethic and commitment to the game.
"For all three of them, you know golf was not meant to be just a college sport," Forsyth said. "It's a long-term life path."
For Spitz, the professional ranks were always the goal.
In fact, she said she was initially hesitant about going to college because she considered going professional straight out of high school. But from her very first day in Westwood, the Austrian knew she had made the right decision.
"I thought that this would be a good place to grow as a person but also as a player, and I think I've really done that over the past three years," Spitz said. "I'm very grateful."
Spitz had the opportunity to develop as a golfer at UCLA alongside several of her former European teammates, including junior Emilie Paltrinieri.
Paltrinieri – who represented Europe with Spitz in 2018 at the Junior Ryder Cup – said her teammate's nomination for the ANNIKA Award is fitting.
"Emma's a great player," Paltrinieri said. "She's been playing very well all season and past years. I really think she deserves it."
Spitz said knowing many of her international teammates before coming to the United States made the transition to collegiate golf more comfortable, and UCLA was ultimately the perfect place for her to prepare a professional golf career.
However, her time at UCLA wasn't perfect, with the COVID-19 pandemic affecting much of her three-year collegiate career. Despite the setbacks brought on by the pandemic, Spitz said UCLA lived up to all of her expectations.
"COVID was definitely not the best way that my college career could have gone, I think, but the rest of the time that I was here was the best time ever," Spitz said. "It was amazing."
Spitz said she was conflicted about whether to stay on for a senior season with the Bruins, but the junior decided it was time to turn her attention to the professional ranks, taking with her all that UCLA has taught her.
But before she gets to the next level, Spitz still has one more stop.
UCLA won't be the top-ranked team in Scottsdale, but in the eyes of Spitz, NCAA title No. 120 for the Bruins isn't out of the question.
"Who knows what happens next week?" Spitz said. "We're probably not one of the favorites, but you never know what happens."
Friedman is the 2022-2023 Copy chief and a Sports contributor on the women's soccer beat. She was previously a Slot editor, Copy intern and Sports contributor on the women's golf beat.
Friedman is the 2022-2023 Copy chief and a Sports contributor on the women's soccer beat. She was previously a Slot editor, Copy intern and Sports contributor on the women's golf beat.