Newly admitted transfer students meet, traverse campus at mingling event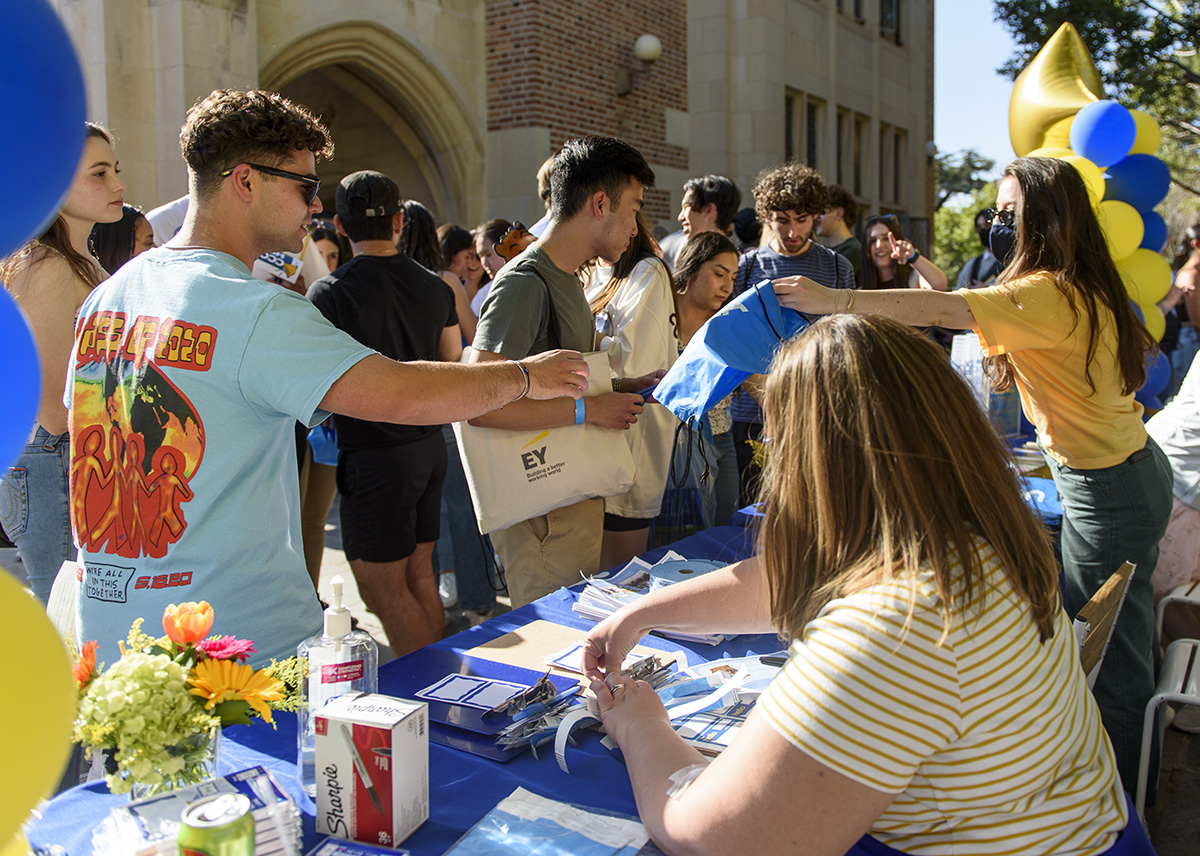 Prospective transfer students receive UCLA merchandise at the entrance booth for the New Admit Transfer Mingle. Hundreds of transfer students and their families gathered at Kerckhoff patio Friday. (Sandra Ocampo/Daily Bruin)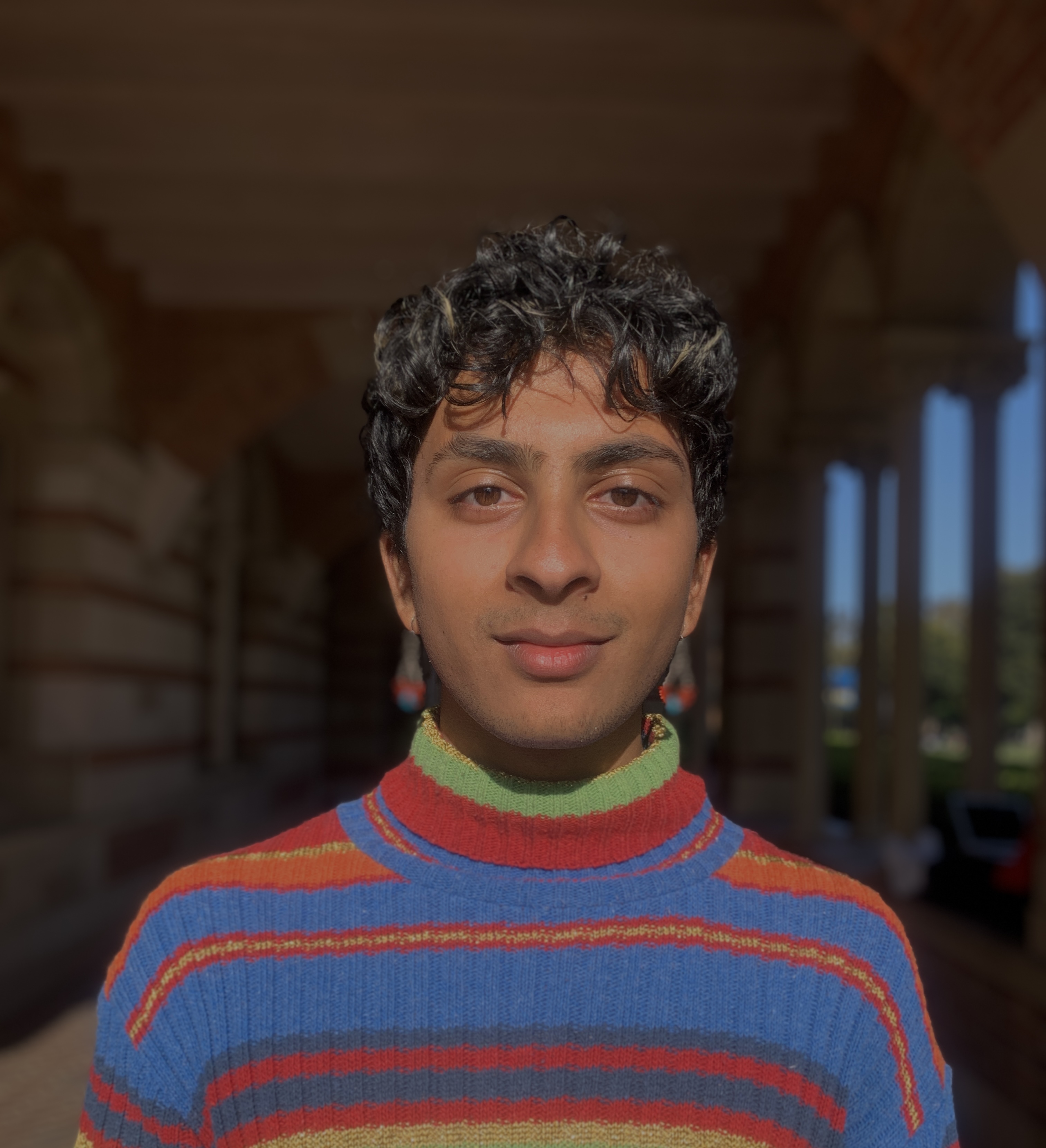 This post was updated May 21 at 10:36 p.m.
Hundreds of prospective transfer students and their families gathered at Kerckhoff patio to meet possible future peers and administrators Friday.
The New Admit Transfer Mingle – which took place from 4 p.m. to 6 p.m. – welcomed new transfer students while celebrating UCLA's strong transfer culture, said Carina Salazar, the director of the Transfer Student Center. In total, 850 newly admitted students and their families responded to the invite, Salazar added.
Salazar said the event was a collaboration between the Academic Advancement Program, the Center for Community College Partnerships, Bruin Bound and the office of Undergraduate Admissions.
At 4:30 p.m., Salazar delivered her opening remarks, followed by speeches from several other school administrators highlighting their appreciation for transfer students and the resources available to them.
"It's a beautiful thing to see the diversity within the transfer student community," Salazar said in her remarks. "And it's even more amazing because regardless of where you come from, whether you're the first one in your family to go to college, or whether you're part of a Bruin family, … you are all here now."
Centering transfer students' experience at UCLA is not just one organization's job, she added. She said it was important for event collaborators to express their appreciation of transfer students' contributions to UCLA.
The event had transfer-specific organizations present – including the Engineering Transfer Center – as well as other undergraduate student-serving organizations such as Bruin Underground Scholars and the Community Programs Office, Salazar said.
Roan Pearl, a prospective film transfer student, said she appreciated the resources available at the mingle, adding that it made her feel more secure about a future at UCLA.
"It's just been my dream for a very long time to study film here, which I never thought would happen because the transferring process is insane," Pearl said. "But it's an opportunity too good to pass up."
Having previously attended a predominantly white institution, there were many students at UCLA he felt he could relate to, said Ryan Cabote, an incoming third-year psychology transfer student. He said he came to the mingle to connect with other transfer students, adding that UCLA made him feel included in the UCLA community as a first-generation, LGBTQ+ student of color. Cabote added that he chose UCLA because of opportunities for psychology and nursing in the Los Angeles area.
Makenzie White, a prospective mathematics transfer student, said she had never visited UCLA before the transfer mingle but came to preview what life would be like on campus before deciding to enroll.
Students who do not attend events like these – which allow students to connect and engage with the campus – do not get the chance to become familiar with UCLA's environment, added Jackie White, Makenzie's mother.
"People want to know what they're going to get when they come to a school and what that's going to look and feel like," she said.
Cabote said he was surprised by the number of students who showed up to the event, adding that he expected a lower turnout. He also said he was able to meet someone during the event who shared experiences similar to his own with college transfer admissions.
"It was just interesting but also validating to know that there are other people who are going through the same thing as I am," Cabote said.
Contributing reports from Alexandra Kaiser, Daily Bruin reporter.
Kodialam is a National and Higher Education contributor. They are a first-year student pursuing a double major in communications and geography.
Kodialam is a National and Higher Education contributor. They are a first-year student pursuing a double major in communications and geography.