Ginsburg Symposium hosts discussions about precision medicine technologies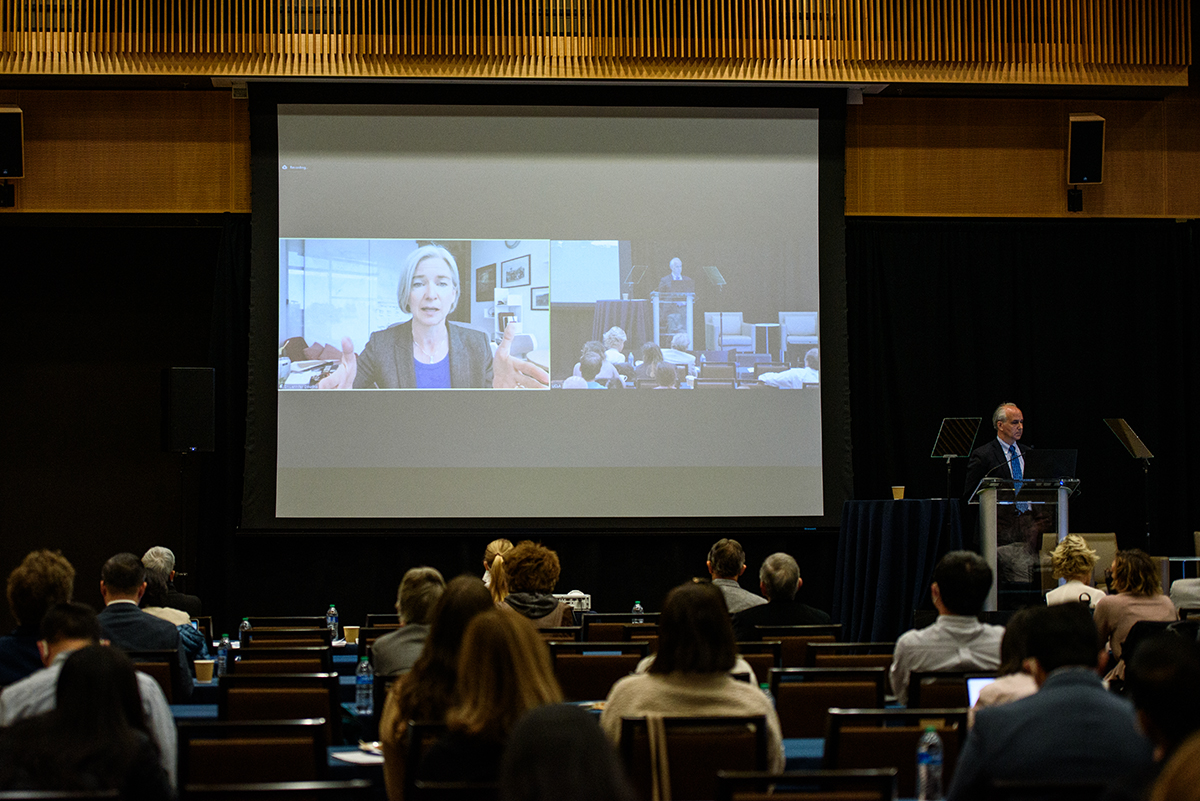 Jennifer Doudna, a distinguished professor of biomedical science at UC Berkeley, answers questions during a Q&A session following her presentation at the Ginsburg Symposium on Wednesday. The symposium took place at Carnesale Commons and explored the topic of precision medicine. (Victoria Li/Daily Bruin senior staff)
Researchers discussed progress in treatments for genetic diseases and the ethics surrounding these new technologies at a UCLA symposium Wednesday.
The first annual Ginsburg Symposium in Precision Health, held at Carnesale Commons from ​​8 a.m. to 6:30 p.m., explored the topic of precision medicine, a form of disease prevention and treatment that takes into account each patient's unique circumstances, including their genes and environment. According to McKinsey & Company, because of the rapid growth of data collection recently, it is becoming increasingly viable for health care systems and biotechnology companies to deliver personalized treatment.
Precision medicine has been advancing quickly, said keynote speaker David Liu, director of the Merkin Institute of Transformative Technologies in Healthcare at the Broad Institute, a center that studies genomic medicine. He added that one company was given clearance the day before the symposium to begin human testing for a type of gene therapy to treat high cholesterol that runs in families.
"The fact that it took only 5 1/2 years to go from our first base editing publication to the first clearance is really a testament to the work of more than 3,000 labs around the world," he said.
Speakers at the event included UCLA faculty, graduate students and postdoctoral fellows, and two keynote speakers, including Liu and 2020 Nobel Prize winner Jennifer Doudna, a distinguished professor of biomedical science at UC Berkeley best known for her work on CRISPR, a technology used for gene editing.
According to U Magazine, the symposium was a part of a $29 million initiative to establish the Dr. Allen and Charlotte Ginsburg Center for Precision Genomic Medicine at UCLA, with the funding coming from Dr. Allen Ginsburg and his wife Charlotte Ginsburg.
Allen Ginsburg, a retired ophthalmologist and real estate developer as well as a donor for the symposium, said he hopes the donation will help make an impact on people's lives.
The event was created so prominent figures in genomics could meet to advance research and improve care for those with genetic conditions, Charlotte Ginsburg said.
Researchers and speakers presented on a variety of topics within the field of precision medicine.
Dr. Donald Kohn, a distinguished professor of microbiology, immunology and molecular genetics, discussed how gene editing in human blood stem cells can create treatments for genetic diseases.
Associate professor of microbiology, immunology and molecular genetics Yvonne Chen talked about her lab's work on engineering immune cells for cancer therapy. Adoptive cell therapy has the potential to treat cancer by giving patients living white blood cells, Chen said.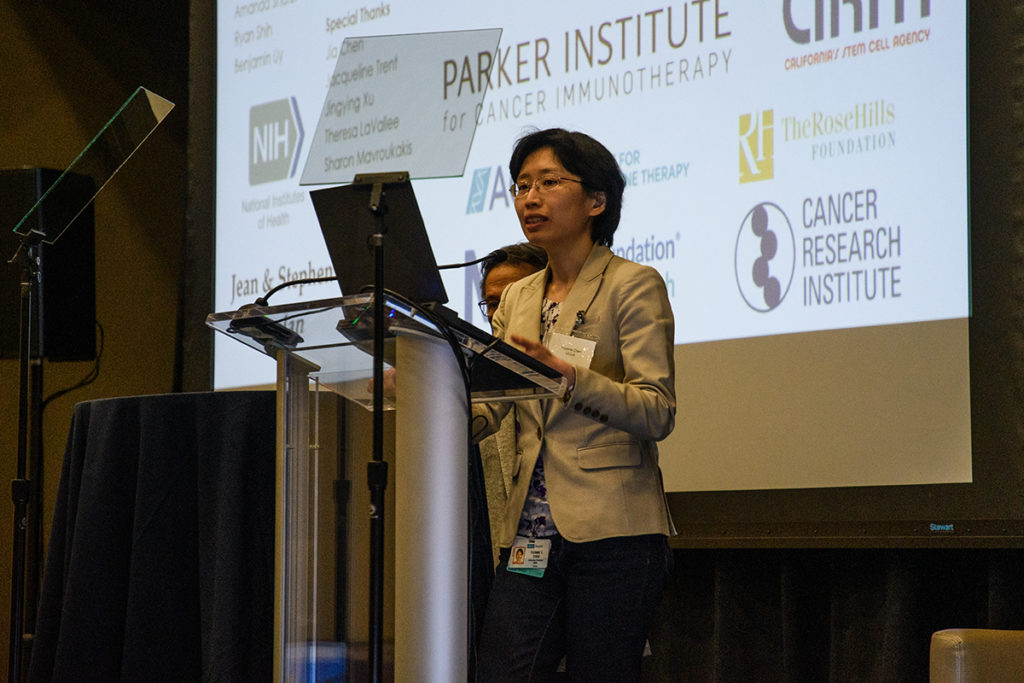 Doudna spoke about the potential uses of CRISPR in health care and medicine. Doudna is currently working on an ongoing clinical trial being conducted by UCLA, UC Berkeley and UC San Francisco that involves using CRISPR gene correction therapy to treat sickle cell disease.
She also partnered with Kohn and a nonprofit organization to run trials for the treatment to address the high costs associated with the use of CRISPR, Doudna added.
"The nice thing about working in a nonprofit setting is that we're not beholden to investors," she said. "And we can think about this from the standpoint of how we actually reduce the cost of this technology – to make it more available."
Many speakers talked about the need to transform existing regulatory structures, such as the Food and Drug Administration's therapy approval process, to keep up with the development of new treatments.
Alta Charo, a consultant and professor emerita of law and bioethics at the University of Wisconsin-Madison, said ethical guidelines have not adapted to modern issues. For example, while traditional guidelines stipulate that the rearing father of a fetus must give consent for any experimentation, there is little guidance regarding situations when the co-parent is female, she said.
Dr. Emil Kakkis, the founder of Ultragenyx, a biopharmaceutical company that works with rare genetic diseases, said the standards used to evaluate drugs for the treatment of rare genetic conditions need to be changed. The FDA has many restrictions and narrow criteria when approving new treatments that make it difficult to account for the variability of certain genetic diseases, he said.
The speakers also talked about issues of global and national equity, particularly regarding access to new therapies.
Globally, many people in different countries are not able to access certain new treatments because they cannot afford them, even if the prevalence of the disease is high, Charo said. This is because of the fact that the pharmaceutical industry allows companies to charge high prices for medications for a certain period of time in order to encourage competition and innovation, she said.
In the United States, people in different states may not have the same access to treatments for rare diseases because of variations in insurance coverage policies, said Diane Berry, the senior vice president of global health policy, government and patient affairs at Sarepta Therapeutics, a biotechnology company. Some employers have denied coverage of orphan drugs or treatments for rare conditions, she added.
Allen Ginsburg said he was excited for future work from UCLA in the field of precision medicine.
"I think it's going to be a groundbreaking extension of research and to benefit humanity," he said.
Contributing reports from Aditi Kumar and Anna Dai-Liu, Daily Bruin contributors.