Who Are We: Navigating life alongside sibling with a learning disability helped me grow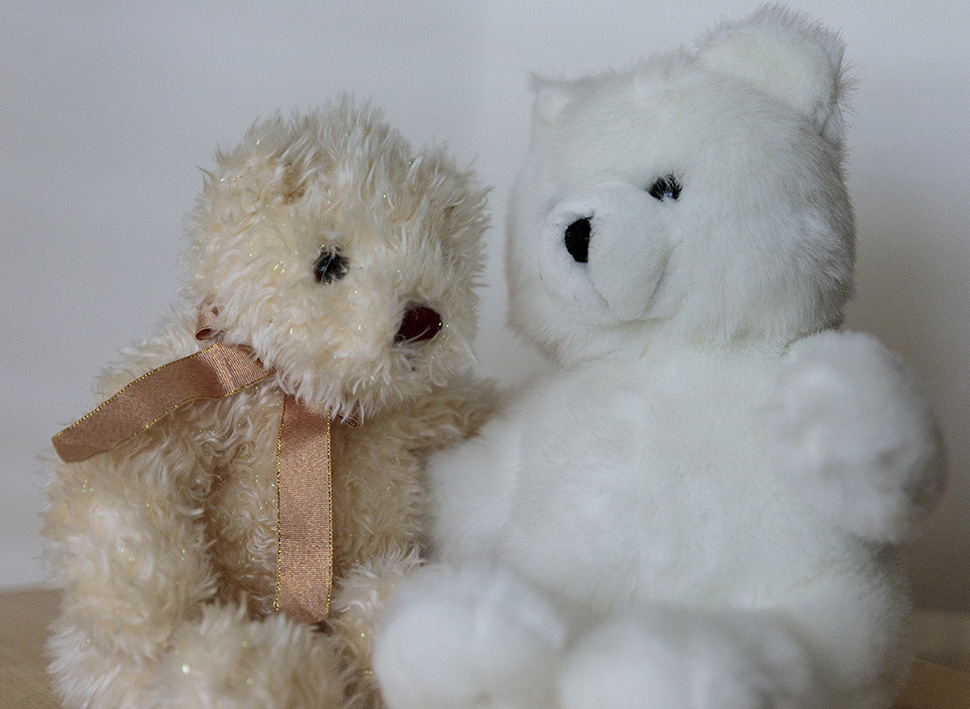 Two teddy bears embrace each other. Despite growing up wishing his relationship with his sister could be different, columnist Diego Rivera has learned to appreciate his bond with his sibling, who has a learning disability. (Ashley Kenney/Photo editor)
"Diego, you're not an only child? You literally never talk about having siblings!"
And so it begins.
To make things clear, I do have a sibling – a sister who's three years older than me. She's a part of my life – however, I usually can't sneak her into regular conversation the way other people talk about their own siblings. We don't have drama, she doesn't drive me places, and I usually don't call her for life updates like other pairs of siblings may do.
The difference between my sibling and many other people's siblings is that mine has a learning disability. She can't make important decisions by herself, she shares interests with young children, and she needed a lot of guidance growing up.
Until I left home for college, my parents attached us at the hip. In hindsight, I understand why. They were busy at work and were rightfully wary of strangers. She'd be safer with me, and I could look out for her.
But throughout my childhood, I often wished things were different. In middle and high school, I couldn't do afterschool extracurriculars because I had to accompany my sister on bus rides home. Once, when my parents let me attend a summer camp, I thought, "Finally, I can do something I enjoy by myself," until they had my sister join me.
"My favorite thing to do is coloring books," she said in response to a camp icebreaker asking about our hobbies.
I felt my entire body cringe. "No normal teenager would say that," I thought to myself. I felt so embarrassed to be associated with her at that moment, and I immediately scanned the room for judgmental stares.
I wish I had been kinder to her.
Maybe I shouldn't blame myself so harshly for my feelings and actions as a child, but there was no good reason for me to be ashamed about my sister sharing a harmless activity she enjoyed. I could've been so much more supportive.
Over time, I came to accept our lives together. I realized she wasn't going to grow up with a "normal" childhood, and my relationship with her was unlike the relationships my peers had with their siblings. Through interacting with my friends, I learned it was quite common for siblings to become annoyed with each other on a regular basis, but those kinds of typical sibling dynamics never showed up in the relationship I have with my sister.
It took a while, but I eventually came to fully appreciate our unorthodox relationship.
I'm so happy I did.
The moments I experienced growing up with my sister define so much of who I am today. My relationship with her has strongly influenced my belief system, and I wouldn't trade it for anything. Because of her, I try my best to support the different women and disabled people in my life by actively learning about the struggles they face.
Still, I avoid bringing her up in casual conversation. It's not because of any feelings of shame or embarrassment, but I know that many people have no idea how to respond when I mention she is older than I am, never went to college, and has a disability.
Now, it is other people's discomfort, rather than my own, that keeps me from talking about the relationship I have with her.
Perhaps people are afraid of saying something offensive to folks with disabilities, but they should also understand there's nothing wrong with her. While she performs a few chores around the house, she can't drive around to run errands or do much breadwinning, but that's completely fine. Her presence alone provides so much for us emotionally – especially for me.
After burning out socially at school or tanking a physics exam, I found comfort in knowing that my sister was always there. We didn't need to do much for each other to enjoy each other's company. Being in the same space was enough for both of us to feel happy.
I'll admit that sometimes I felt like I was missing out on a typical sibling dynamic. I couldn't ask her for life advice, and it often felt like I was raising her while simultaneously navigating adolescence myself.
But if anything were different, I wouldn't be the person I am today.
Her persistent love for the "Frozen" soundtrack is the reason I'm unafraid to express my interests that may come off as childish. She's the reason why some of my closest friends are other members of the disabled community and why I try keeping up to date on the issues they face. And while some of the most-streamed songs on my Spotify are from her using my account, I'd be lying if I said I don't play them of my own accord.
I guess I can't blame the people who are shocked to find out I have a sibling. I might not give off "youngest child" vibes, but it makes sense since the interactions I have with my older sister aren't what people think of as "normal."
But if "normal" younger brothers don't get to sing along to Taylor Swift with their sisters while driving them home from a long day of high school, then I don't want to be normal.
I don't want to change a thing.