Who Are We: Burnout serves as a starting point for self-reflection, healthier habits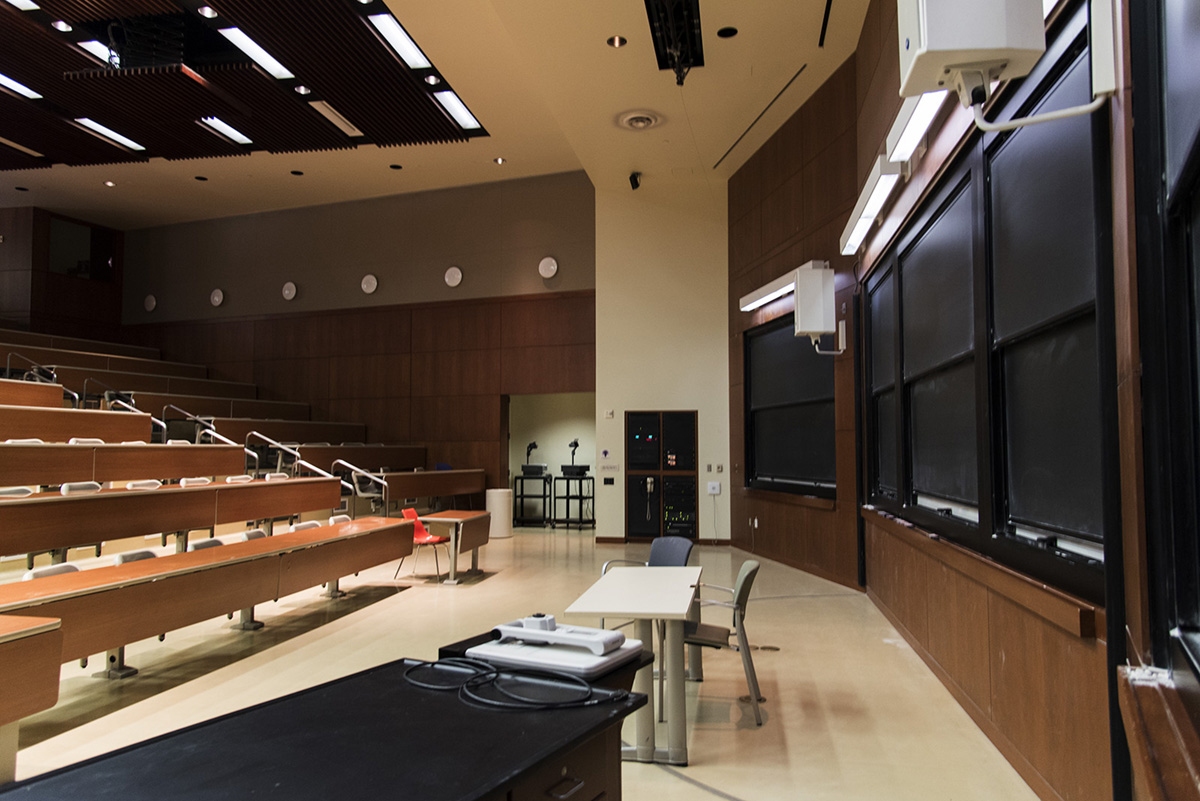 A lecture hall sits empty. Burnout is difficult to deal with, but it can present an opportunity to reflect on your lifestyle and what you find important. (Daily Bruin file photo)
Imagine feeling a weight on your shoulders that bears down deeper and deeper until you can't do even the simplest tasks.
That's what burnout feels like, and for many of us, we don't have to imagine it.
For almost anybody in school or the workforce, burnout can strike at any time. Burnout is defined as a perpetual state of excessive stress that greatly reduces motivation and productivity.
It's no secret that stress is commonplace, especially among college students. In 2020, 87% of college students said college was a considerable source of stress, according to a survey conducted by the American Psychological Association.
From my experiences, the worst part of wading through burnout is its cyclical nature. As stress accumulates, tasks become increasingly difficult to complete. This causes work to pile up and makes simple tasks feel impossible.
Although it is common, we should acknowledge there is no one solution to high stress and burnout. Instead, we should recognize that it can promote self-reflection and motivate personal growth.
Stress and burnout are difficult subjects to approach because they are often associated with negativity and pessimism – and rightfully so. Aside from a prolonged lack of motivation, burnout can take a negative toll on mental health and lead to depression.
However, it is important to avoid confounding burnout with stress or periods of high work volume.
Daniel Eisenberg, a professor at UCLA's Fielding School of Public Health, said college is the place for people to challenge themselves and gain confidence as a result of success.
But educational institutions are far from perfect in their consideration of the well-being and mental health of students.
Robert Bilder, a professor of psychiatry and biobehavioral sciences, said demanding curricula hinder active learning and promote competition among students, who end up equating worth to measures such as grades and GPA.
Bilder, who is also co-leader of MindWell, a group that aims to improve psychological well-being and develop resilience within the UCLA community through programming, added that university curriculum and teaching methods do not effectively engage students in an active learning process.
"There's not a single institution I'm aware of that actually focuses on learning the way that we now understand the science of learning works," Bilder said.
Unfortunately, for many of us, the stress does not end when we transition from education to the workforce since workplaces appear to have similar issues with burnout.
Observing the responsibilities of working professionals, especially parents, makes me believe life doesn't get any easier the older you get. Rather, I think we just grow stronger with age and learn to face challenges head-on.
I recognize that extensive burnout within a workspace should be addressed at the organizational level. If a specific workplace houses many unhealthily exhausted individuals, then the employer must address the problem.
With this in mind, maybe burnout can serve as an opportunity for reflection. Instead of seeing burnout as a negative, perhaps it can raise conversations on how to better handle stress.
Of course, it wouldn't make sense to suggest that people overwork themselves to the point that their mental health deteriorates. There may be other ways to improve our well-being such as talking about mental health, which can destigmatize it and encourage people to seek help.
In fact, Eisenberg said mental health is far less stigmatized since younger generations are more comfortable discussing the topic. However, many students are not proactive enough in identifying and resolving their own struggles with mental health, he added.
Having said that, college stress could have a silver lining. Burnout may lead to a variety of changes. Some people may realize they are engaging in too many responsibilities and take the positive step of reducing their workload.
On the contrary, people can maintain their workloads but change their habits to meet the demands of their lives.
"Up to a point, it seems like … having more of a growth mindset with respect to stress can actually lead to greater resilience and developmental growth," Eisenberg said.
Bilder said that eustress, which is defined as beneficial stress, is essential to personal development, resilience-building and the formulation of new habits.
As one of many students who feel incessantly tired, I realize that I often don't want to work less.
Staying busy has been shown to have psychological benefits. According to some scientists, developing healthy habits alongside a full schedule leaves less room for excessive worrying and help people stay positive.
Academic and career-related activities are not the only components of a busy schedule. One can and should also expect to stay busy with activities that relieve stress and improve mental well-being, Bilder said.
Remembering the impermanence of college helps me realize the changes I need to make. The most important habit I've picked up is making the most out of relatively brief breaks between classes.
Bilder said stress can help us reevaluate what is most important to us and what we can accept and let go of, whether it be academic or social. I imagine burnout can do the same.
Again, employers and educational institutions have an obligation to support the well-being of their employees and students, but it is important to think of what we can do for ourselves.
Following burnout, I think a good balance can be achieved between self-reflection and self-care. Mental and physical breaks, whether brief or extended, are integral to maintaining productivity and sanity.
This process of personal growth can only begin with the timely identification of harmful stress.
Burnout does not have to be a sign to stop pushing one's limits. Rather, burnout can give us the opportunity to rethink our perspectives and improve habits.
Without challenges, we wouldn't be able to develop the resilience that prepares us for what lies ahead.