Who Are We: Astrology can serve as tool for self-reflection, personal growth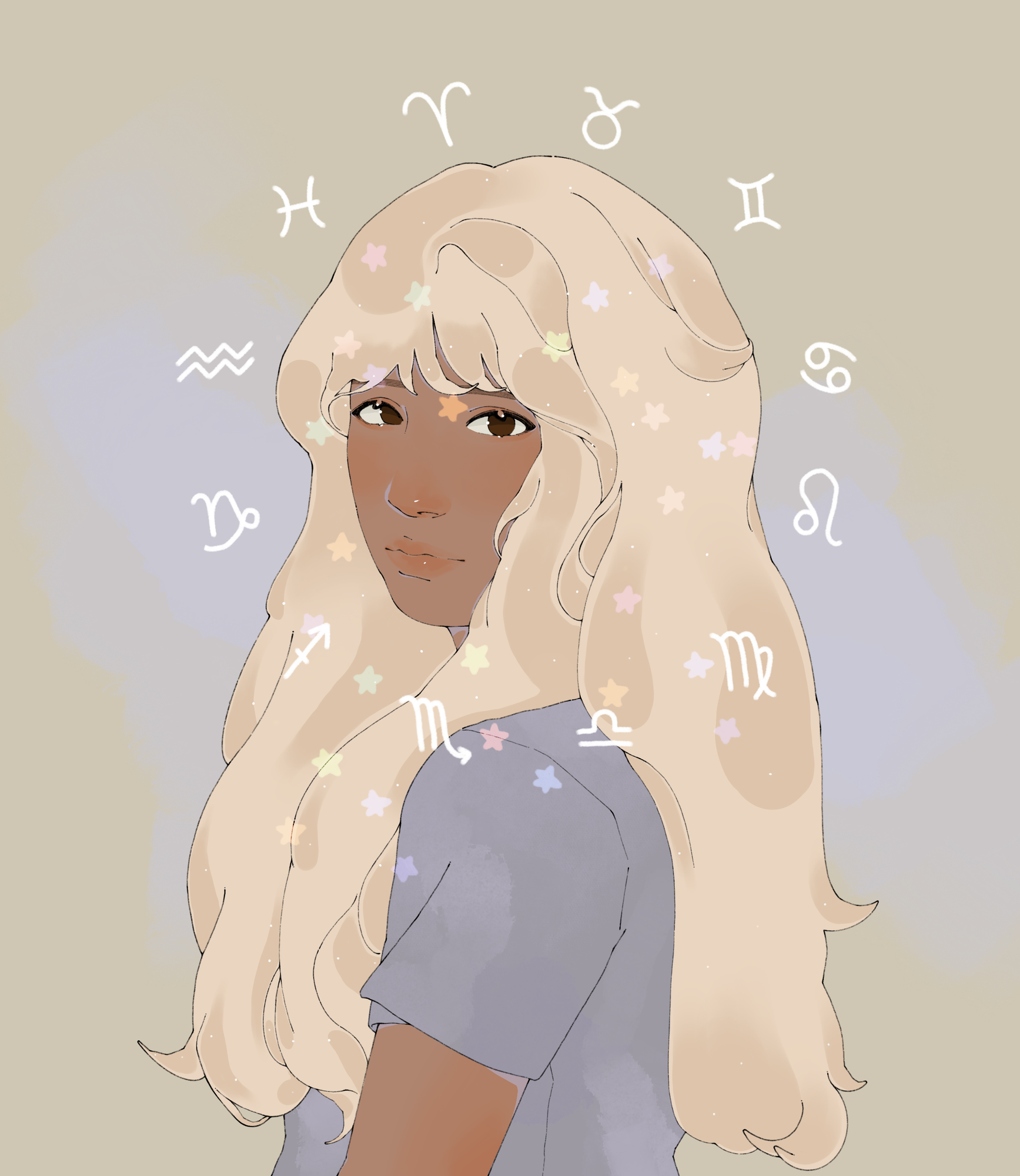 (Ayumi Bergan/Daily Bruin)
"What is your zodiac sign?"
This question has found its way into more of our daily conversations as astrology, a method of predicting events based on celestial bodies such as constellations or planets, has surged in popularity in recent years.
A growing number of people, especially millennials and members of Generation Z, now turn to astrology to evaluate relationships, friendship dynamics and even major life choices.
Although I cannot remember the beginnings of my personal fascination with astrology, I do remember very well that it was my friends who brought me into it. I had friends who would explain the personality traits of each sign to me. Some would send me my daily horoscopes and others would share Instagram astrology memes and, later, astrology TikToks. Although I am not a die-hard believer, astrology has had a deep impact on me. It provides a sense of control when most of my life seems so unpredictable and when I struggle to find my own identity.
However – whether someone is only casually interested, understands the intricacies of Pluto being in the 11th house, or falls somewhere in between – the astrology community welcomes and brings something for everyone.
In the age of social media, it is easier than ever to connect with others who share an interest in astrology.
Ross Clark, the CEO and founder of Sanctuary, a company that provides astrological services and products, said the most unique aspect of Sanctuary's app is the astrology reading experience. The app is designed to help people within the astrology community connect with each other, and individuals have the ability to chat with Sanctuary astrologers who can assist in examining the issues someone is facing or the questions they have.
In addition to mobile apps, those interested in astrology can also learn more through reading. Haley Houseman, creative director at Sanctuary, said apps like the Sanctuary app, as well as Sanctuary's recently published book, "What's Your Sign?: A Guide to Astrology for the Cosmically Curious," are perfect for anyone who wants to dig deeper into understanding what makes astrology unique.
"Astrology is a huge community," Houseman said. "There are tons of different approaches. There are folks who have been doing this for their … whole professional lives or just starting out, so there's a lot of levels of expertise."
Many people, myself included, also find joy looking through astrology memes. Alberto Toribio, who runs the popular astrology meme account @gnarlyastrology on Instagram, incorporates easily digestible chunks of knowledge about the zodiac signs into his posts. Accounts like this, whether on Instagram, Twitter or TikTok, can have hundreds of thousands of followers.
Whether the meme tags each zodiac sign as a Harry Potter character or reveals a personality trait of the zodiac sign, it can be a lot of fun to find your own sign and say, "I'm totally Luna Lovegood," or, "Maybe I really do need to learn to say no to my friends."
I know I have learned a lot about myself through astrology. For instance, learning about personality traits associated with zodiac signs helped me recognize that I have a tendency to be inconsistent and impulsive, which is something I'm working on. And, of course, I'm not the only one who has learned something from astrology.
"I think astrology has helped me to better understand personality and archetypes," Toribio said. "People get more complex, and the (birth) chart gets more complex and the energy gets more complex. And you know, to get to know someone, you really have to spend time with them."
In astrology, you aren't one in 12 – which is a common misconception – but rather one in 7.9 billion. When someone asks what another person's zodiac sign is, the answer they are looking for is typically that of the sun sign, which is based on the date of one's birthdate. People tend to think of Capricorns, for instance, as hardworking and ambitious, while Leos are confident and dramatic. However, it actually gets more complicated than that: Each person also has a moon and rising sign, along with a variety of other lesser-known traits that become increasingly more nuanced. This provides each individual with a unique astrological makeup.
Clark said he believes astrology being a story about the individual is what makes it such a powerful concept and why people connect so strongly with it.
"We live in an era where people are interested in simultaneously looking within themselves as well as looking out onto the world, and I think astrology provides the language and system to do that," Clark said. "The other part of astrology that really resonates with people is around identity … and really using your placements and your signs as sort of a new language or way of understanding yourself."
I too have my own theories about the comeback of astrology. We live in turbulent and destabilizing times, and the pandemic has only exacerbated this. Astrology, a practice with origins in ancient history, holds a lens up with a steady hand to examine what is happening in our lives.
Astrology, while an integral part of many people's lives, is ultimately still considered a pseudoscience, meaning it is not based on any factual evidence. However, it can still be a useful tool for self-reflection. Being asked to thoughtfully consider my potential negative traits can be the perfect first step to evaluating them, building a good understanding of my emotions and characteristics and working toward improving myself.
Who am I as a person? That's a difficult question to answer. Astrology may not fully answer it, but it does provide some of the building blocks I need to get there.
And I love that there is a whole community that shares the same enthusiasm for astrology that I do.
Wang is the 2022-2023 Opinion editor and an Arts, Enterprise, News, Photo, Quad and Sports contributor. She was previously an assistant Opinion editor.
Wang is the 2022-2023 Opinion editor and an Arts, Enterprise, News, Photo, Quad and Sports contributor. She was previously an assistant Opinion editor.