UCLA faculty consider implications of overturning Roe v. Wade on privacy rights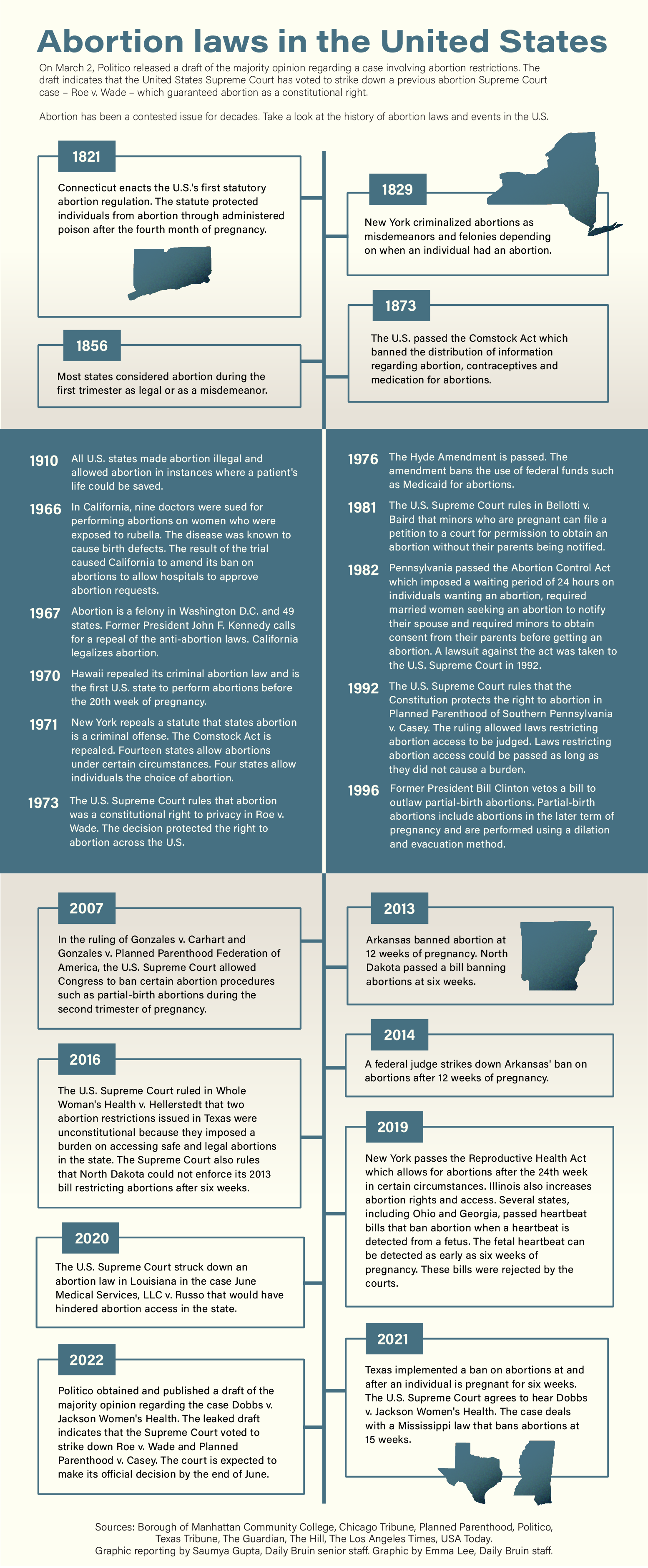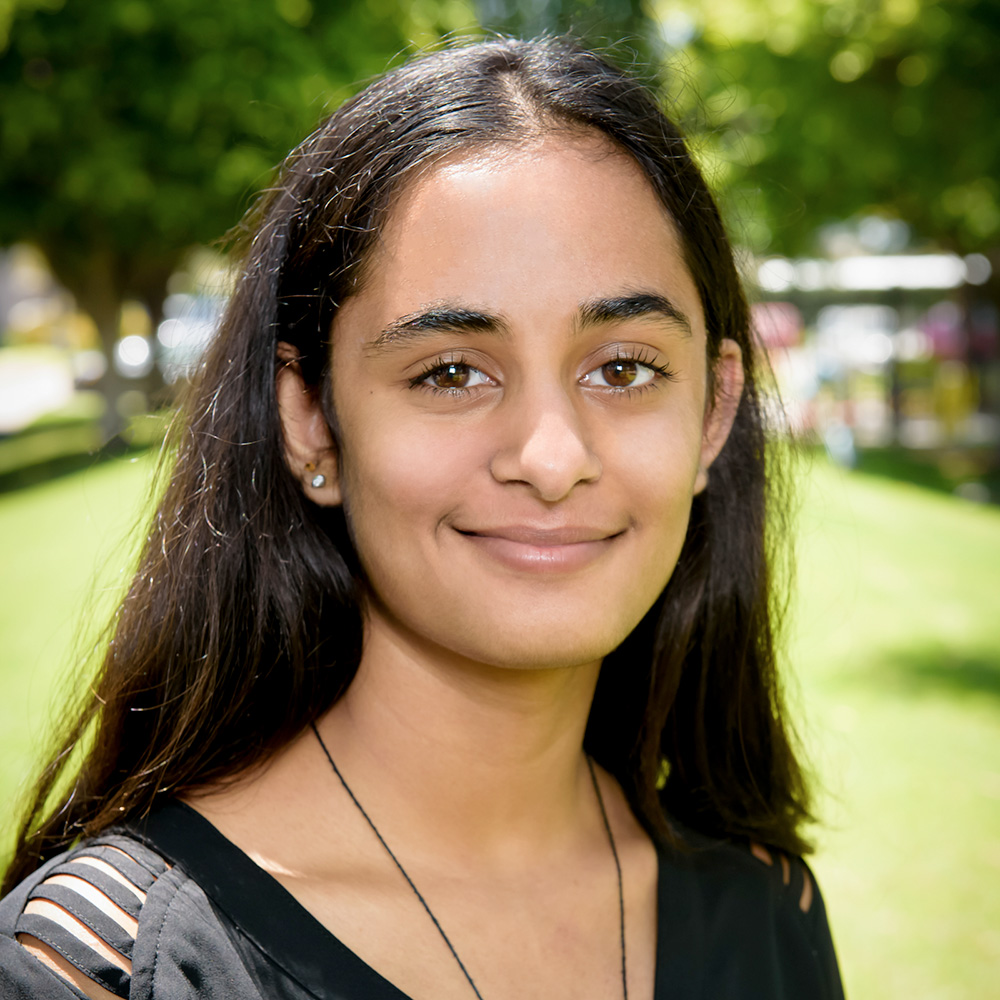 The United States Supreme Court potentially striking down its decision on Roe v. Wade may cause uncertainty for other protections, such as same-sex marriage and birth control, UCLA faculty said.
On May 2, Politico obtained and released a draft majority opinion regarding Dobbs v. Jackson Women's Health Organization – a case about whether Mississippi's ban on abortions after 15 weeks of pregnancy is unconstitutional. Five Supreme Court justices voted in favor of the state's ban after December's oral arguments, according to Politico.
The Supreme Court also held a preliminary vote to overturn Roe v. Wade and Planned Parenthood v. Casey, both of which guarantee a constitutional right to an abortion before a fetus's viability. A fetus is considered to be viable when it has a greater than 50% chance of survival outside the womb, which starts at around 24 weeks of pregnancy, according to the University of Utah.
If Roe v. Wade is overturned, states would be allowed to pass laws about abortion access, according to the draft. The Supreme Court is expected to make its official ruling in June, though it may not necessarily be the same as the initial draft indicated.
The Supreme Court ruled in Roe v. Wade that the 14th Amendment's due process clause allows individuals the right to privacy when it comes to choosing whether to have an abortion, according to Oyez, a judicial archive of Supreme Court cases.
The right to privacy that supports Roe v. Wade and Planned Parenthood v. Casey is also the same legal foundation for the right to same-sex marriage and the right to access birth control, said Cary Franklin, the faculty director of both the Williams Institute and the Center of Reproductive Health, Law and Policy. If the Supreme Court rules that the constitutional right to privacy does not extend to protect the right to an abortion, it would make cases with the same legal basis vulnerable as well, she added.
According to the leaked draft, the majority opinion claimed the reasoning behind Roe v. Wade was weak and abortion should be a matter left to elected representatives. The draft stated that the right to abortion is not referenced in the Constitution and that none of the constitutional provisions implicitly protect the right to an abortion.
When the lower courts ruled on Dobbs v. Jackson Women's Health Organization, they had struck down the law for being unconstitutional based on precedent from Roe v. Wade, but the Supreme Court decided to reconsider this, Franklin said.
Franklin said she thinks the official decision will be fairly close to the draft opinion and is interested to see what portions will be changed.
If the justices remain with the decision in the draft, it will be important for Congress to pass legislation that recognizes that the right to privacy protects individuals' decisions over their bodies and resources needed to inform such decisions, said Sapna Khatri, the Sears clinical teaching fellow at the UCLA School of Law.
Probable impact
If the Supreme Court decides to overturn Roe v. Wade and eradicate reproductive autonomy, it would show that the lives of individuals who can get pregnant – especially people of color and those with lower incomes – are not valued, said Alisa Bierria, an assistant gender studies professor.
Overturning the ruling would increase the number of unsafe abortions, Bierria said, adding that these consequences would be more pronounced in states with high populations of people of color and where people of color have higher rates of abortions compared to their white counterparts.
In 2019, Black and Hispanic women had higher rates of receiving an abortion in comparison to white women in the U.S., according to Axios. In Texas, 59% of the population are people of color, with 74% of this group obtaining abortions, according to The News & Observer.
Khatri said in an emailed statement that individuals would be able to access safe abortions through the use of abortions performed with medication. Since the Supreme Court's ruling on Roe v. Wade, medicine has advanced to where people can still access a safe abortion if the case's ruling does get overturned, she added in the statement.
However, for some states that plan to outright ban abortions, abortion clinics would close, and many states could ban abortions via medication, Franklin said in an emailed statement. Low-income women, women who live in rural communities and women of color will be affected the most by these bans, she added in the statement. She also said in the statement that she hopes being able to obtain abortion pills in some other ways will keep some women safe.
"There are absolutely reasons to be concerned that the Court's decision will put women in danger and it seems clear that a lot of people will suffer terribly and needlessly as a result of this decision," Franklin said in the emailed statement.
Khatri said in an emailed statement that low-income people of color have already suffered for decades from the legal system and that the change in Roe v. Wade will increase complications such that they will face even more hurdles to abortion access.
"People with the means, resources, and privilege to travel and get the care (they) need will remain, people who do not have the financial resources will struggle the most because of the decision," Khatri added in the emailed statement.
Bierra said in an emailed statement that reproductive autonomy will become a class issue, in which those who have money and time can travel to states where abortion is not criminalized and those who have health insurance can access birth control. She added in the statement that limited access to abortions would increase poverty and limit economic choices for women since people take into account if they can afford to have children when deciding to have an abortion or not.
"The end of abortion rights, which I think is the future that we're looking at, is part of a broader attitude by this government that treats women's lives as disposable and trans people's lives as disposable," Bierria said.
Almost three-fourths of abortion patients were classified as low income or poor in 2014, according to the Guttmacher Institute.
"While Roe getting struck down is monumental, Black, Brown and Indigenous communities have struggled with abortion access for decades and have mobilized to provide the support their communities," Khatri said in the emailed statement. "The difference now is that the change in legal precedent will impact more people in different ways."
Khatri said that in the initial draft, Associate Justice Samuel Alito suggested that the Supreme Court had no jurisdiction to rule on certain rights such as same-sex marriage and contraception.
In Obergefell v. Hodges, the Supreme Court ruled that same-sex couples had the right to marry, and in Griswold v. Connecticut, the Court ruled that access to contraception is protected under the right to marital privacy.
"All of these areas that the Supreme Court has previously decided in other cases rely so heavily on Roe's precedent that if Roe falls, so can they," Khatri said. "It's not just about abortion. It is also about a lot of the other rights that marginalized communities have been fighting for for so long, and it will have a direct impact on those rights."
Future of abortion access
Depending on what happens to Roe v. Wade, states will have different responses for what they plan to do regarding abortion access.
Some states, such as California and Connecticut, protect abortion access and intend to expand protections. In California, the right to have an abortion is protected in the state's Constitution through the right to privacy, according to The New York Times.
Thirteen states, including Mississippi and Missouri, have trigger laws in place if the Supreme Court does overturn Roe v. Wade, according to The New York Times. Trigger laws would ban abortions in the 13 states almost immediately after the Supreme Court decides to overturn Roe v. Wade, with all of the states having exceptions in situations that would save the life of a pregnant individual, according to The New York Times.
Moreover, some states have already been working to criminalize abortions.
In 2021, Texas passed a law stating that individuals could sue another person for aiding or abetting someone who is receiving an abortion after six weeks of pregnancy. On May 4, Louisiana advanced a bill out of a legislative committee that would consider abortions as homicides, where the person carrying the baby or anyone assisting in the abortion, could be charged, according to USA Today. Both states have trigger laws that allow exceptions in cases of serious injury or death, according to The New York Times.
In states trying to criminalize abortions, the changes could create fear and limit access to care, Khatri said. The criminal punishment system often targets women, transgender and other LGBTQ+ individuals based on sexual and reproductive politics, Bierria added.
Bierria said the political situation now is very different from 1973, when the Supreme Court ruled on Roe v. Wade. The criminalization of abortion could happen now, when there is a higher level of policing and incarceration, Bierria said.
She said in an email statement that this expansion already causes women to be criminalized in regards to their reproduction and criminalizing it will increase the potential for policing, prison and prosecution violence.
"Criminalizing reproductive autonomy in an era in which prisons, police, and prosecutors wield more power than ever will only escalate the potential for carceral violence for anyone who is pregnant, particularly Black women, women of color, low-income women, and trans people," Bierria added in the statement.
Franklin said she thinks the future of reproductive rights looks grim if the Supreme Court strikes down the ruling. She added that states might also feel emboldened to cut back on sex education or LGBTQ+ rights and make it harder for individuals to seek out reproductive autonomy and equality.
"This has begun with abortion," she said. "I don't think it will end with abortion."
Gupta was the 2020-2021 assistant News editor for the national news and higher education beat. She was previously a contributor for the beat. She is also a fourth-year psychology student.
Gupta was the 2020-2021 assistant News editor for the national news and higher education beat. She was previously a contributor for the beat. She is also a fourth-year psychology student.