UCLA First Thursdays amplifies student mental wellness resources, ends with vocal and comedic performances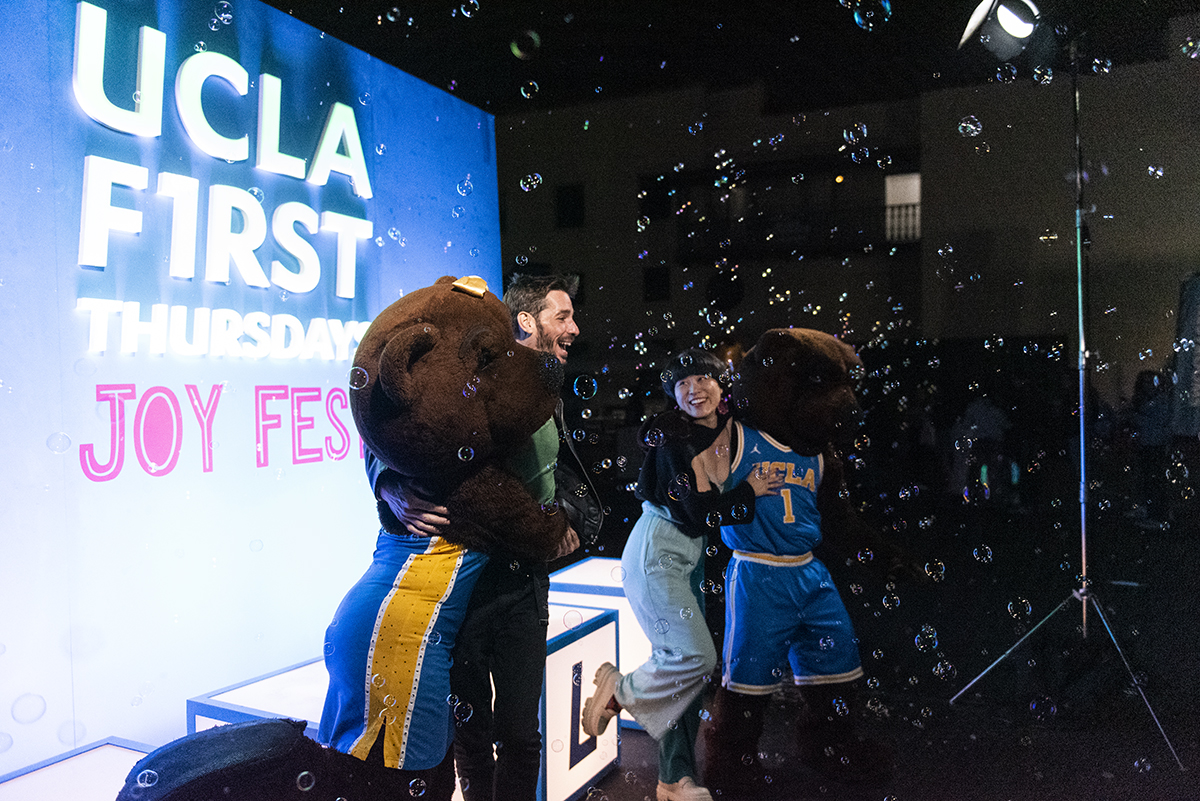 First Thursdays continued May 5 with the Westwood Village farmers market and the nighttime Joy Fest (pictured). This evening event featured entertainment from UCLA Spring Sing groups and comedians from Netflix Is A Joke. (Eva Danesh/Daily Bruin)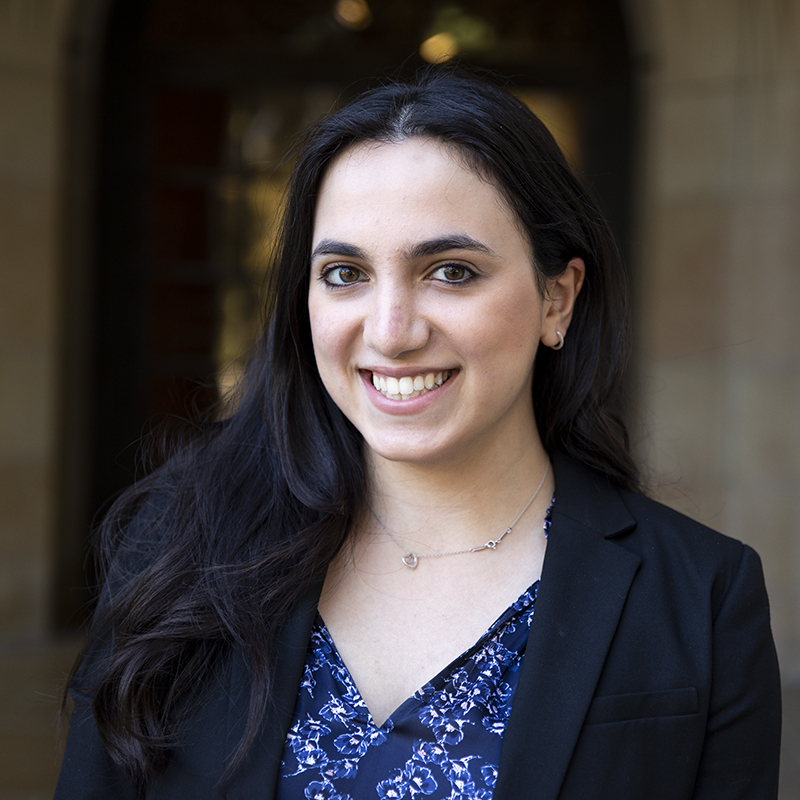 UCLA First Thursdays event series continued May 5 with a focus on mental wellness and joy.
UCLA Strategic Communications and the Westwood Village Improvement Association jointly host the monthly First Thursdays event, which began in March, with the mission of revitalizing the Westwood area and introducing Bruins to a true college town experience, said Mary Osako, vice chancellor of strategic communications.
During the daytime farmers market, passersby learned about resources to help maintain their mental well-being, while the nighttime Joy Fest showcased entertainment from UCLA Spring Sing groups and Netflix Is A Joke comedians.
Osako said the day's events aimed to amplify the resources UCLA offers to support student mental wellness.
The UCLA Resilience In Your Student Experience Center is one campus resource that was at Thursday's farmers market to share their work.
The center is a wellness hub located in Lu Valle Commons that offers programs and events to foster and support resilience, connection and well-being, said Andrea Letamendi, interim director of the RISE Center. One of the center's main goals is to encourage public awareness about mental health and ensure that the larger community understands the services that are available to them at UCLA, Letamendi said.
Representatives from the UCLA Recreation FITWELL Program also guided attendees through stretching and movement activities at the Farmer's Market and emphasized the link between physical and mental health.
"We really believe that our physical fitness programs are just as much of a mental health program in the sense that when you move your body, evidence-based research shows that people reduce anxiety, reduce depression, reduce their overall stress," said Mandy Muenzer, the FITWELL education and outreach coordinator.
Muenzer said she was glad she could share more of UCLA Recreation's resources with Bruins who may not know about the variety of programs and resources that are offered for minimal or no cost such as Bruin MindFit, a mindful movement and meditation class.
UCLA Health's Mindful Awareness Research Center also had a station at the farmers market where they shared their research on mindfulness practices and instructed attendees on evidence-based techniques to improve their well-being.
Diana Winston, director of mindfulness education at MARC, said college students in particular face many mental health challenges, making it imperative to introduce them to research that can help alleviate some of their hardships.
Winston also informed attendees about available MARC resources such as their UCLA Mindful app, where users can access hundreds of meditations ranging from three to 30 minutes. Winston, who provides the voice for many of the meditations, said her team adds new content on a weekly basis.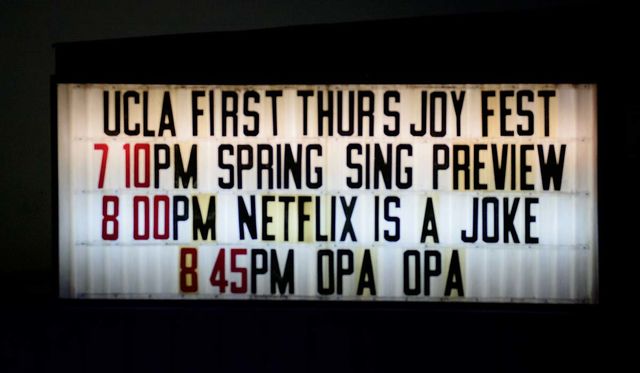 First Thursdays events continued into the evening with the Joy Fest on Broxton Avenue.
Several student groups who will be competing in UCLA Spring Sing on May 20 debuted performances for the crowd. Naya Zamaana, UCLA's South Asian a capella team, and Mariachi de Uclatán, a student mariachi band ensemble, were among the groups that performed.
Osako said Spring Sing aims to celebrate student talent, similar to past First Thursdays events.
"Every First Thursdays that we have put on, there is a very intentional element to celebrate our students and their various talents," Osako said. "It goes from designing customized Nikes, to graffiti art, to now the vocal stylings of our Bruins for Spring Sing."
The Joy Fest was also one of the locations on the Netflix Is A Joke festival, an 11-day stand-up comedy event in Los Angeles. Comedians Atsuko Okatsuka and Daniel Webb stood atop a double-decker tour bus to perform their set and interact with attendees.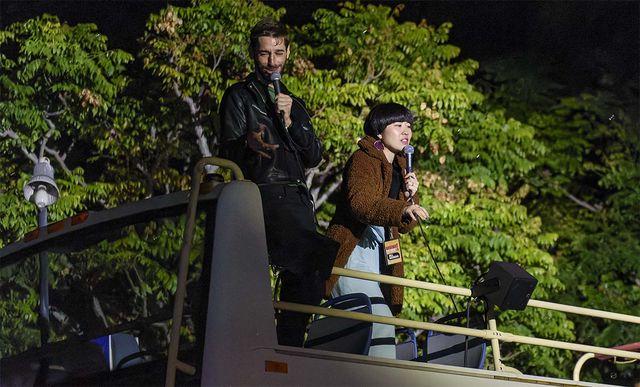 Webb said he enjoyed the opportunity to perform at UCLA and appreciated the energy of the crowd.
Stuti Bakshi, a second-year psychobiology student, said Okatsuka and Webb were a fun and fitting edition to this event.
The event was a fun way to unwind during a stressful midterm season and she appreciated the encouragement to visit Westwood and dine on Broxton, something she hopes to do more, Bakshi added.
Andrew Thomas, executive director of the Westwood Village Improvement Association, said business owners have been expressing excitement about the increased foot traffic during and after these First Thursdays events.
Thomas added that partnering with UCLA for this event series has allowed for renewed energy and vibrancy in the village and has demonstrated to businesses and residents the important role of UCLA's investment in the area.
Osako said positive responses from students, faculty and Westwood residents have encouraged UCLA to continue First Thursdays events through the summer and possibly into the next academic year.
"Our goal has been, from day one, very simple, and that is to bring the Bruin community together and help revitalize Westwood," Osako said. "It is a big, audacious goal and one I think we're making a dent in every first Thursday."
Contributing reports from Noah Danesh, Daily Bruin staff.