Bruin 101: The Introduction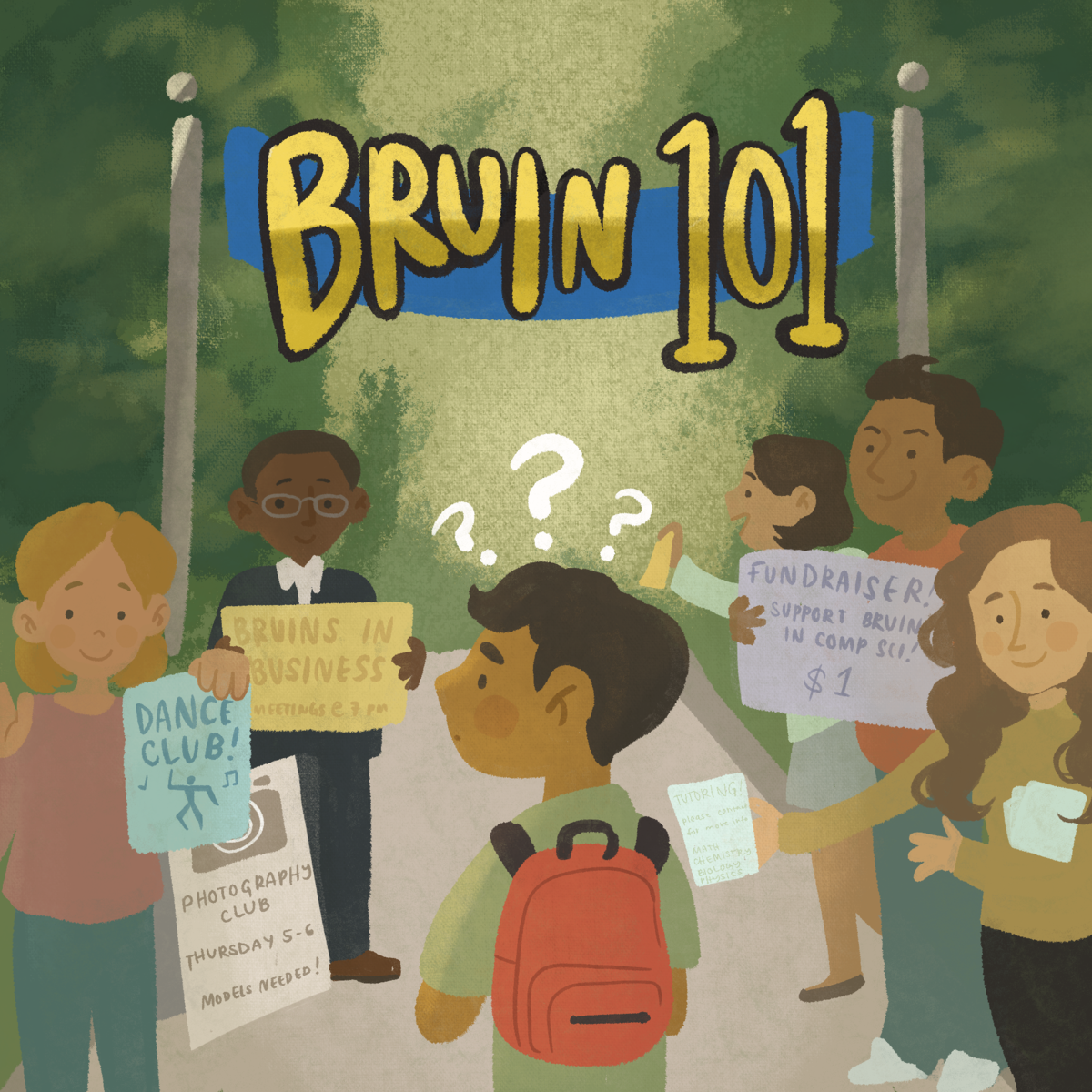 (Katelyn Dang/Illustrations director)
In the introduction episode of "Bruin 101," a Daily Bruin podcast about life at UCLA, Podcasts contributors Wendy Minn, Sonia Wong and Kyla Ventura discuss their paths to UCLA and what helped them make their decisions to choose this school.
Sonia Wong: Hello, and welcome to "Bruin 101," a Daily Bruin podcast that is made by Bruins for Bruins. In this series we hope to help students and prospective students learn about and adapt to UCLA by providing insight into the school, sharing helpful tips and discussing concerns. My name is Sonia Wong, and I'm a Daily Bruin podcast contributor. Today I'm here with two of my fellow contributors, Wendy Minn and Kyla Ventura. How are you both today?
Wendy Minn: Yeah, I'm doing good. How are you, Kyla?
Kyla Ventura: I'm good.
SW: Then to get us started. First off, congratulations to all the incoming Bruins. Today we will be talking about why we chose UCLA and all the different factors we considered. And hopefully this helps new Bruins learn more about our school. So does everyone want to share their name, year and major?
WM: Yeah, I can go first. I'm Wendy. I'm a pre-communication major and a film minor and I'm a second year.
KV: And I'm Kyla, I'm a first-year neuroscience major.
SW: And I'm Sonia, I'm a first-year English and French major. So do you guys want to start talking about the reasons why we applied to UCLA? And what made us finally choose UCLA in the end?
WM: Yeah, I don't know about you guys, but location was probably the biggest factor I considered. I knew I wanted to be somewhere a little further away from home because my parents are kind of strict. So I definitely wanted to choose a place in SoCal. But honestly, I've liked growing up in California my entire life and didn't know if I could commit moving halfway across the country. What about you guys?
KV: Location was also big for me, but for the opposite reason. I wanted to be close to home. That's why I really liked UCLA. And then my major was also a big factor for me because neuroscience is really big at UCLA.
SW: Yeah. For me, I totally agree with both of what you guys said. Like for example, for Wendy, I also really wanted to move away from home and learn to see what it's like to live independently. So I'm all the way from Hong Kong, so coming to California was definitely a big move for me. And it's been a great experience so far. And I definitely chose UCLA for one of the reasons— like knowing how close it is to certain food places to Sawtelle, which is famous for good Japanese— and there's also Koreatown, which is for Korean food. And so I think that was definitely one thing that I liked a lot. As for my major, after talking to different teachers, I realized that the professors are really welcoming and super nice. And so far, I've had a really great experience as well. But for me, the first thing I actually considered was when I was doing research, I realized that UCLA has 1200 clubs or student organizations. So this is one of the main reasons why I decided on UCLA because I know that I really wanted to get involved in student life, not only getting involved in Daily Bruin just so I can practice my writing, as well as, you know, speaking skills with podcasts, but also to make more connections, especially knowing that I'm so far away from home.
WV: Yeah, what's funny is I know how both of you chose the school because of the majors. Whereas for me, because I didn't really know what I was doing, I knew I didn't want to go out of state, especially because of the out-of-state tuition. It wasn't worth it, considering I was just exploring everything. But what about you, Kyla, what aspects of your major made you choose UCLA?
KV: I think like Sonia said, all of the clubs. There's a really good neuroscience club that I had the opportunity of being a part of this year. There's a big pre-med community, which is really important to me, especially when choosing between a small liberal arts school and UCLA.
SW: Definitely, I think the point of being with people in your major is really hammered home, especially at our orientation. Like coming to UCLA, I was warned about how, "Oh, there's not a lot of English majors and even less French majors." So I was actually a bit intimidated knowing that I would know nobody coming into the school. I was definitely scared. But in orientation, our NSAs (New Student Advisors) really helped a lot in deciding what classes to choose. And they were really thoughtful in grouping us with people who had similar majors or interests as we did. So it was definitely something that pleasantly surprised me, and something that I found comfort in as well. As for my own major, one thing apart from the opportunities that I got from extracurriculars that I also really liked, was the support that you get from outside of class. So for example, for my classes, they're usually pretty small. Even my biggest class is not more than 90 people. So then you really get a good chance to not only connect with your professors and also with your other classmates like through GroupMe. So I remember, Wendy, you were talking about you were trying to explore your major. So how has that been so far? And what do you think helped you the most in finally deciding what you want to do?
WM: Yeah, my experience is definitely different with me not being sure what I wanted to do. I actually came in as a pre-business economics major. But then I took the management classes and the business classes and I decided this wasn't what I wanted to do. So then my first quarter, I just took GEs, and they're a great opportunity to explore different fields and majors that interest you. So sociology really caught my interest. So I took a class and I absolutely loved Intro to Socio, like Socio10— I loved that class. And so I considered being a socio major for a while. And then I started looking into the career prospects and decided, "Yeah, maybe this isn't really what I wanted to do again." So I went back to the business route, and then as I explored business, I tried different clubs, I decided marketing would probably be the closest to my interests and then I found out that like, a lot of people majored in communication when they did marketing, so I thought that was really cool. And just, in general, you guys talked about clubs, I think clubs are definitely a great way to explore different career interests, as well as make those bonds as well.
KV: Going back to what Sonia said about the class sizes, I'm in like the opposite boat where my class has over 300 people. But they've made learning pods and ways for us to really get close to a small group of people that have the same discussion as I do.
SW: I think this is a really big thing at UCLA that you both touched on. So the first thing Wendy mentioned was that UCLA offers a lot of flexibility, even as you're trying to experiment with different majors. And I know a lot of friends who actually came in as a STEM major, and you're considering becoming, say, like an English major, or even an arts major, you get a lot of opportunities to take different classes because of the GEs. So as painful as they are, they're also a blessing in disguise in times. And Kyla also talked about how there's a really great community. And I've also realized that personally. I initially thought that everybody in the class would be super competitive, and I was really scared of being left behind or not being able to catch up. But with, say, the use of GroupMe, or there's also a lot of undergraduate support groups, a lot of students including myself, have been able to find communities that have been not only supportive but also provide really concrete, like academic advice. And so you don't feel as lost as you think you would be in such a huge school.
KV: Living on the Hill helps with that, like building a sense of community, I think, for people who live on campus. And I think there are a lot of opportunities for students who live off campus to also find that community.
SW: Yeah. So to add on to a little of what Kyla was saying, basically, the Hill refers to the residential area, which undergraduate students live. And it's a community filled with different room types according to your needs. And you also get to meet a lot of new students with the activities different residential halls hold, as well as just eating with random people at tables at dining halls.
WM: Yeah, I just want to add in, though, that everyone's experience is not always the same. So like, I know, I'm on the shyer side. And it's definitely a little bit harder for me to make friends. And so not always in my classes do I make friends and not every discussion I have a friend in every class. But I think definitely, if you put out, put some effort to meet people, you'll meet some really great people. And I know that's how I've made some of my friends personally, by having to reach out.
SW: So about making friends, what do you think the biggest thing that helped you, like where did you look to make friends? Was it mainly in classes? Did you join any clubs? Or what else did you find useful?
WM: Yeah, so one of the ways I made one of my closest friends is actually kind of random. I was actually a move-in assistant. So I helped people move in. And so during that time, we're all volunteers. And it was like all of our first times on campus, especially after COVID. So I basically just reached out to one of the girls who had the same shifts as me cause we both worked all the morning shifts. And then I just got her contact information and she reached out and texted me and asked if we wanted to grab breakfast before our first shift. So that's how we became really close. She introduced me to her roommate, and so that's how we became friends. And then otherwise, my roommates, they happen to have just been stuck with me all year. And so we also became really close as we just casually asked each other to grab meals together cause they're just right there. Yeah, what about you guys? What are your guys' experiences with making friends?
KV: I think for me, it's been more classes. I think in the beginning of the school year, everyone's like, "Oh, this is my name and this is my major." And I think just taking advantage of that small window when everyone's open to meeting people, was really beneficial for me. What about you, Sonia?
SW: For me, it was slightly a bit more different. Like I tried a lot of ways because I'm a pretty social person. So I would say I think the friends that I make in different ways are slightly different. For example, say when I make friends in class. So I came in taking French 4, so then I ended up making a lot of friends who are upperclassmen, and by extension, I made a lot more friends who are not in the same grade as I am. But for example, if I go out to different parties or different social events held by clubs, I would be able to meet a lot more people who have the similar interests as I do or are more of my grade. Another funny story that I could tell is that one of my closest friends is actually a second year. And I didn't even find that out until after like a month of being friends because I never bothered to ask. And we actually met through a UCLA-organized event. So it was like a beach trip organized by UCLA for out-of-state students. And it was just a really chill day and everybody got to walk around. And we ran into each other because we were both kind of lost in Santa Monica. And then we ended up exploring the area together, and we've been really good friends since then. So yeah, apart from speaking about, like school life and making friends. What are other places off campus that you guys like to visit?
KV: There's the new Insomnia Cookies, and I actually learned about it just by reading the Daily Bruin.
WM: Yeah, I'm not going to lie. I'm kind of a homebody. I stay in my dorm as much as possible. I really should be getting out more. A couple of places I visit though— I visit Westwood often on the grocery bus because it's a little better than walking up and down that hill. I don't know, are there any good places that you guys would recommend visiting?
SW: I personally am a really big fan of the beaches, knowing that Santa Monica and Malibu are both really close. And I know that Malibu also has pretty cheap food, so I go there quite often, with like some friends or whenever I am pretty burnt out from work, I just decide to take a walk at the beaches.
KV: Do you get there on the bus? Or how do you get there?
SW: Yeah, so when I go out, I usually try to take the bus. But sometimes when I get impatient, I just take the Lyft and Uber with some friends, even though I know that's not good for the environment. But I think another really big thing that UCLA has to offer is that it has a really comprehensive transport network. So you can basically walk to a bus stop that would take you even all the way down to downtown LA, within 20 to 30 minutes of walking distance.
KV: And when is the grocery shuttle? It's like every weekend, right?
WM: Yeah, it's every weekend on Saturdays and Sundays, and I think they're in 30 minute intervals, it'll take you to the Trader Joe's. And by the Trader Joe's, they also have, like, the Ralph's and the Target that's underground. So that's been really convenient for me.
KV: I think a fun thing I do with my friends, too, is just walking to Trader Joe's. I think it's like a 30 minute walk. I think another thing for me about choosing UCLA was safety. I like how we can just walk around the school and not have to be stuck on campus all the time. When you're with, like, one or more friends.
SW: Yeah. Another thing I think is really big is that even though LA is like a really big city, the area around UCLA is really safe. So you can feel pretty safe if you walk with a friend or two around campus, or even sometimes off campus.
WM: Yeah, as we're talking about UCLA's surrounding area, I think it's also really cool that we're just in LA. Because I know I'm from a smaller city. So I was definitely excited to experience the city life. And so, even if it's like a 30 minute drive away, it's still a lot closer than all other places like Chinatown, Koreatown, the museums like the Getty, there's so much to explore in LA, once I decide to leave my dorm.
SW: So nearing the end of our episode, maybe we can summarize a point or two of pros and cons, just to wrap up everything we've talked about. So maybe we can mention one or two things that we liked the most about UCLA that helped us, like, consolidate our final decision of coming to UCLA. For me, I think the biggest pro of coming to UCLA would definitely be the flexibility in choosing what I get to study. Because previously coming from Hong Kong, I was really scared of being stuck in a major and just being stuck for three, four years, even as I hated it. But coming here I actually realized that you can always go ask for help, not only from your classmates, but also your professors. And even having departmental advisors has been really helpful. So this is one thing that I really like in UCLA is that even though you can come in with a major that you think you're set on, you can change to something else completely different if you wanted to. And I think maybe one con would be that UCLA is still a really big school. So it does take a little bit of time to navigate, no matter if it's geographically you have to find your way to class, or just find your way through friend groups. But still, I think it's been a really valuable experience. And I think one biggest tip is just to be out there. And just know that everybody's been in the same situation as you have and just be brave.
KV: I think a big pro of coming here is dining halls. Like I know everyone says it's number one and everything but it really is. The food is really good, and I have a gluten allergy, and it's easy for me to find foods, and so I really appreciate that. And then a con, like you said, Sonia, is like walking, and there's just tons of steps all the time, but it's beautiful, so it pays off.
WM: Yeah, I feel like you guys really covered the pros and cons that I would mention. I guess if I were to just add in anything, I think no matter what we choose to do, whether you're going to be a future Bruin or not, I feel like wherever we go in life, I think we'll make good memories and we'll also, there'll be cons. So I think whatever happens is just meant to happen and just try to find the bright side of everything.
SW: For sure. This was really fun talking to you guys. And I had a really great time. So in the following episodes, we're going to try to cover a little more about the specific Bruin experience including dorms, dining halls, classes and more, so make sure to look out for that. So that's all the time that we have for today. Thank you guys.
WM: Thank you.
SW: Bruin 101 is brought to you by the Daily Bruin, UCLA's student newspaper. You can listen to the show and others by the Daily Bruin on Spotify, Apple Podcasts and SoundCloud, and a transcript for the show is available at dailybruin.com. Thanks, everyone. See you next week.