Students gather at Meyerhoff Park, Bruin Bear in defense of Roe v. Wade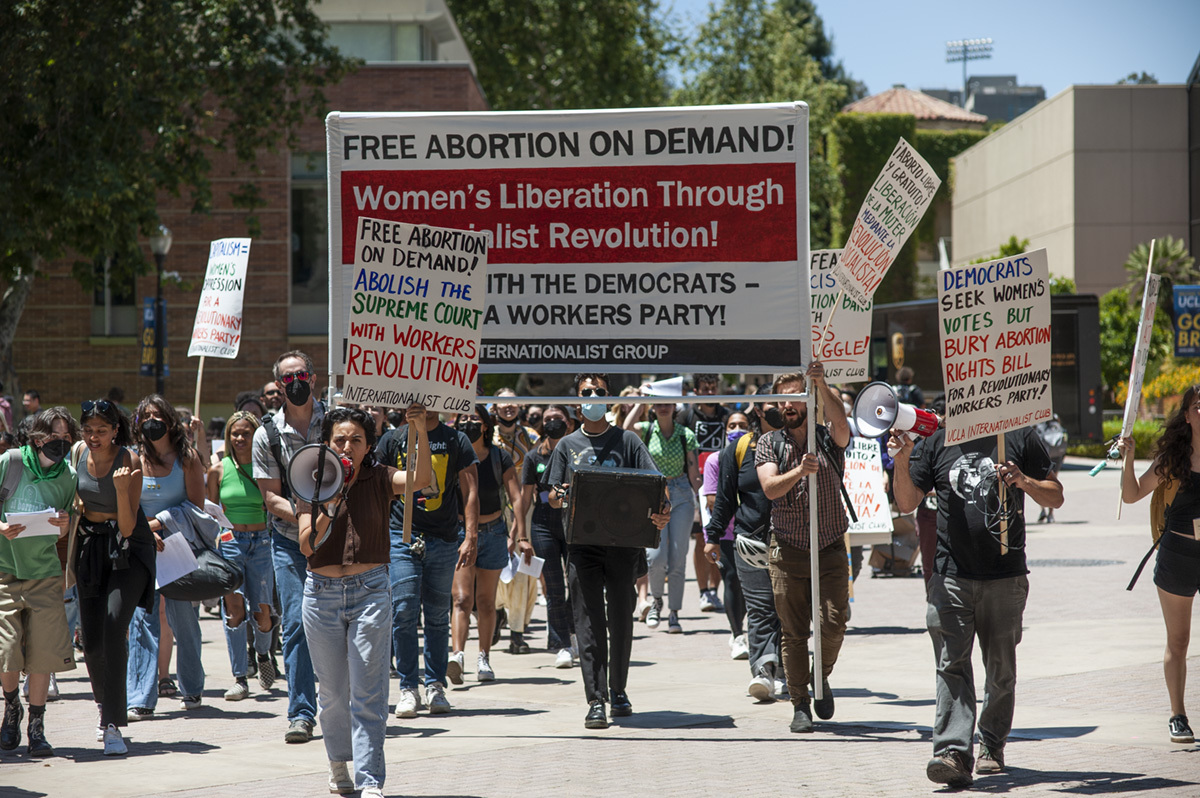 Students gathered at Meyerhoff Park to protest in support of abortion rights Thursday. (Chelsea Westman/Daily Bruin staff)
More than a hundred students and local organizers gathered on campus in demonstrations to protect abortion rights Thursday.
On May 2, nationwide demonstrations took place after a leaked draft majority opinion indicated that the United States Supreme Court was planning to strike down the 1973 Roe v. Wade decision, according to the Associated Press. The original decision established a constitutional right to abortion – if overturned, the legality of abortion would be decided by individual states.
Dozens of demonstrators gathered around the Bruin Bear statue around noon, and by 12:30 p.m., the crowd increased to more than a hundred demonstrators.
Demonstrators held signs that read "My body my choice" and "We won't go back." They also chanted "Post Roe, hell no" and "When abortion rights are under attack, what do we do? Stand up, fight back!"
[Related: Protestors gather in support of abortion access following leaked draft opinion]
About half of U.S. states are expected to ban abortion if Roe v. Wade is overturned, according to AP. Meanwhile, Californian legislators intend to amend the state's constitution to enshrine abortion rights.
The protest featured multiple speakers who emphasized the importance of protecting bodily autonomy and the intersection of class, race and disability in connection with abortion rights.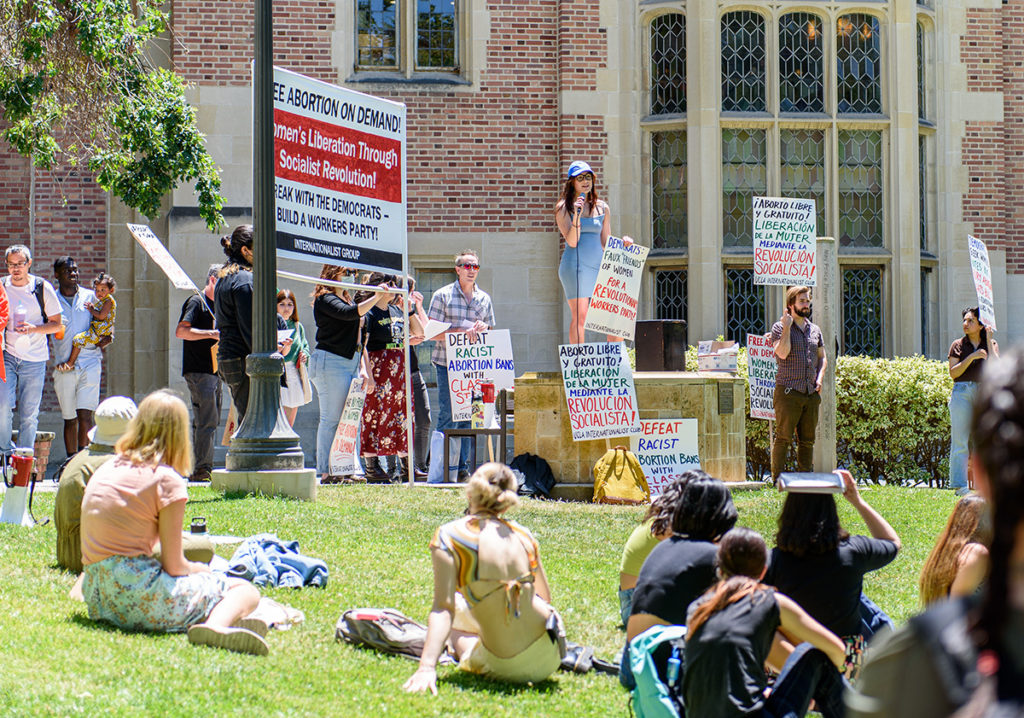 Student organizers Desiree Mendieta, a first-year Spanish student, and Yashmeen Sharma, a third-year gender studies transfer student, said the protest was also organized to promote the upcoming May 14 nationwide city hall protests in defense of abortion rights.
Shivani Sakthi, a first-year physiological science student, said at the protest that, as an individual affected by the foster care system, taking away legal abortions ignores the long-term consequences of overburdening the foster care system.
"Giving women their basic rights over their own bodies also has these domino effects of representation and stopping structural and systemic racism that occurs in systems like the foster care system," Sakthi said.
After meeting at the May 3 demonstration in downtown Los Angeles, a group of UCLA students coordinated with Rise Up 4 Abortion Rights organizers to hold a protest at UCLA, said Mika Vargas, a first-year sociology student. The student group reached out to other organizations and distributed flyers in preparation for the protest, she added.
At around 12:30 p.m., a second abortion rights demonstration happening at Meyerhoff Park joined demonstrators at the Bruin Bear statute. The group marched back to Meyerhoff Park for additional speeches.
Nohely Guzmán, a geography doctoral student, spoke in support of abortion rights in Spanish. She said speaking in Spanish increases accessibility by allowing non-English speaking communities to understand issues affecting them.
For women and people who have had abortions, it is very clear that this issue is a race and class one, Guzman said while translating her speech to the crowd. She added that colonialism, patriarchy, capitalism and the policing system all intersect with abortion rights.
As speeches continued, the crowd slowly dispersed around 2:15 p.m.
"The leak should be seen as a blessing in disguise. The decimation of Roe and Casey has not yet been made. The power belongs to us," Vargas said in a speech to the crowd.