Q&A: New gymnastics head coach Janelle McDonald discusses transition, team's future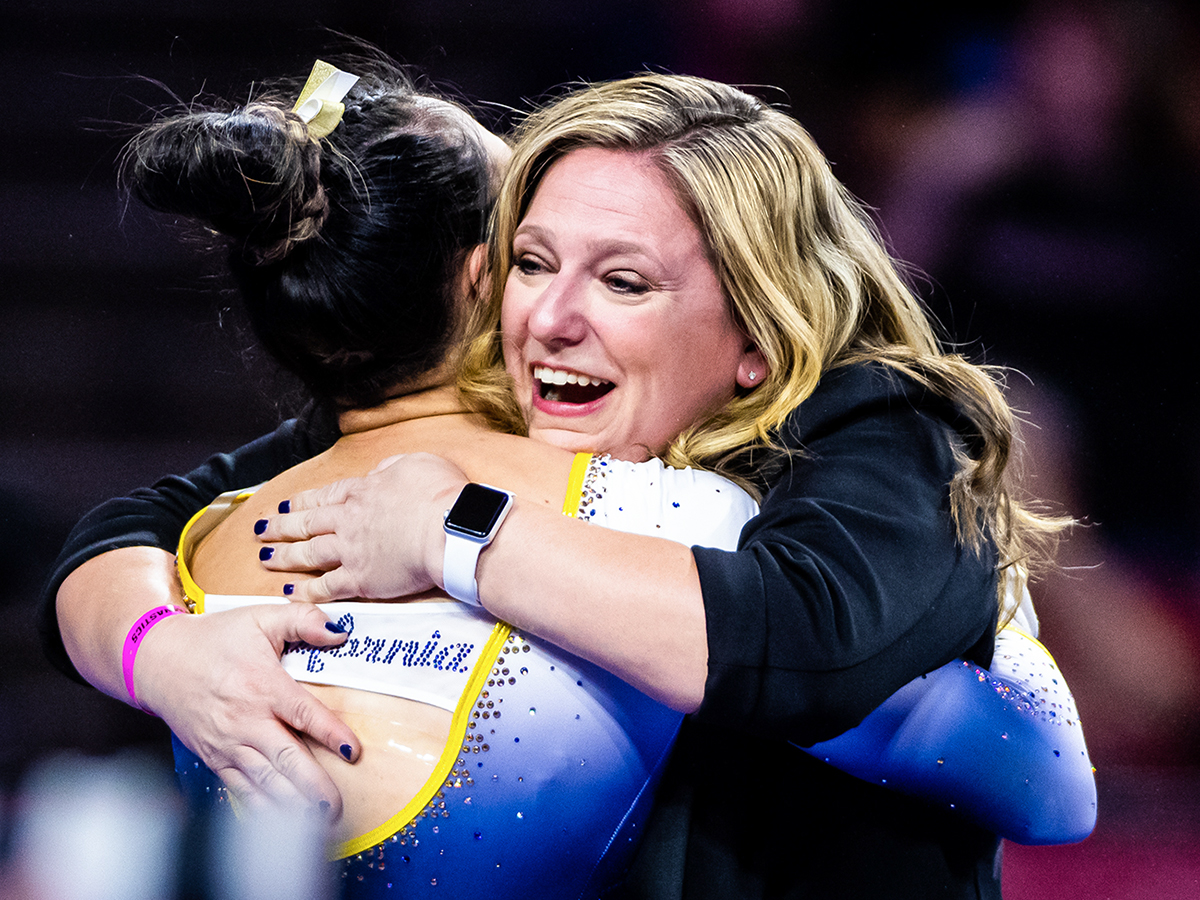 New UCLA gymnastics coach Janelle McDonald hugs a gymnast during her time as an assistant coach with California. McDonald spent four seasons with the Golden Bears before becoming head coach for the Bruins. (Courtesy of Cal Athletics)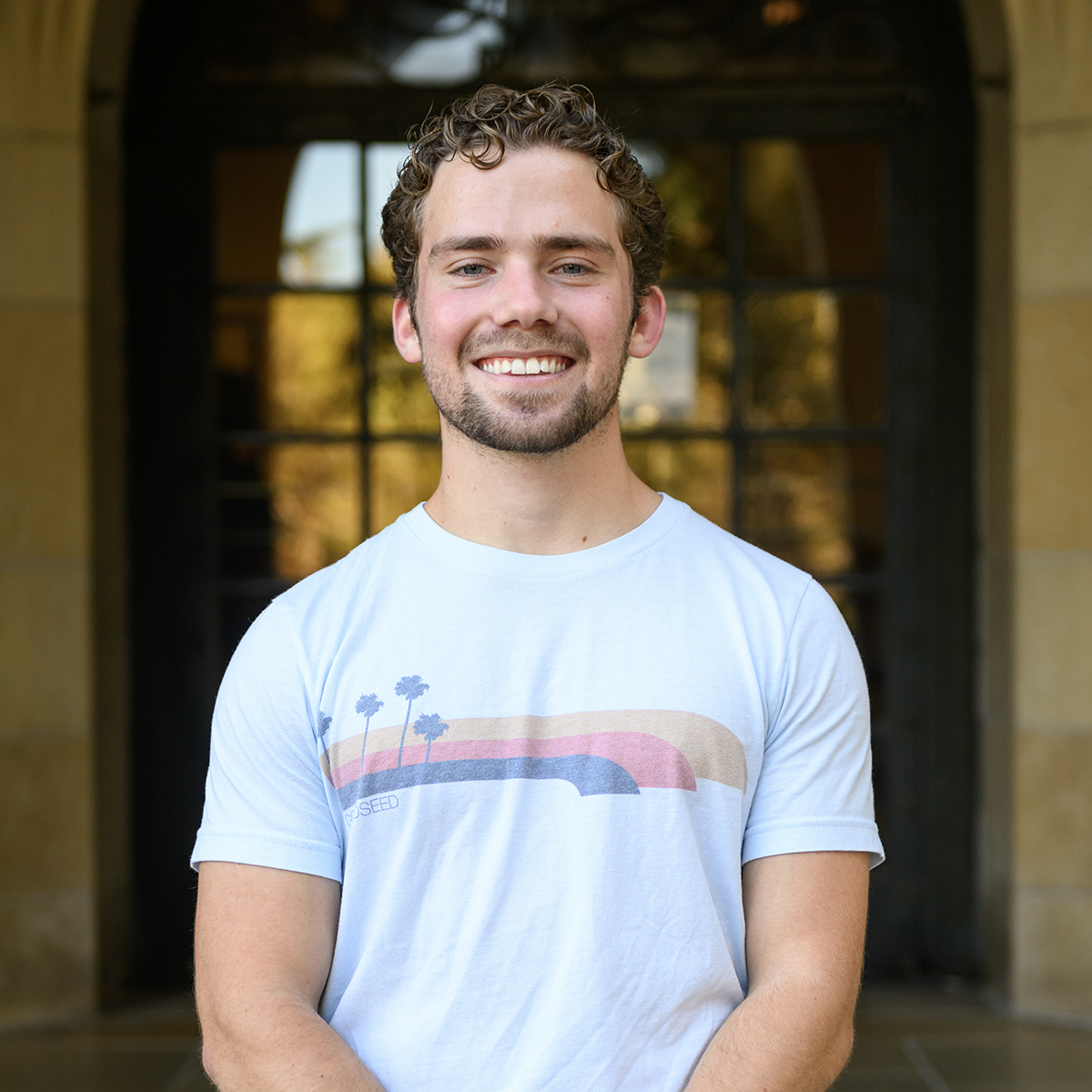 This post was updated May 12 at 1:28 a.m.
One day after UCLA gymnastics officially hired Janelle McDonald to be its new head coach, assistant Sports editor Sam Settleman sat down for a one-on-one interview with the former California assistant coach to discuss her plans for the future of the program, her leadership style and more.

[Related: Janelle McDonald joins UCLA gymnastics, replaces Chris Waller as head coach]
This interview has been edited for length and clarity.
Daily Bruin: You were in a good spot at Cal with the way that team has been performing the last couple years. What enticed you to make the jump to take this position?
Janelle McDonald: Always in life, I want to look for opportunities to grow and learn, so definitely taking on a head coaching role is definitely an opportunity for me to do that. And to do it at a place as special as this, I think, is a once-in-a-lifetime opportunity that I was really excited to pursue.
DB: You said you just found out the other day that you got the job. I mean, when this job first opened, did you kind of look at that and say, "This is an opportunity I want to go for," or did UCLA reach out to you first?
JM: It didn't take convincing, but they did reach out first. I walked into it looking at it as a great opportunity to experience what a head coaching interview would be like, and along the way, I really fell in love with the passion and tradition of excellence that's here at UCLA and with this program. And so I really got excited about it, and I'm excited to take on the opportunity.
DB: Just generally after last season, did you think, "OK, I'm ready to make the jump to head coach?" Not knowing where, but just generally, did you think that was the next step for you this year?
JM: Yeah, I mean for me the title isn't necessarily the biggest deal for me. I just want to be in a great situation where I'm always learning and growing. I definitely feel like I'm ready to take on this opportunity, and I'm excited for it. And definitely all my years of coaching and the experiences I had at Cal definitely have prepared me to be ready for it.
DB: Before Cal, you coached at the club and elite levels for a while too. What kind of made you make that jump to the collegiate level?
JM: I've always had the interest in it just because it's a great environment. The age of the student-athletes, they're young women, so it's a really special time in life to be able to have an influence in their development of their life. And just the energy and excitement that is NCAA gymnastics is something that I've always been inspired by and definitely was something that I wanted to pursue.
DB: Making the jump from assistant coach to first-time head coach is certainly a big leap. What's the biggest challenge you foresee in making that transition?
JM: I think it's just all the things that come with it, sitting here and having an interview with you and the photoshoots and all that kind of stuff. And then just basically making sure that every aspect of the program is taken care of and that nothing is left undone – that's really important to me. It's also exciting. I think I'm going to grow in a lot of different areas and really be able to push myself, and that's something I'm looking forward to.
DB: A lot of the athletes you've coached and people you've worked with before have kind of described you as someone who's super passionate and enthusiastic about what you do. How would you characterize your leadership style as a coach?
JM: My goal every day is to show up with energy and positively impact the people around me, whether that's in the gym or in a grocery store or whatever. That's just kind of the energy I want to bring to each and every day, and so with my athletes, that's what I show up as. Gymnastics can be a grind, and definitely being a student-athlete can be difficult, and so I think that if you're surrounded with coaches and people that are bringing energy and are excited to help you grow, then I think that it can be a really positive, inspiring environment.
DB: Specifically to the gymnastics side, I mean at Cal, you turned that team into one of the best bars teams in the country over the last couple years. UCLA, on the other hand, kind of struggled at that event last year. What are you hoping to bring to this team in terms of bars specifically?
JM: I'm excited to work with the student-athletes. I think that they're definitely a high-level team, and I think that we can just build in more consistency. And I think that we can clean some things up and break some things down to really help them feel confident and have a solid foundation. I think that it's going to be great.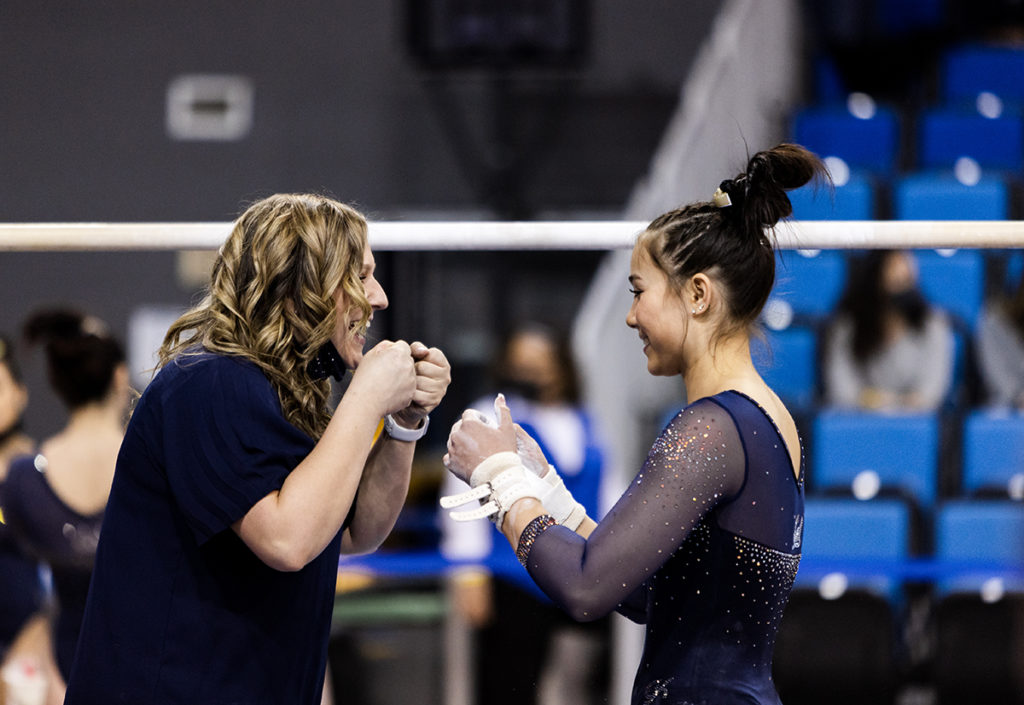 DB: You've certainly had the chance to observe this team and compete against them as well over the last couple of years. What do you kind of see as the main strengths of this team as it is right now, and where is there maybe some more room for growth?
JM: Overall, I think they have great energy there. They're dynamic. They have a lot of high-level skills. And I think that overall they're in a really good position for success out on the competition floor all around. I don't see any big weaknesses. And I think that if we can just strengthen our strengths and get them to exude that energy and confidence at every single meet that they're going to be really successful.
DB: I'm sure you're familiar with a lot of the gymnasts on the team just being in the collegiate scene. But what's been your first impression so far?
JM: They have so much enthusiasm and a lot of passion. I got to go to practice for a little bit today (Tuesday) and just the energy that they bring is really inspiring and it fires me up, and I'm super excited to kind of dive in and get here full time with them to kind of dive in and start building something special.
DB: UCLA gymnastics is a program that certainly commands a lot of attention on social media, and I don't know if you've seen yet, but it seems like a lot of people, from gymnasts you've coached to everybody else, are really excited about you getting this opportunity. What does it mean to you to see that support?
JM: The support that I have received in the past 24 hours, it means the world to me. Like I said, I want to show up and and positively influence the people around me, and so to see so much support, I feel like that I've been able to stay true to who I am throughout my coaching career and that's really important to me. Taking on this opportunity feels really, really special after seeing all the support.
DB: This is a team that's historically been one of the top teams in the country, but the last two seasons they've missed nationals. What do you think it's going to take to bring this team back to that level?
JM: It's going to start with building relationships with them (the student-athletes). That's my goal, is to get to know each and every one of them individually, where they come from, the things that excite them, the things that they struggle with. Just really get to know them, get to know who they are as people, and then with that we can build a bond and a really strong culture that can drive the team forward and be something that's uniquely Bruin.
DB: When it comes to UCLA gymnastics, I feel like the term, "UCLA gymnastics legacy" comes up a lot. As someone who's seen this team but not really been a part of it yet, what does that mean to you and how do you think you can preserve and uphold that legacy?
JM: I think the legacy of this program is something really special and important. I think it's something that absolutely should drive everything that we do moving forward. And I'm excited to bring in alums and people that have been involved in the program in the past to really help keep that Bruin family alive and growing because there is an overlying tradition of excellence here that I think that everybody can be inspired by. If we can keep pulling from the past and learning from the things that made this program so strong, we're going to be able to do the same moving forward.
Settleman is currently the Sports editor on the football, men's basketball and gymnastics beats. He was previously an assistant editor on the gymnastics, women's soccer, women's golf, men's water polo and women's water polo beats and a contributor on the gymnastics and women's water polo beats.
Settleman is currently the Sports editor on the football, men's basketball and gymnastics beats. He was previously an assistant editor on the gymnastics, women's soccer, women's golf, men's water polo and women's water polo beats and a contributor on the gymnastics and women's water polo beats.