May Day rally invites UC unions to educate UCLA community on labor issues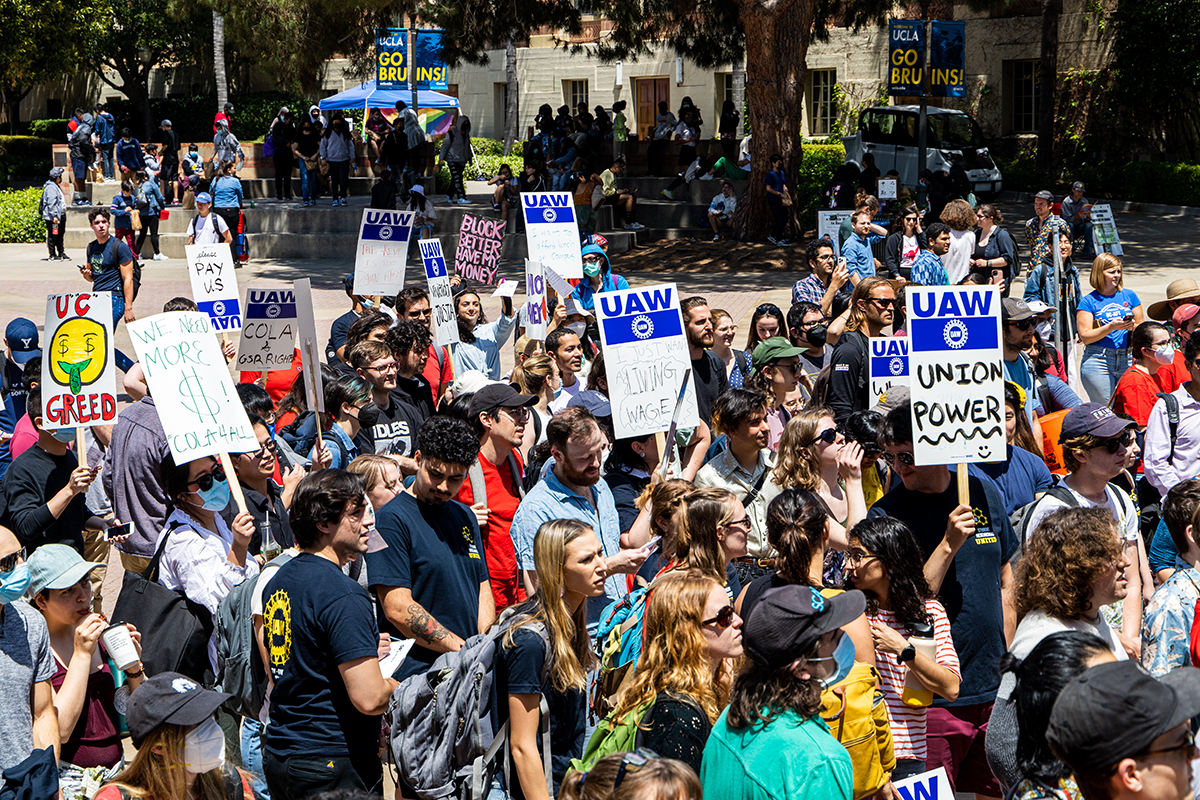 Students gather at Bruin Plaza for a labor union rally hosted by the Young Democratic Socialists of America. Labor unions are demanding fixes to poor labor policies and conditions.
(Finn Chitwood/Daily Bruin)
The Young Democratic Socialists of America at UCLA hosted a May Day rally in Bruin Plaza on Monday, inviting the community to learn more about the labor rights movement.
Representatives from University of California labor unions set up informational booths at the event. At noon, they gave speeches about ongoing labor rights issues within the UC such as understaffing, unfair wages and burdensome rent conditions. May Day is an international holiday that celebrates working class victories against oppressive labor policies and conditions and raises awareness of ongoing workers' issues, according to the UCLA Institute for Research on Labor and Employment.
Lex Von Klark, a third-year political science student and member of YDSA who helped organize the rally, said it was an opportunity for the UC labor unions to communicate with each other and the community about this year's progress.
United Auto Workers 2865 is a labor union representing more than 19,000 UC teaching employees. According to its website, it recently secured contract agreements on job posting, worker evaluations and health and safety after negotiations with the UC. Now, it is working to reduce rent and increase pay for graduate student workers, Von Klark said.
Saul Ruddick-Schulman, a co-chair of UCLA's YDSA and third-year labor studies student, said these victories underscore that workers are important and the UC cannot treat them poorly.
After discussing the recent negotiations of UC labor unions with the UC, several of the speakers repeated slogans such as "Unions work" and "When we fight, we win."
One of the speakers, Rachel Forgash, the unit chair of UAW 2865, said at the rally that university workers are starting to realize the lack of support from their employers and fight back against terrible labor conditions.
"Grad workers who are living close to campus are paying 75% of their income back to their employer, the University. … That is absolutely so unjust," said Forgash, who is a political science doctoral student.
Max Belasco, a research and instructional technologist for UCLA School of Law and member of University Professional and Technical Employees-Communications Workers of America 9119, said one of the most critical issues right now is understaffing. He added that when UC professional and technical positions are understaffed, there are often serious impacts, such as animals dying in research because of a lack of animal-care technicians.
UC Office of the President spokesperson Erika Cervantes said in an emailed statement that the UC is currently in negotiations with UAW 2865 regarding contracts for academic student employees, postdoctoral students and graduate student researchers.
She added that proposals for postdoctoral and graduate student researchers include annual pay increases and enhanced pay leaves. Cervantes also said the UC is in the early stages of negotiations for a contract covering other academic student employees.
"Our overarching goal with each of these negotiations is a multiyear agreement that recognizes these employees' important contributions to the UC community by ensuring fair pay, quality health and family-friendly benefits, and a supportive and respectful work environment," Cervantes said in the statement.
Forgash said UAW 2865 wants the UC to live up to its mission statement of serving the interests of Californians by being transformative and accessible to the public by giving graduate students proper living wages.
Von Klark added that the movement is relevant to undergraduate students as well as UC employees because tuition continues to increase while the median income for a lecturer remains a little more than $19,000, which is below the poverty line in California.
"I'm just angry that I'm paying so much," he said. "And the people who are working so hard to give me a good education … are getting so little."
Ruddick-Schulman said UCLA student workers and employees should talk to their coworkers to see if they have shared labor issues. Instead of confronting the employer individually, workers should consider joining a union and using their collective voice, he added.
At 12:40 p.m., the rally came to an end.
"Work is hard, and it's hard to make a living," Ruddick-Shulman said. "It's nice to take a day and celebrate what we have won and what we're going to win."