UCLA softball to face Arizona State in final road series of regular season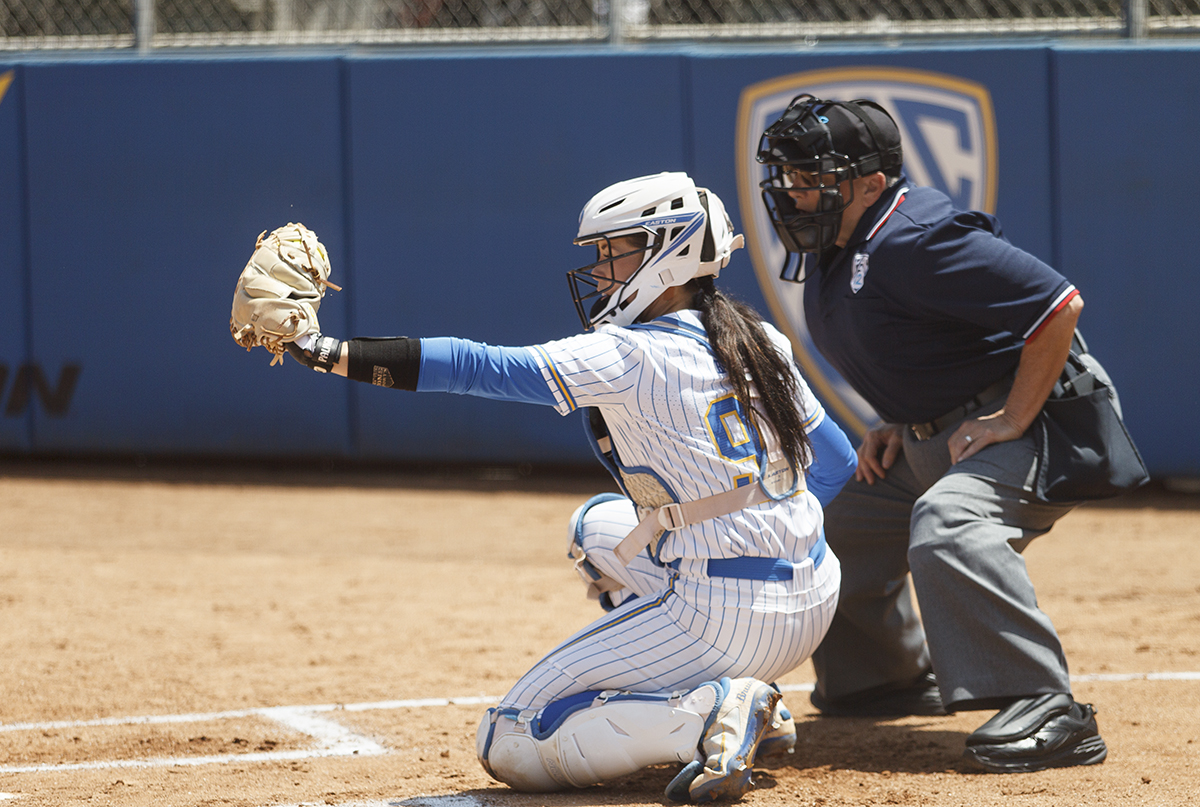 Redshirt senior Delanie Wisz plays behind home plate. Wisz recorded a perfect fielding percentage in UCLA softball's previous series against Utah. The blue and gold will take on No. 12 Arizona State from Friday to Sunday, with Pac-12 standings implications on the line. (Joseph Jimenez/Daily Bruin)
Softball
---
Arizona State
Friday, 5 p.m.
Tempe
Pac-12 Networks
---
Arizona State
Saturday, 4 p.m.
Tempe
Pac-12 Networks
---
Arizona State
Sunday, 12 p.m.
Tempe
Pac-12 Networks
The Bruins' final road series of the regular season will be a showdown of the top two teams in the running for the conference crown.
No. 4 UCLA softball (39-6, 15-3 Pac-12) will face No. 12 Arizona State (35-7, 16-2) in a three-game series in Tempe this weekend. The Sun Devils currently hold the top spot in the Pac-12 standings, while the second-place Bruins trail by one game.
Redshirt senior infielder Delanie Wisz said her team is well aware of the implications of the matchup.
"Everyone knows what this series means for Pac-12 standings," Wisz said. "We're just trying to play one game at a time and not put too much pressure on this weekend as a whole."
UCLA has won 15 of its last 16 games against Arizona State and currently has a nine-game winning streak against the Sun Devils dating back to 2018.
Arizona State is top two in the Pac-12 in nearly every measure of offensive production, including batting average, RBIs and home runs.
Sun Devils' outfielder Yannira Acuña and infielder Cydney Sanders lead the conference in on-base percentage, posting 0.563 and 0.561 averages, respectively. Both Sanders and Acuña join Bruin pitchers redshirt junior Megan Faraimo and redshirt senior Holly Azevedo as USA Softball Collegiate Player of the Year Top 25 Finalists.
Coach Kelly Inouye-Perez said the Bruins will respond to Sanders, Acuña and the rest of the Sun Devil offense with some hitting of their own.
"I expect for them to throw some punches, but we'll do the same," Inouye-Perez said. "We're going to hope that our pitchers can change speed to keep them off-speed, keep balls in the park — and on the flip side, our plan is to do the same."
In the circle, Arizona State's staff ranks fourth in the conference in ERA and has given up the fewest number of walks of any Pac-12 team. While Bruin pitchers graduate student Lauren Shaw, Faraimo and Azevedo hold the top three spots for the best individual ERA in the conference, the fourth and fifth spots are held by Sun Devil pitchers Marissa Schuld and Lindsay Lopez.
In a battle of the top pitchers in the conference, Azevedo said the plan is to stick to what she knows.
"During the weeks leading up to this weekend, we've just worked on playing our own game," Azevedo said. "If we come out with our A-game, it's going to be a good game."
The Sun Devils have found success playing at home this season, posting a 22-3 record when playing in front of the Arizona State faithful.
To be successful in Tempe, Wisz said the Bruins will need to play their best ball and surpass the energy brought by the Sun Devil fans.
"As a team, we all know that we have to play our game wherever we are, whether that be at home or in somebody else's house," Wisz said. "We know that we need to bring our A-game, and we need to be super loud to combat their home fans."
UCLA kicks off the series Friday at 5 pm.
Coyle is currently a Sports contributor on the softball beat.
Coyle is currently a Sports contributor on the softball beat.