Op-ed: Students must support Black Bruins, BBRC by passing EARN! Referendum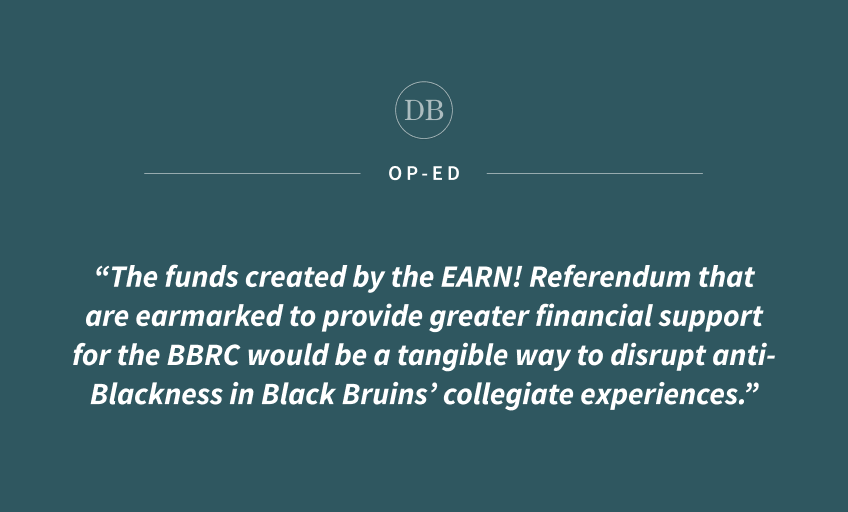 For many, Black students' desire to have a space designed to serve our unique needs seems antithetical to the celebration of multiculturalism and diversity. "Isn't that the opposite of what Dr. King fought for?" some may ask. To the uncritical thinker, creating spaces designed to serve one particular race of students may seem like an indication that we are making a backward slide away from the supposed racial progress that's taken place since the civil rights movement. However, the pervasive nature of anti-Blackness in Black students' collegiate experiences creates unique obstacles for Black students and cultivates a campus racial climate in which Black students are unable to find reprieve from persistently dehumanizing experiences and the trivialization of our struggles. Because of this, UCLA must provide Black students with targeted support to ensure that we are retained and graduate at rates similar to our peers. The creation and continued support of the Black Bruin Resource Center through a "yes" vote on the Education, Access and Retention, Now! Referendum would be one step toward achieving that goal.
The funds created by the EARN! Referendum that are earmarked to provide greater financial support for the BBRC would be a tangible way to disrupt anti-Blackness in Black Bruins' collegiate experiences. Anti-Blackness is the cultural disdain for Blackness reflected in society's inability and unwillingness to recognize the humanity of those racialized as Black. In the context of higher education, anti-Blackness looks like this: Prior to desegregation, Black students were viewed as undeserving of admission into predominantly white institutions because they were seen as subhuman, but contemporarily, Black students are viewed as undeserving because they are seen as "unqualified" by virtue of their Blackness. Here, the anti-Blackness that defined the schooling experiences of Black situdents prior to federal desegregation has simply transformed to adapt to a new racial regime, shifting from overt discrimination to covert, colorblind discrimination. Within this context, Black students at PWIs such as UCLA are often seen as "affirmative action admits" who did not deserve to be admitted and consequently do not belong among the larger campus community. This is evidenced in questions commonly asked to Black students such as "Do you go here?" or "Which sport do you play?"
While these questions may seem innocuous, they communicate to Black students that their peers do not believe they are capable of being admitted into UCLA on their own intellectual merits. If these questions were asked in isolated incidents, one could write them off as simply the result of individual prejudice or harmless probing. However, the salient and incessant nature of these microaggressions indicates a general campus climate where anti-Blackness and anti-Black beliefs about the educability of Black students proliferate. The salience of these microaggressions is particularly harmful to Black students who may internalize these beliefs about themselves, leading to lower self-esteem and a lack of a sense of belonging. Undoubtedly, this hostile environment for Black students contributes to difficulties in completing their degrees.
Whereas microaggressions may point to a hostile social climate, a gap in graduation rates potentially reveals a lack of institutional support for Black students. This lack of institutional support for Black students is equally as hostile as the anti-Black social climate, as it directly undermines the quality of our collegiate experience and further sends messages to Black students that we do not belong and cannot thrive at the university. However, numerous studies have suggested that the creation of academic counterspaces for Black students is important to improve Black students' holistic wellbeing. Recent scholarship has documented how these spaces can provide Black students with a supportive environment free from anti-Blackness and create space where academic resources can be centralized. Additionally, the supportive environment would enable students to develop bonds over their shared experiences as Black students at a PWIs, ultimately supporting greater academic achievement.
Due to the structural barriers that Black undergraduates must overcome before they arrive at UCLA, in tandem with the anti-Blackness that shapes their collegiate experiences, it is imperative for the university to provide Black students with targeted interventions to support our retention and graduation. The continued support of the BBRC is one such intervention, as the center needs more funding for resources, programs and assistance. Currently, the $250,000 operational budget breaks down to $100,000 for the space in Kerckhoff, which goes directly to Associated Students UCLA, $100,000 for professional staff salary and $50,000 for programming. These funds cannot effectively serve a growing student population of almost 1,600 Black students.
After deducting financial aid's return fee, the $5 EARN fee would actually translate to $3.75, which would be split between the BBRC and the Transfer Student Center. Clearly, the BBRC is not solely intaking the entire referendum fee. The BBRC operates on a much smaller budget than other resource centers on campus – which have had years to build up and increase their budgets. Additional funding would be used to hire more full-time staff to ensure smoother operations and support the expansion of access and retention resources that would work toward increasing the number of Black students who are admitted to UCLA, in addition to ensuring that they have the vital academic resources needed to be retained and work toward graduation.
While the creation of the BBRC is certainly not the long-awaited solution to ending anti-Blackness at UCLA, its continued support is an obvious means of mitigating the suffering of Black students on campus by providing us with a pro-Black space in addition to creating a centralized location for Black students to seek community and campus resources vital to our retention.
McAdoo is a doctoral student in the Urban Schooling Division of UCLA's School of Education and Information Studies. He is also employed as a graduate student researcher for the BBRC. He received his bachelor's degree in African American studies from UCLA in 2021.
Anderson is the current chairperson of UCLA's Afrikan Student Union and will graduate with her bachelor's degree in African American studies in June.