UCLA track and field maintains losing streak to USC in annual dual meet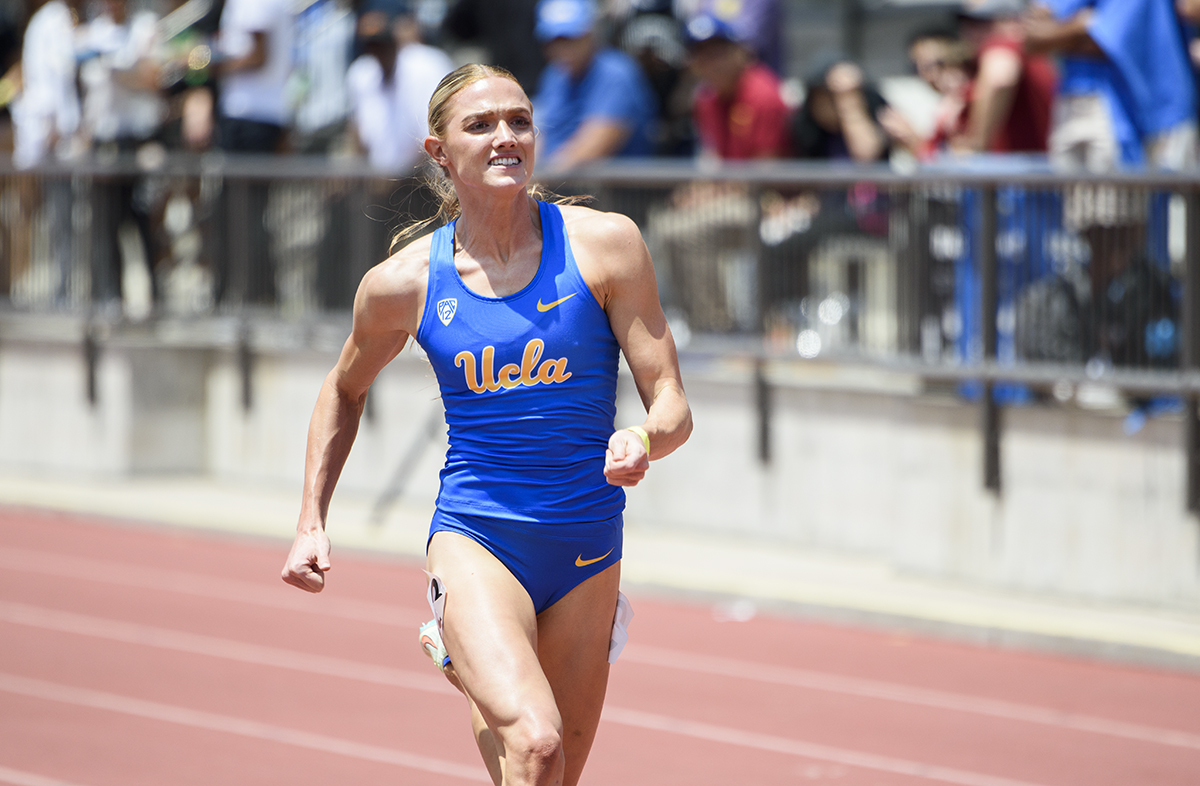 Redshirt senior sprinter Shae Anderson runs on the track during UCLA track and field's dual meet against USC on Sunday. Anderson posted a season-best 23.18 seconds in the 200-meter to win the event. (Jeremy Chen/Daily Bruin staff)
Correction: The original version of this article incorrectly stated in a sentence that the UCLA track and field men's team won its dual meet against USC. In fact, the USC men's team won.
This post was updated May 4 at 10:52 p.m.
The Bruin women thought they had snapped a seven-year losing streak against their crosstown rivals.
But the skid will last for at least another year after it was announced around 25 minutes after the competition concluded that junior thrower Natalie Ramirez's discus throw had been incorrectly scored.
In its annual dual meet against USC on Sunday, UCLA track and field was swept as it fell 82-81 on the women's side following the scoring change while the men also lost by a score of 86-76.
The Bruins' loss now marks an eight-year losing streak to the Trojans for the women's squad, with the all-time record 22-16 in favor of the blue and gold. The men trail 42-46 in their own all-time series against USC. Coach Avery Anderson said he was proud of his team's performance throughout the duration of the meet.
"The team went out and they fought from the beginning to the end throughout the meet," Anderson said. "The support and encouragement amongst teammates showed me that this team had a great day."
Anderson added that the history of the two programs further motivated his team in its final regular-season meet of the season. Multiple Bruins recorded season-best performances Sunday.
"It makes people step their game up, it makes people bring their A-game," Anderson said. "Bring your A-game because this is what this dual meet is and has been."
Freshman jumper Amber Jackson got the win in the women's high jump with a mark of 1.70 meters (5-07.00) in the first dual meet of her collegiate career. Jackson said she was proud of how she was able to help her team in her first taste of the Los Angeles rivalry.
"It was really fun and there was a lot of energy," Jackson said. "I didn't really understand the rivalry between UCLA and USC before I got to this meet."
Both the UCLA men's and women's 4×400-meter relay teams recorded season bests in their respective events with times of 3:04.18 and 3:31.17, respectively. The Bruins also brought home a first-place finish in the women's 200-meter, with senior sprinter Shae Anderson finishing in 23.18 seconds.
Shae Anderson said she is happy with her improvement in the event as she heads into the postseason.
"I felt good overall, definitely better than how I felt at Mt. SAC," Shae Anderson said. "It was definitely something good to go off of for Pac-12s and gain a little more confidence."
Shae Anderson said the team has continuously progressed throughout the entire season, and Sunday's meet was a culmination of that growth.
"Now we are finally seeing our team progress into the team we know it can be," Shae Anderson said. "That was definitely special in that sense."
The Bruins swept both the men's and women's steeplechase competitions. Junior distance runner Peter Herold took the victory for the men with a time of 8:48.59, and junior distance runner Emma Tavella finished first for the women with a time of 10:13.43.
UCLA will next compete in the Pac-12 championships in Eugene, a three-day postseason meet beginning May 13.
Hallum is currently a contributor on the track & field and swim & dive beats.
Hallum is currently a contributor on the track & field and swim & dive beats.