UCLA track and field to match up against USC in final regular-season competition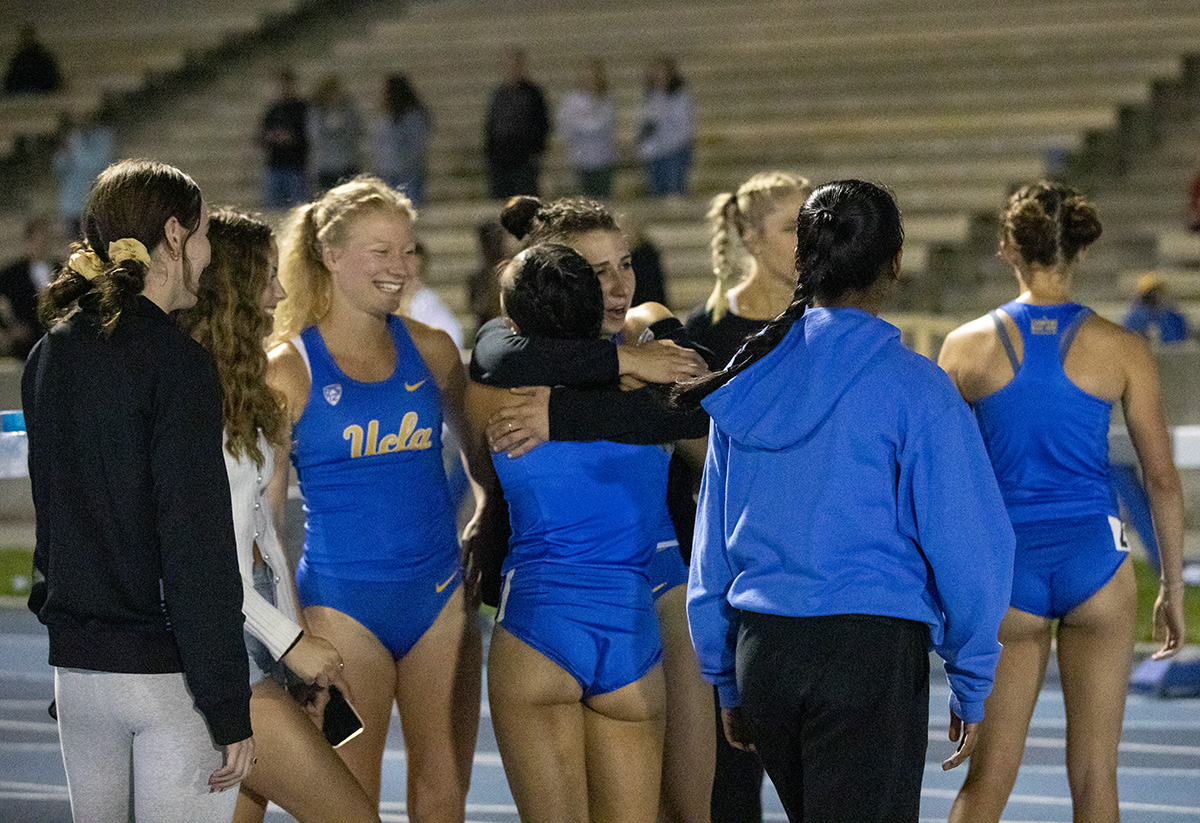 UCLA track and field athletes embrace following a race. The Bruins will participate in their final meet of the regular season at USC on Friday. (Anya Yakimenko/Daily Bruin)
The Bruins will meet up with their crosstown rivals in their final meet of the regular season.
UCLA track and field will compete at USC on Sunday, with the Trojans hosting the two teams' annual dual meet. The Bruins took home nine event victories against USC in last season's meeting at Drake Stadium. The event comes over a week after the blue and gold's most recent action in Riverside, where it earned nine first-place finishes at the Chris Rinne Twilight on April 22.
Coach Avery Anderson said he saw his team's performance in Riverside as a chance to figure out areas that can still be improved upon heading into the season finale.
"Coming out of the meet, there are areas we did well and also where we didn't perform," Anderson said. "Overall, it was a solid day. It's toward the end of the season, and it's time to tighten up some things."
Any performance throughout the season that reaches a certain threshold will grant an athlete a bid to the postseason and a spot in the NCAA preliminary rounds, meaning the matchup with the Trojans will be the Bruins' final chance to do so this season. Twenty-eight UCLA athletes have already punched their tickets to the NCAA West Preliminaries as well as three relay teams.
The field events will kick off the competition at 11 a.m., with the pole vault, javelin throw and triple jump starting the day. Sophomore pole vaulter Katerina Adamiec and senior thrower Lauren McFall have both solidified themselves for the postseason, while on the men's side, graduate student pole vaulter Tate Curran and junior thrower Anoop Khatra have already qualified as well.
The track side of the competition will kick off at 11:15 a.m. with the women's 3,000-meter steeplechase, which will include junior distance runner Emma Tavella, who owns the second-best all-time program mark for the event.
For freshman distance runner Audrey Allen, injuries have derailed her ability to compete for most of the season. Allen, who normally competes in the 1500-meter dash, said every race is a possibility for improvement and learning.
"I'm coming back from injury, and this was only my second race," Allen said. "I'm just taking all the opportunities I can to race. Taking each one as getting race experience and learning how to run my event on a track."
Sophomore thrower Aidan Elbettar, who took the win in the men's discus in Riverside, said he has his sights set on the postseason with high confidence.
"I feel pretty good, and I can't complain," Elbettar said. "My body is going to feel better, so I should be in a good position to throw a PR (personal record) and compete with others looking to get a medal or be an All-American."
Freeman Sacker is currently a Sports contributor on the men's golf and track & field beats.
Freeman Sacker is currently a Sports contributor on the men's golf and track & field beats.