Opinion: Students should reject fast fashion in favor of sustainable clothing sources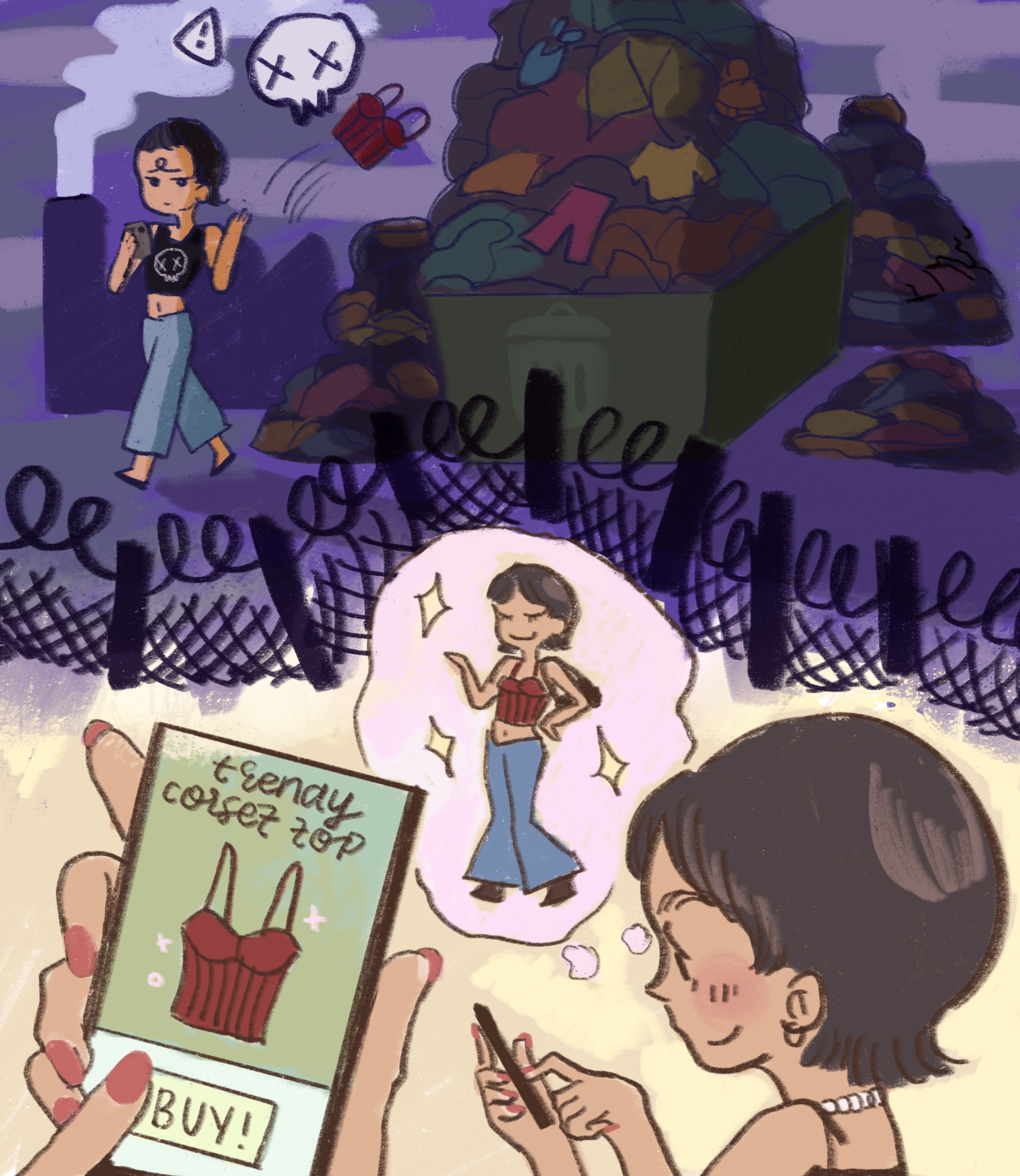 (Maleeha Zaman/Daily Bruin)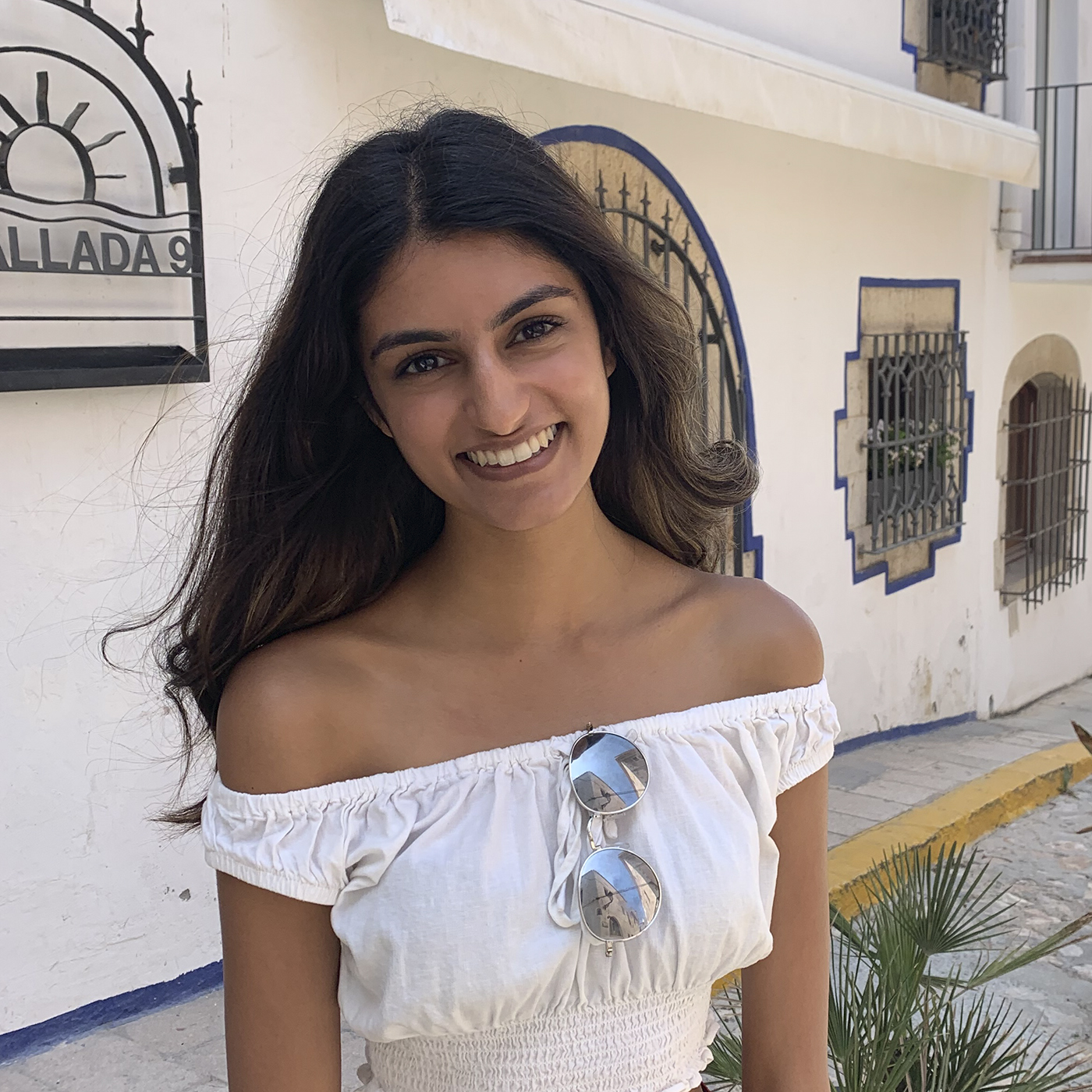 Shops like Zara, H&M and Urban Outfitters have become staple go-tos for many of us when we want a cheap top or a trendy pair of jeans to refresh our wardrobe.
Every month, they deliver the newest looks and churn out thousands of pieces that look like they were pulled straight from Fashion Week.
Yet, as clothing is sold at increasingly low prices and tossed aside after one or two uses, fast fashion has become a rising problem over the past few years. The thrill of a new top or skirt gets old quickly, and, especially among millennials and members of Generation Z, the urge to indulge in fast fashion can be hard to resist, as reported by Vogue Business. This is especially true for Bruins, who attend a college with themed parties and a bustling social environment that may breed a consumption culture.
However, what consumers fail to recognize are the real costs behind their clothing hauls.
The fashion industry is responsible for 8% to 10% of global carbon emissions, according to the UN Environment Programme, and will increase to 26% by 2050 if we don't take action now and reduce our reliance on fast fashion. Not only is this ultrafast production harmful to the environment, but less than 2% of the world's 75 million garment workers make a livable wage, according to the Lowest Wage Challenge. The inexpensive clothing we so casually purchase hides a slew of ethical labor practices, rising landfills and dying ecosystems.
And as consumers, we cannot choose to ignore this. Instead, we must attempt to practice ethical shopping and recognize the true cost of our clothing – even if it requires more of our attention.
Fashion and Student Trends at UCLA designer and first-year business economics student Ethan Cortez said recycling and reusing are feasible options for making the fashion industry greener.
"Producers are the ones funding this mass trend … where everybody wants to consume over and over again," said Cortez. "This whole consumer culture … wouldn't be around if it wasn't for producers like SHEIN who are constantly uploading thousands and thousands of looks for extremely low prices."
Cortez added that producers could move toward using fabrics made from recycled plastics or repurposing clothing on an industrial scale as ways to decrease fabric waste.
For Gen Z, the cohort that the majority of the UCLA undergraduate student body belongs to, fast fashion has been around for our entire lifetime. Cheap clothing is the norm, and it's reflected in the decreasing prices of fashion. In fact, even as inflation increased, the consumer price index for clothing still dropped by 10% from 1998 to 2008, as reported by the New York Times.
Fast fashion has become a part of our culture. However, that is not an excuse to continue supporting unethical manufacturing practices once we've been made aware of them.
Apart from the environmental cost of clothing production, garment workers are severely mistreated, even right here in Los Angeles. The Garment Worker Center reports most garment workers are paid on a piece rate of two to six cents rather than an hourly wage. These workers do not receive overtime pay despite working 60 to 70 hours per week, making between $4 and $5 an hour, according to the Garment Worker Center. This allows companies to exploit laborers who work around the clock to boost their own production sales while keeping labor costs low.
California was the first state to ban the piece-rate pay system for garment workers in 2021. However, companies can easily turn to other countries for cheap labor. In fact, more than 95% of clothing sold in the United States is imported, as reported by WBUR, a nonprofit news organization in Boston.
And overseas working conditions for garment workers are equally, if not more, exploitative than those in the U.S. A 2019 study published in Women's Health reported that in Bangladesh, for instance, female garment workers are yelled at and physically abused if they make a mistake or fail to meet a goal.
"Let's decide not to support the companies that deplete Earth's resources and punish the people who manufacture our clothes," said Deborah Nadoolman Landis, a costume designer and professor at the UCLA School of Theater, Film and Television. "They will change their practices if us consumers really make our voices heard."
Localized manufacturing is one solution to the immense waste produced by the fashion industry. An on-demand model, which allows customer demand to drive production rather than trend forecasts, reduces overstock and carbon emissions, according to production management platform N.A.bld. It's also beneficial to brands that can tailor clothing to their target markets without product waste.
"There's opportunities about rethinking production in order to keep up with the fast pace of change of style," said Julia Koerner, an assistant adjunct professor at UCLA Architecture and Urban Design. "Or you change the mentality and understanding of the people and you make it a trend, that it's actually trendy to buy things which last long."
It's true that the incredibly low prices of fast fashion brands make their clothing more accessible, especially for those who can't afford higher-end items. But cheap, sustainable solutions still exist – thrift stores and secondhand items offer opportunities for upcycling and following fashion cycle trends without the high price tag. For instance, purchasing a dress secondhand can save 21.4 pounds of carbon dioxide emissions while saving the consumer some money, according to the sustainability platform Green Story.
LA has no shortage of thrift stores for students. In fact, there's a thrift store benefiting UCLA Health near Sawtelle, fewer than three miles from campus.
Rapid production cycles and microtrends breed an environment for overconsumption. In a world where retail therapy has become easier than ever, it's no wonder young people feel pressured to keep up with every fashion trend.
However, consumers must assume a responsibility to be better informed and take more responsibility for the choices they make.
Manufacturers won't change their practices until their customers take a stand.