UCLA softball prepares for penultimate home series against Utah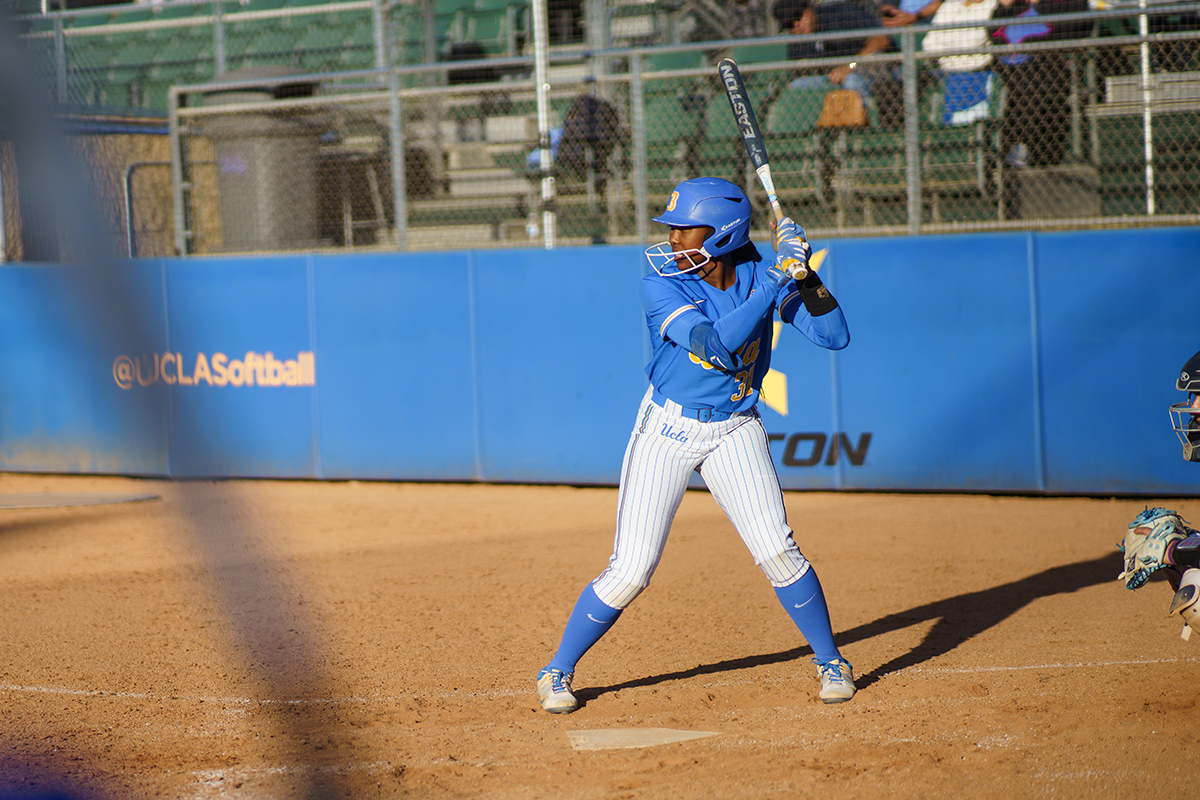 Redshirt senior infielder Kinsley Washington waits in the batter's box during a game. Washington and No. 3 UCLA softball will begin a three-game series against Utah on Friday. (Patrick Shao/Daily Bruin)
softball
---
Utah
Friday, 7 p.m.
Easton Stadium
UCLA Live Stream-2
---
Utah
Saturday, 6 p.m.
Easton Stadium
Pac-12 Insider
---
Utah
Sunday, noon
Easton Stadium
UCLA Live Stream-2
Coach Kelly Inouye-Perez said the Bruins will need to bring their A-game if they are to win their upcoming series – the difference in standings and all.
"Utah is scrappy and they have nothing to lose," Inouye-Perez said. "We've got to show up and we've got to be able to play in our house."
Coming off a midweek five-inning shutout against Cal State Fullerton, No. 3 UCLA softball (37-5, 13-2 Pac-12) will return to Easton Stadium on Friday to begin a three-game series against Utah (23-22, 5-10 Pac-12). The contests give the Bruins an opportunity to add to their 11-game winning streak against the Utes dating back to the 2018 season.
Utah sits at eighth place in the Pac-12 standings while UCLA holds the top spot. The Utes are sixth in the conference in batting average and seventh in ERA.
Inouye-Perez said the Bruins need to center themselves to ensure they don't fall for the trap posed by a lower-ranked team.
"The focus is not about them, the focus is about us and how we can maintain consistency," Inouye-Perez said. "It's a trap – to let down mentally, to assume that the game knows that you're supposed to win."
Despite its standing in the Pac-12, Utah leads the conference in several offensive areas. It has the fewest number of strikeouts and the most stolen bases in the Pac-12.
Redshirt junior pitcher/first baseman Megan Faraimo, who has given up one run in 25.1 career innings pitched against the Utes, said rankings don't paint the full picture when it comes to her upcoming opponent.
"I know that they swing their sticks, so you just can't really look at that (statistic)," Faraimo said. "You just got to be prepared that you're playing the best team in the country every time."
Redshirt senior infielder Kinsley Washington added that the Bruins are well aware that their first-place standing will not guarantee them any wins.
"A big quote that our team uses is, 'The game never knows,'" Washington said. "No matter what the rankings are, whoever shows up that day and is the better team, that's who's going to win."
The Bruins kick off their penultimate home series Friday at 7 p.m.
Coyle is currently a Sports contributor on the softball beat.
Coyle is currently a Sports contributor on the softball beat.