The Quad: Gene-editing tool CRISPR makes significant advancements from medicine to agriculture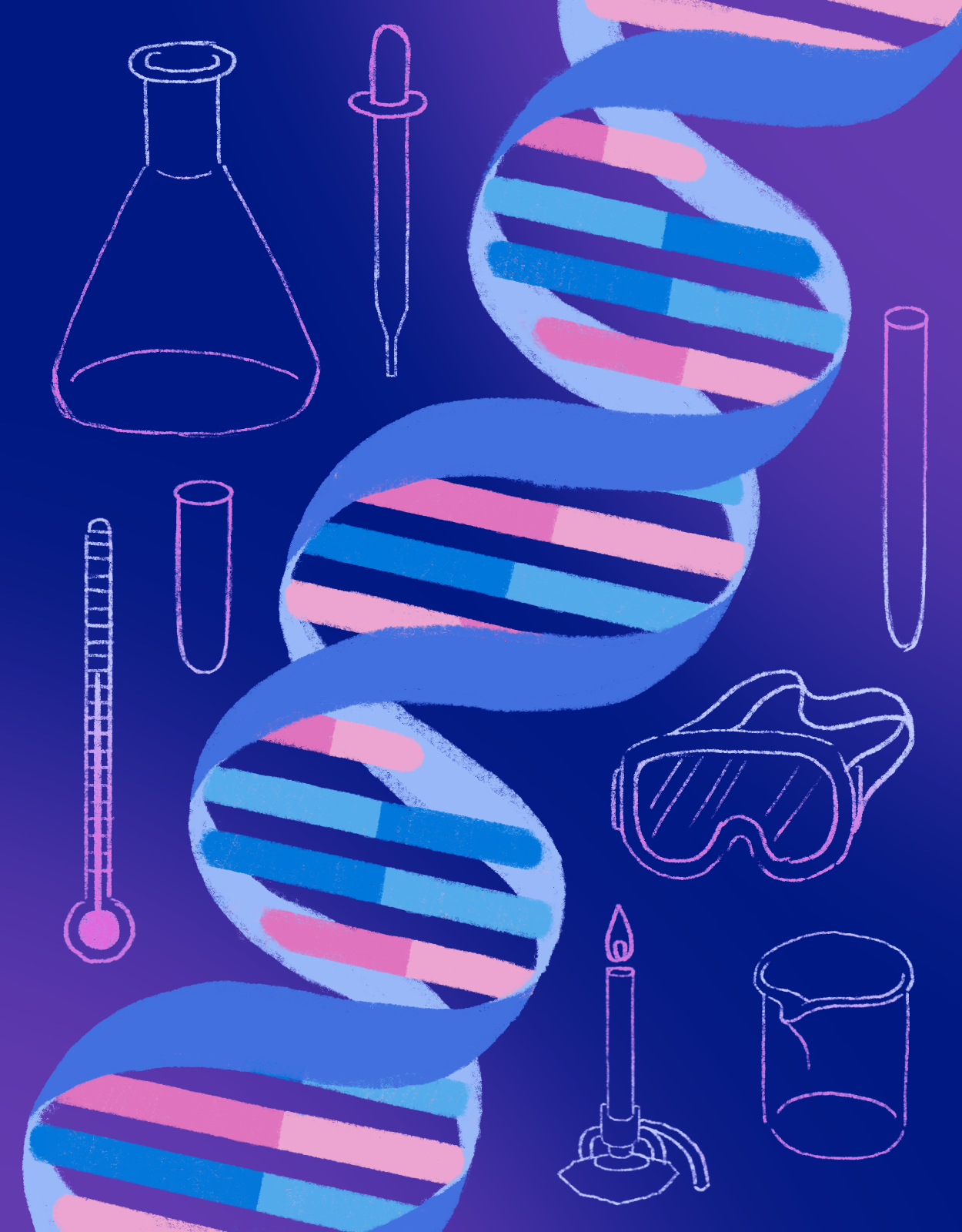 (Isabella Lee/Daily Bruin)
This post was updated May 11 at 9:45 p.m.
After winning the 2020 Nobel Prize in chemistry for developing a means to edit genomes, CRISPR co-inventor Jennifer A. Doudna and her team celebrated with genetically edited CRISPR beer instead of traditional champagne.
CRISPR, which stands for Clustered Regularly Interspaced Short Palindromic Repeats, is a groundbreaking technology that can specifically and accurately edit the fundamental components of a gene, such as yeast genes, as was the case with celebratory beer.
Life sciences professor Rana Khankan said the gene-editing power of CRISPR is akin to that of a cursor on a document.
"You can go in and cause a double-stranded break in any genome, anywhere you want," Khankan said. "It's like being able to take your cursor on a Word document. … You can place it anywhere there is text, and you can delete, insert and modify."
Khankan added that in the past, proteins called restriction enzymes would be used to cut DNA; however, they could only cut at specific sites on the genome, while CRISPR can cut at any desired location.
Andy Murdock, communications director at the Innovative Genomics Institute, said although there are not any fully approved clinical applications using CRISPR, there are numerous ongoing clinical trials in the United States for its uses, some of which could be approved in the next 10 years.
"The turning point is right now," Murdock said. "It's been 10 years since it (CRISPR) was originally developed. … There's been quite a lot of development over that time."
One such example is an ongoing study that is being conducted jointly by UCLA, UC San Francisco and UC Berkeley to find a less costly and less invasive mechanism to correct the sickle cell disease gene defect in comparison to a stem cell transplant. According to the study, the patient's blood stem cells are removed and sent to UCLA facilities, after which CRISPR technology is used to correct the mutation in blood stem cell nuclei before they are reintroduced to the patient.
Assistant professor of molecular, cell and developmental biology Atsushi Nakano uses CRISPR at UCLA in order to understand how the heart is formed.
Nakano said he uses a CRISPR technique called the barcode technique to generate scars in the DNA to map the development of embryonic cells in the heart, leading to a greater understanding of its formation.
"Because the CRISPR technology allows us to generate the scar in the genomic DNA, … you can retrospectively tell where the scars are," Nakano said. "And if you compare the scar of two different cells, you can tell how close these cells are."
In addition to its usage in clinical applications and research, CRISPR has opened doors for revolutionary discoveries and advances in other fields of science, such as diagnostics, which seeks to identify, monitor and screen diseases or conditions in patients.
Murdock said CRISPR can quickly identify specific segments of DNA, a function useful in diagnostics. He added that there are accurate, quick and adaptive at-home diagnostic tests that will hit the market shortly.
"They can really be quickly adapted to mutations in a virus or adapted to a completely different disease," Murdock said. "One of the ones that we've been working on at the IGI was originally being developed for HIV and then when the pandemic hit, we pivoted quickly to adapt it to SARS-CoV-2."
Khankan said CRISPR goes beyond solely gene editing, as it can also be used to detect nucleic acid sequences, which are structures vital to all life. Since essentially all living organisms have nucleic acids, CRISPR can be critical in the field of diagnostics.
Beyond medicine, CRISPR's influence also extends into agriculture and environmental conservation.
Murdock said Japan approved two products, one of which is a CRISPR tomato with enhanced nutrition and the other being a CRISPR sea bream fish with 50% more muscle mass than non-CRISPR versions.
"They're not inserting new things from anywhere else," Murdock said. "But what they're doing is they're mimicking things that we see naturally. … We see certain fish … learn to produce more weight in a smaller amount of time."
Similarly, researchers from Penn State created a mushroom using CRISPR that resists browning and therefore has a longer shelf life, according to the National Institute of Food and Agriculture.
Murdock said CRISPR can aid environmental efforts by altering plants to pull in more atmospheric carbon, sequester carbon soils and reduce harmful emissions.
CRISPR can not only be used to insert and delete genes but also to increase or decrease expression.
"They're not going in and saying, 'We're going to break this gene,' or 'We're going change the sequence of letters,'" Khankan said. "What they were doing is modifying the sequence of DNA so that the gene that is … regulated by that sequence gets inhibited or expressed."
Murdock said ultimately, CRISPR is limited by what we presently know and can feasibly do.
"We don't know a gene that makes people jump six feet high, so we can't turn people into superheroes," Murdock said.
Although the creation of superheroes may be more fiction than science, CRISPR's future may be just as exciting with the close arrival of unprecedented advancements in medicine, diagnostics, agriculture and more.
"It's going to open up a whole new avenue of treatments, therapeutics that can be personalized to treat patients that we actually have no other way to treat," Khankan said.