The Quad: Discussing future of internet in relation to corporate ownership, metaverse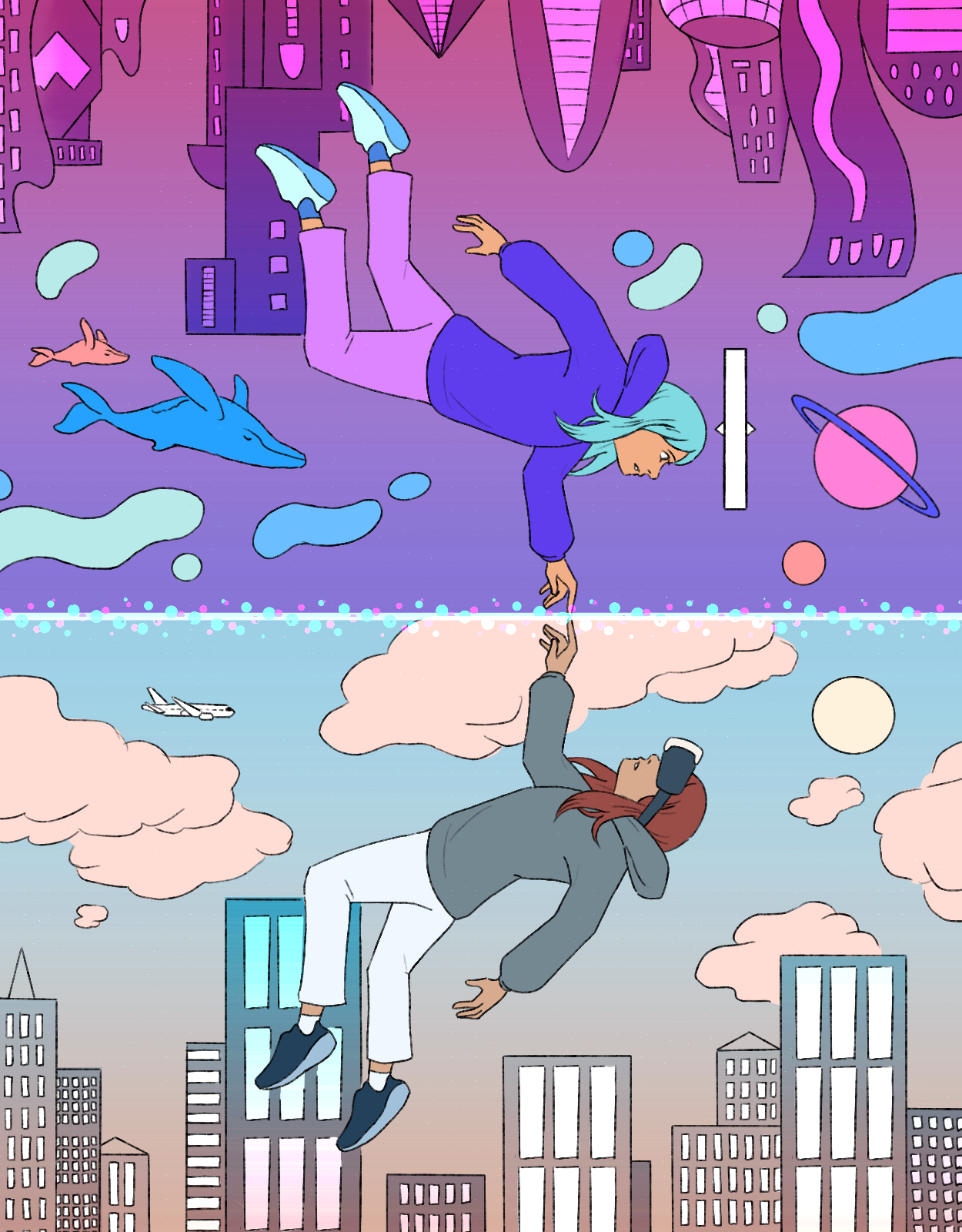 (Isabella Lee/Daily Bruin)
In a widely circulated video released in October 2021, Facebook CEO Mark Zuckerberg unveiled the company's rebranding as Meta.
During an hourlong video demo, Zuckerberg travels back and forth between the real, physical world and what he terms the metaverse – a reference to the three-dimensional manifestation of the internet in the 1992 science fiction novel, "Snow Crash." Fundamentally, this move signifies the company's investment in virtual and augmented reality, which Zuckerberg has deemed the future of the internet.
Quickly after Zuckerberg's press release, the metaverse became the talk of the town. Memes proliferated on Twitter, investments in Big Tech surged and "metaverse" was shortlisted by Collins English Dictionary as its 2021 Word of the Year.
While the hype surrounding the metaverse initiated a conversation about the future of virtual reality, some speculate that the commotion may distract from important questions about corporate ownership.
Jenna Caravello, a design media arts professor, said the metaverse's hazy definition has created a mythology around the word and generated public interest, even though most people's lives are already heavily embedded with technology.
"The funny thing that we never really take into account is that we are currently in the process of a fledgling virtual life already, and it's not like the metaverse is going to drop out of the sky, and then we're all going to be hooked up to it," Caravello said.
Caravello, who experiments with virtual reality in her work, said using the word "metaverse" creates a brand association with Meta, giving Zuckerberg the power to shape and control the immersive virtual ecosystem which already exists.
"The final ingredient to the potion is the metaverse becoming … a final kind of linkage of all of our virtual resources in one pipeline," Caravello said. "It literally just means that we cannot wait for some billionaire to have proprietary ownership over all this stuff. We're just sitting here waiting for the next person to put their brand on it and coalesce everything into the Amazon equivalent of the VR (virtual reality) overworld."
While there is a great deal of excitement surrounding the concept of the metaverse, many are skeptical of its capacity to become mainstream, including second-year electrical engineering student Elona Khoshaba.
"I mean, how many people have access to virtual reality? It's already something that not a lot of people own just out of leisure, or people that want to own it, they can have vertigo from it. And then it's expensive. Only a select few wealthy … upper-middle-class people are gonna really partake in the metaverse," Khoshaba said.
The company that creates this virtual pipeline will have to increase the accessibility and efficiency of the equipment necessary to engage in a three-dimensional virtual world, Caravello said. The aim will be to make the hardware cheaper and sleeker while merging server providers to create one overarching virtual world.
"Right now, one of those limitations to making work in VR is that we have different headsets, we have different providers, we have different kinds of computers, we have all these different tools that aren't kind of under one umbrella," Caravello said.
David Bosnak, an engineer who works with artificial intelligence, said the extent to which Meta will be involved in shaping the metaverse is unclear.
"I think Meta is going to be integral in (the metaverse's) advancement. But I think the actual buy-in will be from somebody who is much more agile, younger and designing in a way that is not necessarily meant to be monetized," Bosnak said.
Aside from accessibility, Bosnak added that the metaverse will need to organically acquire social capital to gain wider acceptance.
"It's going to take a really organic eruption from a specific community that will create something that people want to be part of," Bosnak said. "If a company is trying to force you into being like, 'No, this is going to be the next thing,' everyone's going to rebel against it."
Communication professor Rick Dale said in an emailed statement that one of the defining factors that will lead to the metaverse becoming mainstream is the monetization of virtual entities.
"It's not just about the graphics and the visuals and the gamified experience. It's about the economic tendrils that will tie 'things' in that digital world to the people and things in the 'real world,'" Dale said. "I think that will be the biggest change – it will be seeing things in the metaverse as 'worth' something, something that can be exchanged or sold in a new realm of artifacts that will have an exchange rate with what we still call the real world."
Regardless of corporate investment, Bruins and professionals alike feel that virtual reality remains a force to be reckoned with. In a world increasingly saturated with technology, it's easy to imagine a future where the virtual realm and the real world become more enmeshed.
"Fourteen-year-old kids on VRChat are going to grow with the technology in a way that they're not going to want to let it go," Caravello said. "They're going to be 50, and they're still going to have a VRChat friend, or a VR platform friend that maybe they never met. Maybe they're going to have a VR wife, you know, that's not so far-fetched."