UCLA baseball breaks midweek winning streak with loss to UC Irvine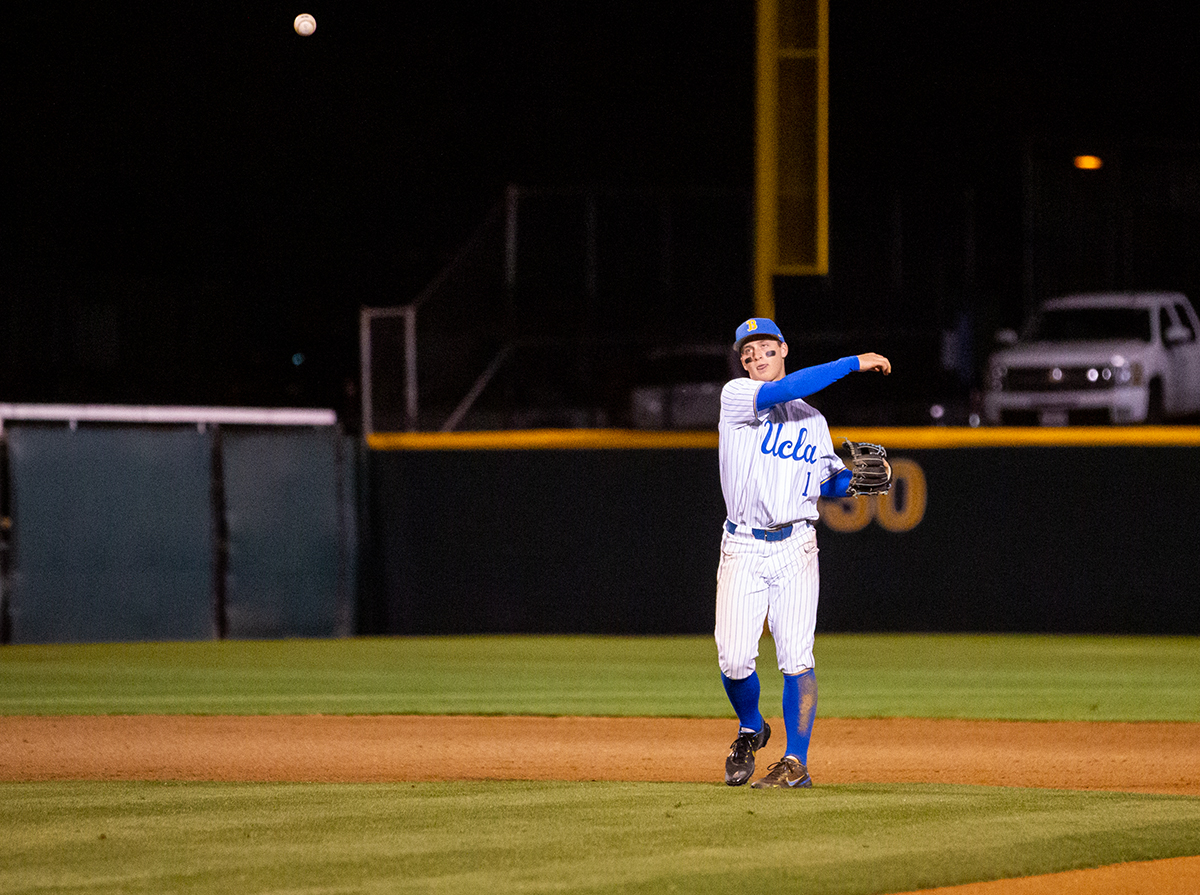 Freshman shortstop Cody Schrier throws the ball into the infield in a game April 15. Schrier logged a team-high two hits against UC Irvine in No. 13 UCLA baseball's loss to the Anteaters on Tuesday at Jackie Robinson Stadium. (Jenny Xu/Daily Bruin)
This post was last updated June 13 at 6:39 p.m.
The Bruins recorded their first midweek loss in more than two months.
No. 13 UCLA baseball (27-13, 11-7 Pac-12) fell 4-2 to UC Irvine (23-15, 9-6 Big West) at Jackie Robinson Stadium on Tuesday night, breaking a streak of seven consecutive midweek victories. Despite loading the bases in the bottom of the ninth, the Bruins were unable to complete a comeback.
"We've probably been the best team in the country in midweeks for probably a long time," said coach John Savage. "Unfortunately, we didn't get it done tonight."
UCLA left 10 baserunners stranded across the contest, marking its third straight game leaving at least that many on base. Six of those runners came over the last three innings of the game, when the Bruins put the tying run aboard in each of the seventh, eighth and ninth innings.
After two walks and a hit batter, UCLA had the winning run on base during the bottom of the ninth inning with three ducks on the pond. However, freshman designated hitter Ethan Gourson was unable to find a gap and grounded out to second to end the game.
"It's super frustrating," said freshman shortstop Cody Schrier. "But I wouldn't have anyone else out there. We were put in a good spot, but Duce (Gourson) can't get a hit every time."
Redshirt sophomore right-hander Kelly Austin started on the mound for the Bruins, allowing one run over three innings while tallying four strikeouts. The swingman said the loss can still benefit the team.
"If anything, it's a wake-up call that we need to make some slight adjustments," Austin said. "In some ways, you'd prefer it happen on a Tuesday than in a conference game."
Austin worked into and out of trouble in the first inning, giving up a pair of leadoff hits to put two men in scoring position. The redshirt sophomore gave up one run on an RBI groundout before preventing any further damage.
UCLA tied it up in the third on a sacrifice fly by sophomore third baseman Kyle Karros. With runners on the corners, Karros launched a ball to straightaway center but was robbed of a three-run homer by the Anteaters' center fielder Luke Spillane.
The blue and gold took the lead on an RBI double by Schrier in the fifth inning, his second hit of the night. Savage said he was impressed by the freshman's abilities.
"He's (Schrier's) a really advanced player for a freshman," Savage said. "He can defend, can have impact offensively, drives the ball. He's an exceptional player. I thought he had a really good night."
The Bruins conceded the lead in the sixth when Irvine scored two runs to secure a 3-2 advantage. Junior right-hander Charles Harrison allowed the first two hitters to reach base and was pulled in favor of senior left-hander Daniel Colwell. The southpaw allowed both runners to score after a wild pitch and a single.
Freshman right-hander Luke Jewett entered the game with two outs in the eighth, stranding his two inherited runners. Savage said the team prides itself on preventing inherited runners from reaching home despite the team's imperfect record in that category.
"They're (relievers are) supposed to pick each other up, and Danny (Colwell) didn't do that," Savage said. "But it happens. We've done a pretty good job this year with inherited runners. Are you going to be 100-for-100? No, but we've been pretty darn good."
UCLA will stay at Jackie Robinson Stadium for a weekend series against Arizona State starting Friday at 6 p.m.
Crosby is currently an assistant Sports editor on the baseball, men's water polo and women's water polo beats. He was previously a contributor on the baseball and women's golf beats.
Crosby is currently an assistant Sports editor on the baseball, men's water polo and women's water polo beats. He was previously a contributor on the baseball and women's golf beats.