UCLA track and field hurdles weather barrier to clinch victories in Riverside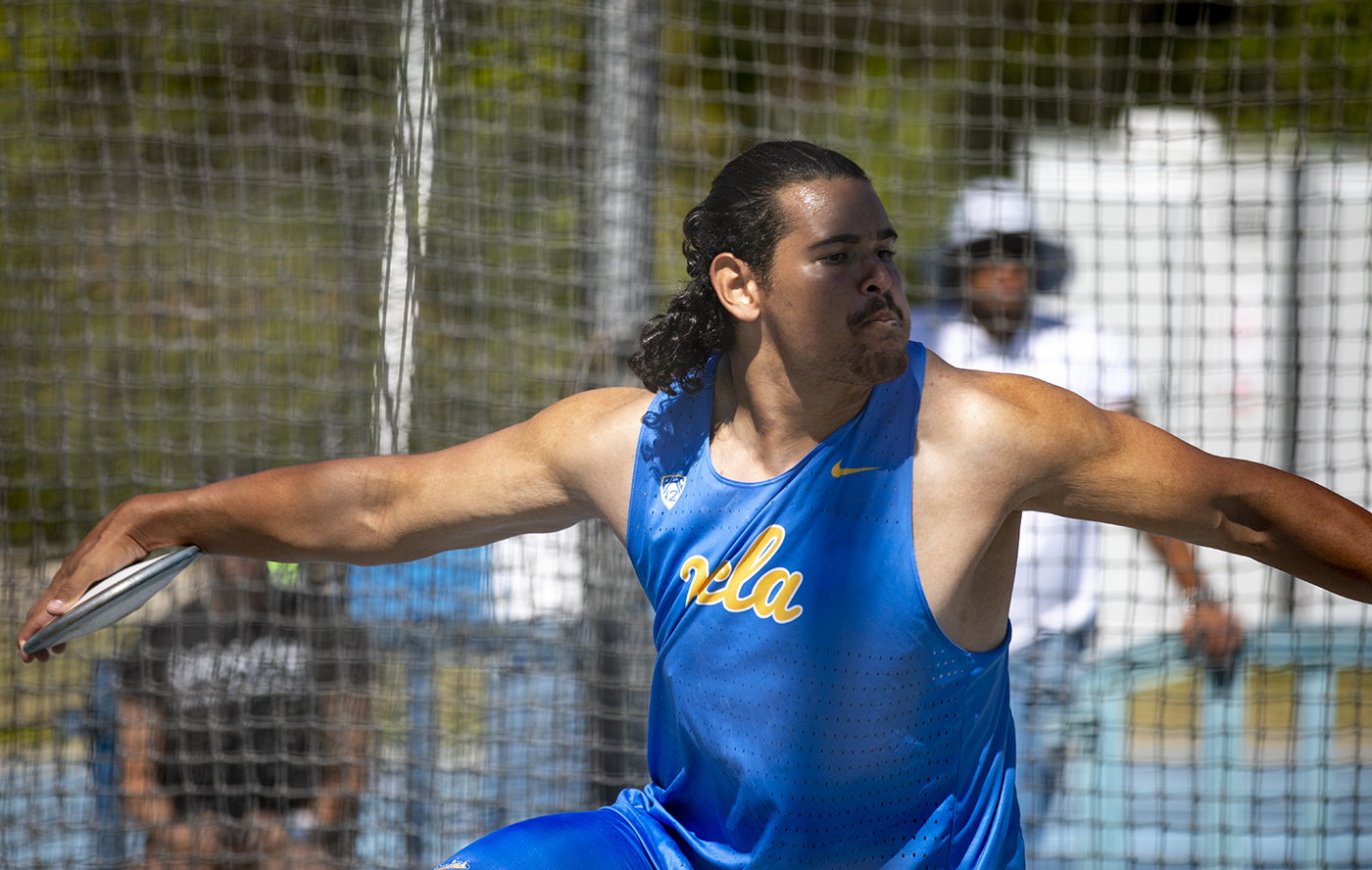 Sophomore thrower Aidan Elbettar prepares to throw the discus. Elbettar won the discus event at the Chris Rinne Twilight, setting a meet record with a 58-meter toss. (Anya Yakimenko/Daily Bruin)
Correction: The original version of this article misspelled Aidan Elbettar's name in a sentence.
This post was last updated April 28 at 11:06 a.m.
The Bruins secured nine first-place finishes in their penultimate meet of the regular season.
UCLA track and field traveled to Riverside on Friday to compete in a 15-team field in the Chris Rinne Twilight at UC Riverside Track & Field Stadium. Seven different athletes took home event wins for the Bruins.
Freshman thrower Lyvante Su'emai led the Bruins by placing first in three separate events. Su'emai earned a top score in the shot put, hammer throw and discus events, posting the best mark in the history of the meet in all three competitions.
Coach Avery Anderson said despite the event being a smaller competition, it allowed his team to perfect its craft.
"Obviously not a lot of people competed, and I think we wanted to see where some people were at and tighten up some things, do some tune-ups," Anderson said. "It was good to get the work in even where it didn't go how we hoped."
UCLA claimed its series of victories despite facing cold weather and a windy forecast throughout the day. Anderson said the abnormal weather conditions gave the team an opportunity to perform in an environment it is not used to.
"It was windy and it was probably colder than we had seen in any track meet this year that's been outdoors," Anderson said. "Yes, it affected performance, but you realize that when you get to a championship meet and there is hot weather, those things are going to come together."
Freshman distance runner Audrey Allen secured a first-place finish in the women's 5,000-meter with a time of 17:32.33, more than 50 seconds faster than the second-place finisher.
Allen said she does not prefer to compete at night like she did in Riverside but appreciated the support from her teammates.
"Night races aren't my favorite, and it was definitely a different kind of vibe than morning races," Allen said. "I was the last event of the night and the whole team was there cheering under the lights, which was pretty fun."
Sophomore thrower Aidan Elbettar finished first on the men's side in the discus throw with a mark of 58.00 meters (190-3) that completed the discus sweep for the Bruins on both the men's and women's sides.
Elbettar said he was happy with scoring so close to his personal record, especially considering his current conditioning and training.
"I felt good overall with my performance; I was only a foot off from my PR," Elbettar said. "This is during heavy loading and my body is not moving as well as I would like it to be, so it was really good to see that I'm still super close to my PR."
UCLA also earned a victory in the men's high jump, with freshman jumper Aaron Kim clearing 2 meters (6-06.75), good for another top finish.
The Bruins will conclude their regular season Sunday at USC in a dual meet against their crosstown rivals for the first time this year.
Hallum is currently a contributor on the track & field and swim & dive beats.
Hallum is currently a contributor on the track & field and swim & dive beats.