Study finds electric scooter injury rate rivals that of motorcycles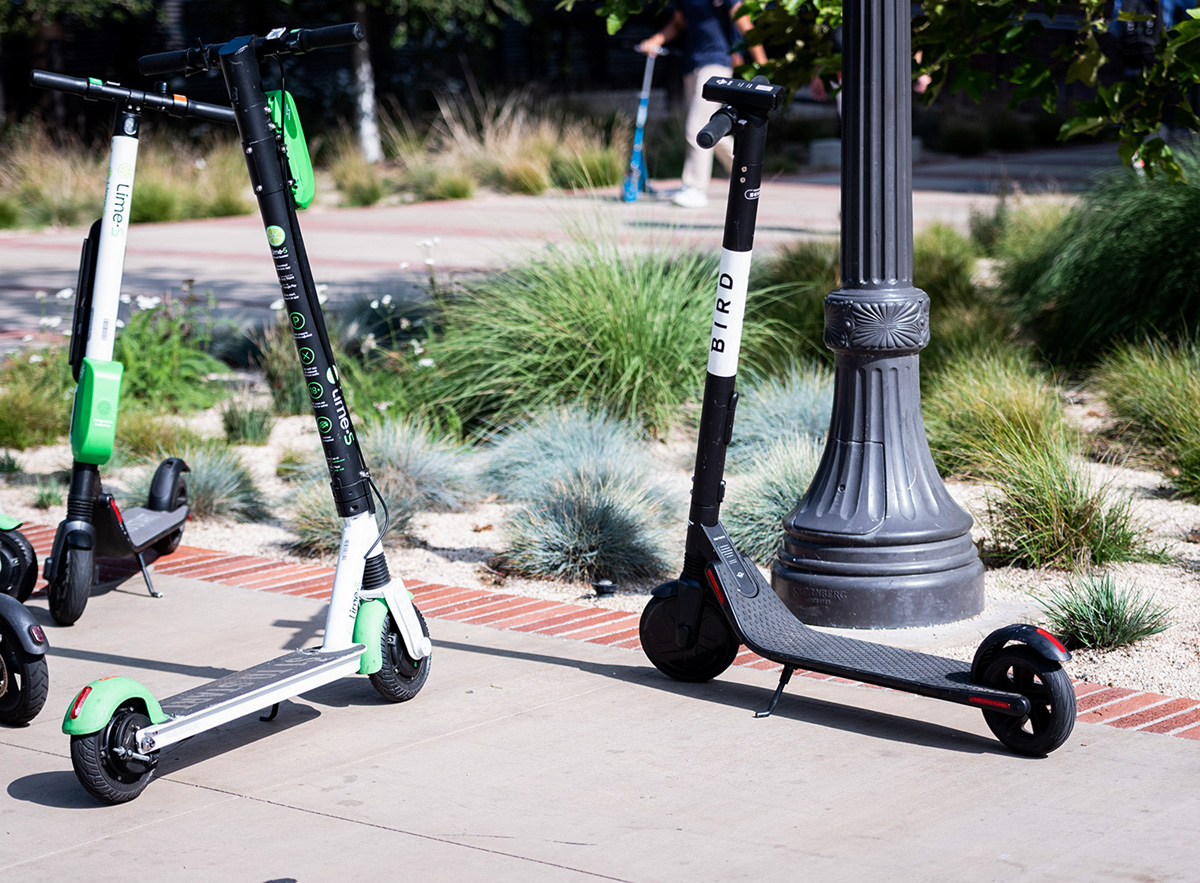 Various electric scooters sit on the curb on campus. A recent UCLA study found that injury rates for e-scooter trips may be similar to that of motorcycle trips, leading some students and experts to call for more vigilant helmet-wearing and regulations. (Daily Bruin file photo)
April 24, 2022 10:21 p.m.
A recent UCLA study found that the injury rate for electric scooters in West Los Angeles was similar to that of motorcycles.
According to the study, published April 6, there has been little research regarding e-scooter injuries despite an increase in e-scooter usage. The amount of e-scooter rides within the United States grew from approximately 34 million in 2018 to 86 million in 2019, according to a report by the National Association of City Transportation Officials.
The researchers compared the number of e-scooter injuries identified in West LA to the number of trips e-scooter companies recorded in the city, said Dr. Kimon Ioannides, a member of the National Clinician Scholars Program at UCLA and co-author of the study.
The rate of injury they found was around 115 injuries per 1 million trips, said Dr. Joann Elmore, a professor of medicine at UCLA and co-author of the paper, adding that this number is most likely an underestimate because they didn't include data from other hospitals in LA. In addition, people who receive minor injuries may not go to a doctor to treat these injuries even if they do inconvenience them, she said.
There was a wide range of injuries, from minor scrapes to more severe ones such as collapsed lungs and even death, Ioannides said. However, it is hard to compare the gravity of these injuries to those from other forms of transportation, as the national rate of injury and death for these vehicles is drawn from police reports, which may not cover all injuries that have occurred, he said.
Although the rate of injury for e-scooters was found to be greater than that of motorcycles, the injuries seemed to be less severe than those from motorcycle accidents, though the few deaths that did occur from e-scooter injuries were alarming, Ioannides added.
The study built upon a 2019 study that also analyzed e-scooter injuries by using artificial intelligence to identify them in medical reports, said Vu Vu, manager of advanced analytics at UCLA Health and co-author of the study.
There is currently no International Classification of Diseases code for e-scooter injuries for doctors, so the researchers had to create their own method of identification, said Kamran Kowsari, a data scientist at UCLA Health and co-author of the study. ICD codes are a type of medical shorthand that allows doctors to classify things such as the causes of an injury.
To collect the data, a clinician first went through the types of notes that would likely contain reports about e-scooter injuries to determine whether it actually described an e-scooter injury, Vu said. The researchers then used this data to create a deep learning model that used a technique called natural language understanding, which, when applied to electronic health records, determined the probability that the patient in each record was injured by an e-scooter, he added.
The study did not analyze the causes for these accidents, but the medical records the researchers used did show that it was both riders and nonriders who sustained injuries from e-scooter accidents, Elmore said. For example, she said, in some cases, injuries resulted from a pedestrian tripping over a scooter.
Serene Liu, a second-year human biology and society student, said she rides e-scooters to get to and from her workplace and class, as well as using them as part of her job at Duffl, a delivery service for college communities.
Though she herself has not seen people using e-scooters dangerously on purpose, she has heard of such stories, she said. In addition, she has noticed that most other riders do not wear helmets while on e-scooters, she said, adding that she also knows co-workers and friends who have gotten injured because of e-scooters.
Mia Sparks, a second-year chemistry student, said she also uses e-scooters often to get to work and class. She added that when she comes home from closing shifts, she feels safer on a scooter than walking back alone.
Sparks said she recently sustained an e-scooter injury while traveling down a steep incline near Royce Hall, falling off her scooter and hitting her head. The injury caused her to lose consciousness and part of her memory, as well as hurt her knee. Sparks said her injury has significantly affected her life, as it takes her a significantly longer time to get to destinations and she has to rely on food delivery services since she is on crutches.
To lower the e-scooter injury rate, Sparks said riders should wear helmets, as she thinks this would have helped lessen the severity of her injury. She added that riders should also realize the importance of obeying traffic laws.
"There's no denying the fact that my head wouldn't be banged up right now if I was wearing a helmet," Sparks said. "It's just really important to follow all the traffic laws, even though it feels like you don't have to because you're on a Bird."
[Related: Editorial: UCLA must invest resources in education surrounding Bruin Walk's dismount zone]
In the future, Elmore said she hoped that researchers could use GPS data from e-scooter companies to locate areas where there are high rates of accidents and use that data to understand why these areas pose such a risk. Having such information could help discover mechanisms to prevent e-scooter injuries in the future, she added.
Ioannides said companies could also use GPS data to limit the speed of scooters at night and in high-risk areas, as well as put restrictions on riders who show erratic behavior. Since e-scooters are also connected to a smartphone app, they could also put safeguards for first-time riders, he added.
On UCLA's campus, riders are already automatically limited to a speed of 1 mph in dismount zones, which are areas where riders must get off their e-scooters and walk them.
Vu said the policies implemented in the future should not only protect riders but ensure the safety of nonriders who also can become injured by an e-scooter.
"We did identify a fair number of injuries who were not riders, just from bystanders," Ioannides said. "So there is some risk to others, not just the rider themselves."