Opinion: Technology has potential to revolutionize hospitality industry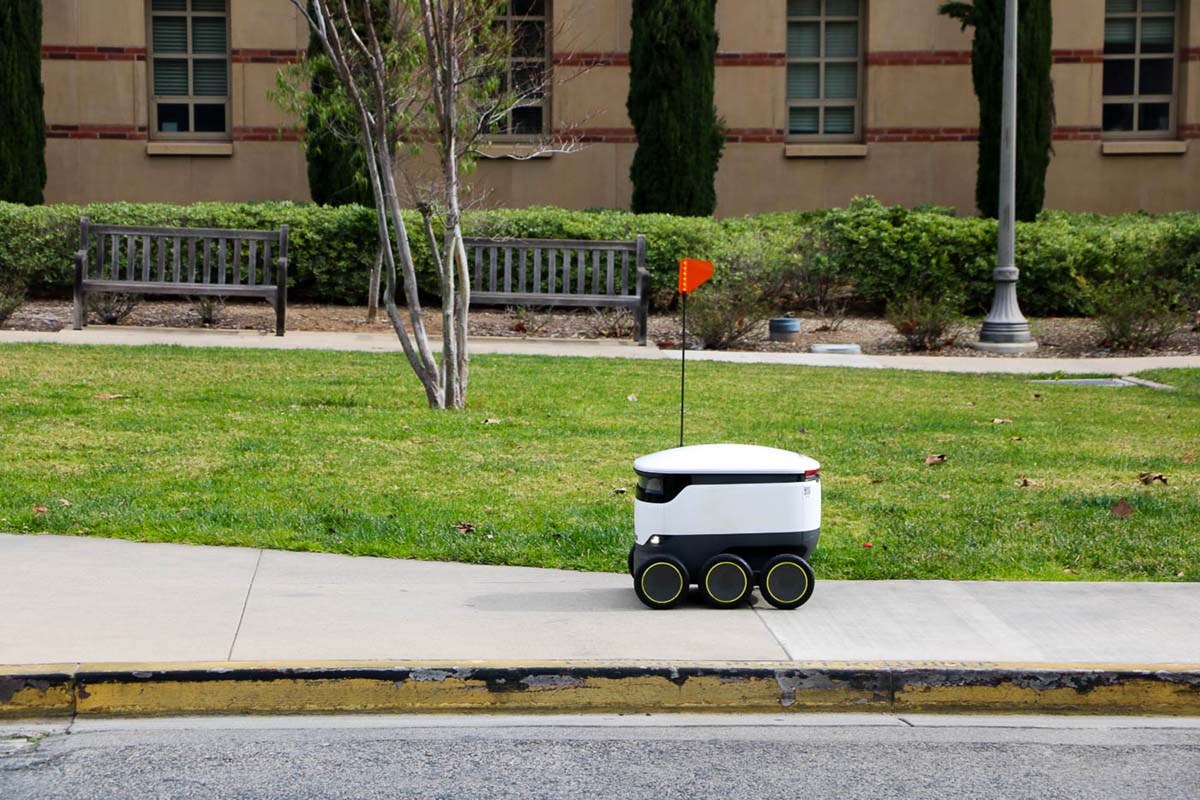 A Starship robot travels slowly on a sidewalk, delivering food to students all across campus. Like these robots, other automated technology present new opportunities for the hospitality industry. Columnist Laura Gulbinas discusses this trend and argues that when robots start taking on roles traditionally filled by people, those workers and their needs must be part of the conversation. (Noah Danesh/Daily Bruin)
This post was updated April 25 at 11:01 p.m.
Texting friends, calling family or ordering food – technology has become nearly unavoidable in our daily lives.
Now, with a variety of innovative companies seeking to improve our day-to-day lives, the hospitality industry is introducing robotics into workplaces.
The introduction of new technology in this sector is inevitable as the industry faces a hiring crunch with a significant number of open jobs and low retention rates. Although the technology risks taking jobs away from individuals, if applied properly, it could benefit employers and employees alike. To ensure these benefits are fully realized, the service industry needs to prioritize its workers' needs through representation in decision-making and policies that allow for greater job stability.
Technology in the service industry may very well be a pressing issue for the UCLA community. The average age of a restaurant worker is about 24 years old, which most UCLA students are or will be within a few years.
Some representatives of companies that develop technologies such as robotic waiters and bussers say they have employees' interests in mind when developing and launching their products.
Jason Shi, the operations manager at Daash Robotics, one of many companies working on the automation of the service industry, said the company seeks to improve conditions for workers and allow a smooth transition into a technology-reliant future.
"The company's goal or mission is to bring relief to the restaurant industry, all while being able to boost the atmosphere and have the general public assimilate with robots," Shi said. "Robots are the future."
With the pandemic and restrictions it placed on human interaction, the retail, education and health care industries saw an increased reliance on technology. It is seemingly inevitable this reliance will continue beyond the pandemic as companies and employees acclimate to the addition of new resources.
Juan Higueros – the co-founder of and chief operating officer at Bear Robotics, a company specializing in hospitality robotics – shared Shi's desire to provide assistance to workers in the hospitality industry.
"Our company's goal and mission is to really elevate the experience of the hospitality industry and the people that work in it," Higueros said.
For employers, robots offer stable and reliable labor when workers are unable to come in, Shi said.
In a 2021 survey, a third of former hospitality workers reported they will not return to the hospitality industry because they desire improved compensation packages and work environments.
The addition of robots is not meant to take jobs away from individuals but rather help fill the shortage of workers willing to work in the service industry. Working long hours, completing physically demanding tasks and facing increased exposure to COVID-19, hospitality workers encounter many dangers in the workplace, making the application of technology a feasible remedy.
Through understanding employers' struggles and concerns in employing individuals while also managing cost-efficiency, companies can provide business owners with relief and a practical solution.
However, one may question how employees will be affected. One concern is that workers will be replaced by these new technologies.
Saba Waheed, the research director at the UCLA Labor Center, said the introduction of new technology does not necessarily have to be a zero-sum game that results in a complete loss of jobs. Instead, Waheed added that thinking and careful planning must accompany changes in the workplace.
Employees are up against multibillion-dollar companies who care more about their bottom lines than their workers. It shouldn't come as a surprise that many service workers work more than 40 hours a week and make low wages without enough benefits.
California's Labor Code also presumes employees are employed at will, allowing employers to fire their workers without a fair reason whenever they see fit.
With minimal safeguards, hospitality workers face little to no job security, making robotics in the workplace a real threat to their livelihoods.
Businesses should prioritize communication with employees when implementing changes and allow them to unionize. During contract negotiations, businesses should also make a good faith attempt to listen to employees so working conditions can improve.
Waheed said she would love to see a plan of action for displaced workers. Such action could take the form of policies that would require companies to provide workers displaced by automation with training for a different position or adequate compensation in the form of severance pay.
Another concern regarding the automation of the hospitality industry is whether the technology will compromise the typical dining experience, which relies on human interaction.
Lilly Donkel, a second-year political science student and current hostess at a country club in Los Angeles, said there are certain aspects of her job that cannot be replaced by technology.
Donkel added that employees are better equipped to anticipate guests' needs, adjust to customers' moods and act accordingly.
The robots, however, are not meant to replace this element of the dining experience.
"For our robots at Daash Robotics, we actually encourage our clients or the restaurant owners to not rely on these robots for (the personal aspect of dining)," Shi said. "You're always going to have servers and waiters there at the restaurant, and the robots are there just to do the heavy labor."
With automated technology taking over the labor of transporting food and dishes, servers and waiters can focus more on customer interaction, making the service better and more personal.
In Florida restaurants utilizing Bear Robotics robots, servers have seen their tip income increase by 28%, Higueros said.
"The hospitality industry is really a people business. It's all about service. It's all about interaction with others," he said.
Although the rise of automated technology will change the hospitality industry and require additional training, robots can assist employers and employees in addition to enhancing the dining experience for customers as long as companies balance the interests of all three parties.
The hospitality industry is about so much more than simply serving. It's about providing a quality experience. If applied properly, automated technology can enhance the human interaction that is a key component of the industry.