UCLA track and field achieves numerous bests across 4 Southern California meets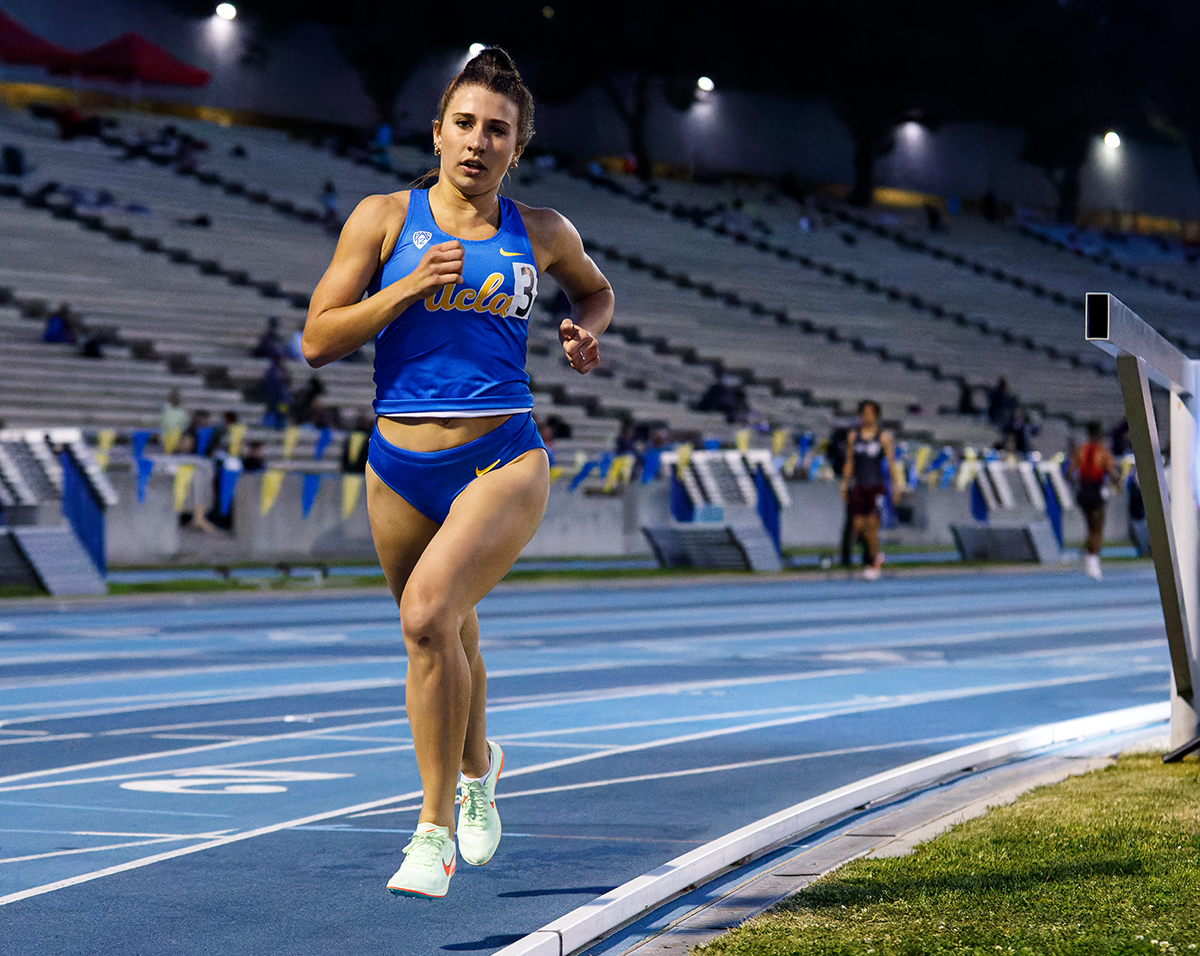 Sophomore distance runner Ashley Johnson rounds the corner of the track. Johnson hit a personal record in the 1500-meter with a time of 4:26.81. (Anya Yakimenko/Daily Bruin)
The Bruins placed atop some of the top teams in the country across four meets.
UCLA track and field concluded four separate competitions in California this past weekend, finishing with a number of season bests. The blue and gold competed in the Brian Clay Invitational in Azusa, California, from Wednesday to Friday and the Mt. SAC Relays in Walnut, California, from Wednesday to Saturday along with the Pacific Coast Intercollegiate and the Beach Invitational in Long Beach on Thursday and Friday, respectively.
The Bruins' men's and women's 4×400-meter relay teams were invited to Walnut to participate against both professional and collegiate programs.
The men's squad – composed of junior sprinters Ismail Turner, Myles Misener-Daley and Cameron Reynolds along with sophomore sprinter Zaylon Thomas – posted a season-best time of 3:05.21. This placed UCLA second among collegiate teams at the meet.
Turner ran the first leg of the relay and completed his 400 meters with a sub-46-second performance. Turner also competed in the individual 400-meter with a season-best time of 45.95 seconds, placing third in the competition.
Turner said he knows the importance of these final meets of the season and added that the Bruins still have room to grow.
"The best has yet to come. We have a really solid team, and we are slowly putting the pieces together," Turner said. "It is exciting to see it unfold come regionals and the postseason."
The women's 4×400-meter relay was also able to record a season-best performance. A team consisting of junior sprinters Catherine Leger and Makenzy Pierre-Webster, sophomore sprinter Kate Jendrezak and redshirt senior sprinter Shae Anderson clocked in with a time of 3:32.46. The showing clinched them second place among collegiate competition and fourth overall in the event.
In another opportunity to qualify athletes to the NCAA preliminary rounds, UCLA recorded similar season-best results at the Brian Clay Invitational.
In the 1500-meter, sophomore distance runner Ashley Johnson notched a personal record for the third straight week, finishing with a time of 4:26.81.
"Things are clicking, especially with all of the past training built up," Johnson said. "It's really exciting. The team as a whole is looking really good. There are a lot of people improving and reaching top-10 lists for their events."
Bruins are focused on making one final push to qualify for nationals.
"Everyone is trying to improve as much as they can to get to the regional mark and moving forward in the postseason," Johnson said. "If someone hasn't, they have a month left. Everyone is using these last couple of opportunities to get the best results possible."
Senior javelin thrower Lauren McFall followed this same trend of season bests. A 47.17 meter (154-9) throw granted McFall with a seventh-place finish.
Although the throw was a new record for her, McFall said more is always expected.
"What high-level athlete is ever settled with a performance?" McFall said. "There is a lot left in the tank. Keep working with coach on the technical aspects of throws, and when it comes together, big things are to come."
McFall added that every meet the team competes in is another chance to prepare for the postseason.
"I want to take every advantage of every opportunity," McFall said. "The track team as a whole is trying to finalize regional marks. For those who haven't, they are striving for those performances. We all have a common goal in mind: … working towards regionals and, ultimately, a national championship."
Sophomore distance runner Carlie Dorostkar also got herself a new season record at the Brian Clay Invitational. In the 5000-meter, she improved her previous personal-best time by 11 seconds, finishing with a time of 16:59.00. For the men's 1500-meter, senior distance runner Munir Kabbara also achieved a lifetime best with a 3:44.11.
On the field side, sophomore discus thrower Aidan Elbettar took a fifth-place finish while freshman Ugonna Ikejiofor placed seventh with a lifetime-best throw of 56.07 meters (183-11). In the women's competition, freshman Lyvante Su'emai achieved a personal record with a 55.43-meter (181-10) throw, which secured her a second-place finish.
Su'emai also competed at the Beach Invitational. She finished as the top freshman discus thrower at the meet, posting a 53.36-meter (175-0) toss. Along with the discus, Su'emai also competed in the shot put, where she picked up a 13th-place finish with a 14.56-meter (47-09.25) toss.
Similar to Su'emai, both Elbettar and Ikejiofor also competed at Long Beach. In their discus event, Elbettar and Ikejiofor went 10-11 with marks of 54.84 meters (179-11) and 54.59 meters (179-1), respectively.
After a busy week of action, the Bruins will have an all-day meet at UC Riverside on Friday, their second-to-last meet of the regular season.
Freeman Sacker is currently a Sports contributor on the men's golf and track & field beats.
Freeman Sacker is currently a Sports contributor on the men's golf and track & field beats.