The Quad: Students discuss merits of recognizing National Arab American Heritage Month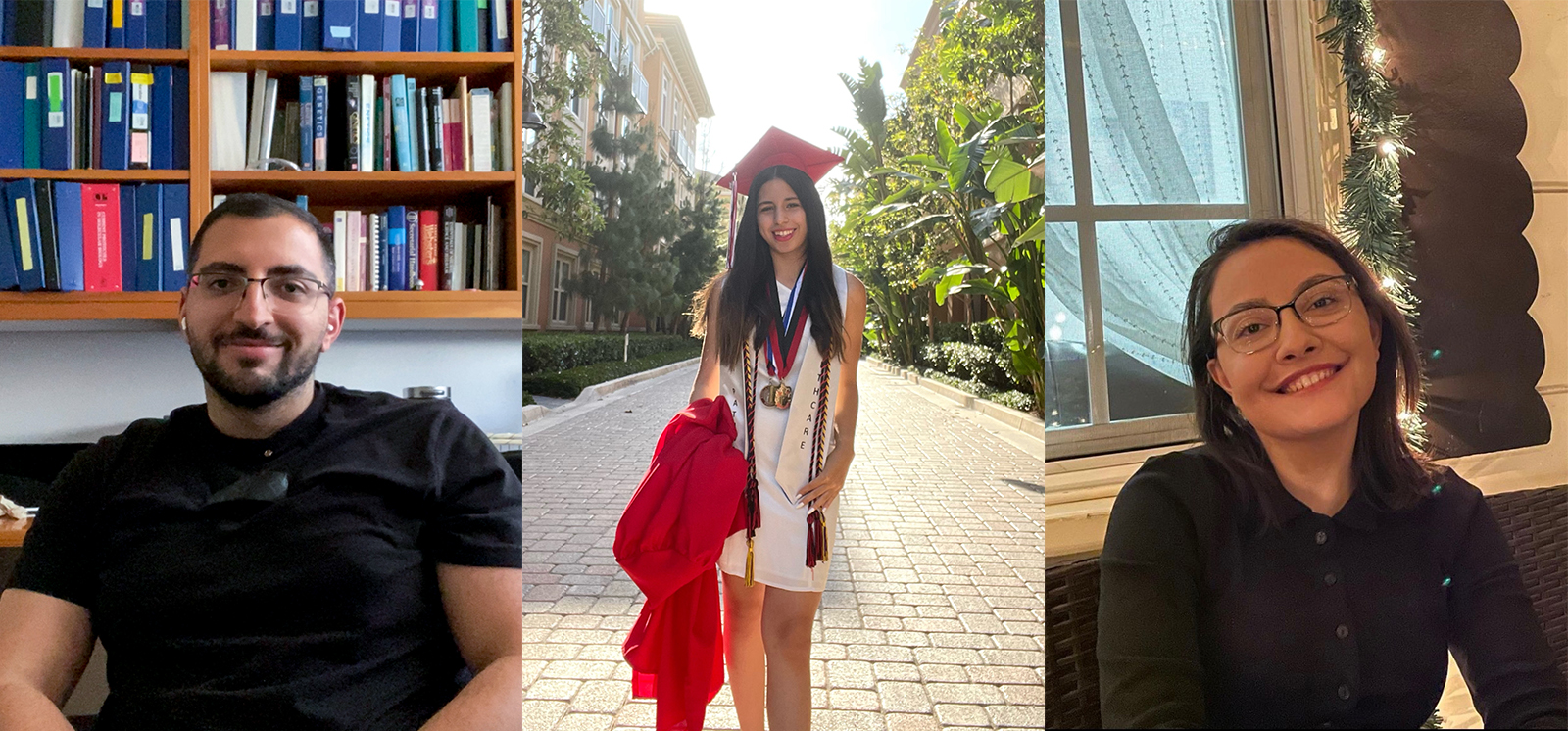 Left to right: Roni Haj Hussein, Karma Sweedan, and Nataly Zeeb. National Arab American Heritage Month is celebrated every April. UCLA students shared why they feel this month of reflection and celebration is important. (From left to right: Sakshi Joglekar/Assistant Photo editor, Courtesy of Karma Sweedan, Courtesy of Nataly Zeeb)
April 20, 2022 10:20 p.m.
April marks National Arab American Heritage Month. Roughly 3.7 million Arab Americans currently live in the United States, and they have played a vital role in different domains of American society, including science, politics, business and the arts.
A resolution to designate April as NAAHM was first presented to Congress in 2019 by Reps. Rashida Tlaib and Debbie Dingell. While the bill itself is still on hold pending Congress' decision, many political figures, including President Joe Biden, have expressed support for NAAHM.
Much of the federal recognition of NAAHM can be attributed to Syrian immigrant, author and entrepreneur Pierre Subeh, who carried out a campaign in 2021 in defense of NAAHM and wrote several letters and emails to the U.S. Department of State.
Though NAAHM is recognized across the country, its impact is deeply personal for many Arab Americans, including those in the Bruin community.
Karma Sweedan, a first-year molecular, cell and developmental biology student, moved to the U.S. from Egypt roughly seven years ago. Sweedan said she believes NAAHM raises awareness for Arab Americans but that people can still push for greater inclusivity.
"When you sign a paper and they ask you what your ethnicity is, you have no choice between either putting 'white' or 'other.' And that truly, for me, it kind of hurts that we don't have our own Middle Eastern North African side," Sweedan said.
Fourth-year psychology student Nataly Zeeb said her family immigrated to the U.S. from Syria when she was 5 years old. She said NAAHM is an important opportunity to increase inclusivity and acceptance.
"(NAAHM) makes it seem like … there's an understanding of who you are, right? People acknowledge that, people try to understand, they try to learn from it. And also to me, I always saw that representation is a really key factor," Zeeb said.
NAAHM, however, is also about acknowledging the barriers and obstacles that Arab Americans must overcome throughout their lives.
According to the Institute of International Education, 55,720 students from the Middle East and North Africa attended college in the U.S. during the 2020-2021 school year. However, U.S. immigration policies and reduced scholarship programs in some Middle Eastern and North African countries have resulted in a 21% decline in the number of enrolled Middle Eastern and North African students between the 2019-2020 and 2020-2021 school years.
When asked about Arab Americans she admires, Zeeb said she looks up to individuals who are the first in their family to receive a higher education.
"I have a lot of respect for anybody who's a first-generation college student, who was an immigrant, who had to navigate and figure it out themselves and have reached higher levels that sometimes that's not expected from somebody that's coming from their background, and they've broken those barriers," Zeeb said.
NAAHM also provides an opportunity to strengthen the existing community of Arab Americans, for both present and future generations.
Third-year chemistry student Roni Haj Hussein was born and raised in Syria and received his citizenship in 2022. As a first-generation immigrant, Hussein said it was challenging not knowing many other Syrians living in America.
"The American population has a specific image of what Syrians are and what they look like, you know, and so you try to portray the best out of Syria because, even though you're just one person … you technically represent Syria," Hussein said.
The immigration of Arab Americans occurred in four main waves starting in the 1880s. Despite this long-standing place in American culture, it was not until the 21st century that major steps began to be taken to uplift Arab American voices.
Despite stereotyping and typecasting, countless Arab Americans have successfully left their mark in the arts, rising through the ranks to become household names. Recent years have also ushered in more releases, such as the TV series "Ramy," that not only feature Arab American actors, but also spotlight hallmarks of Arab American identity.
UCLA's 2020 Hollywood Diversity Report found that the sole top film featuring a Middle Eastern and North African lead in 2018 had a higher median global box office than any other film in the study. However, only 0.7% of all top film roles were filled by Middle Eastern and North African actors in both 2018 and 2019.
Further measures to promote inclusion for Arab Americans are still necessary, but widespread support for NAAHM reassures many Arab Americans that greater empowerment and acceptance are on the horizon for their community.
"When you have a culture that celebrates who they are, then they're more willing to … be open about their culture (and) accept their culture, even in a place where their culture is not sometimes as celebrated as it should be," Zeeb said.