UCLA men's golf finishes in last place at Thunderbird Collegiate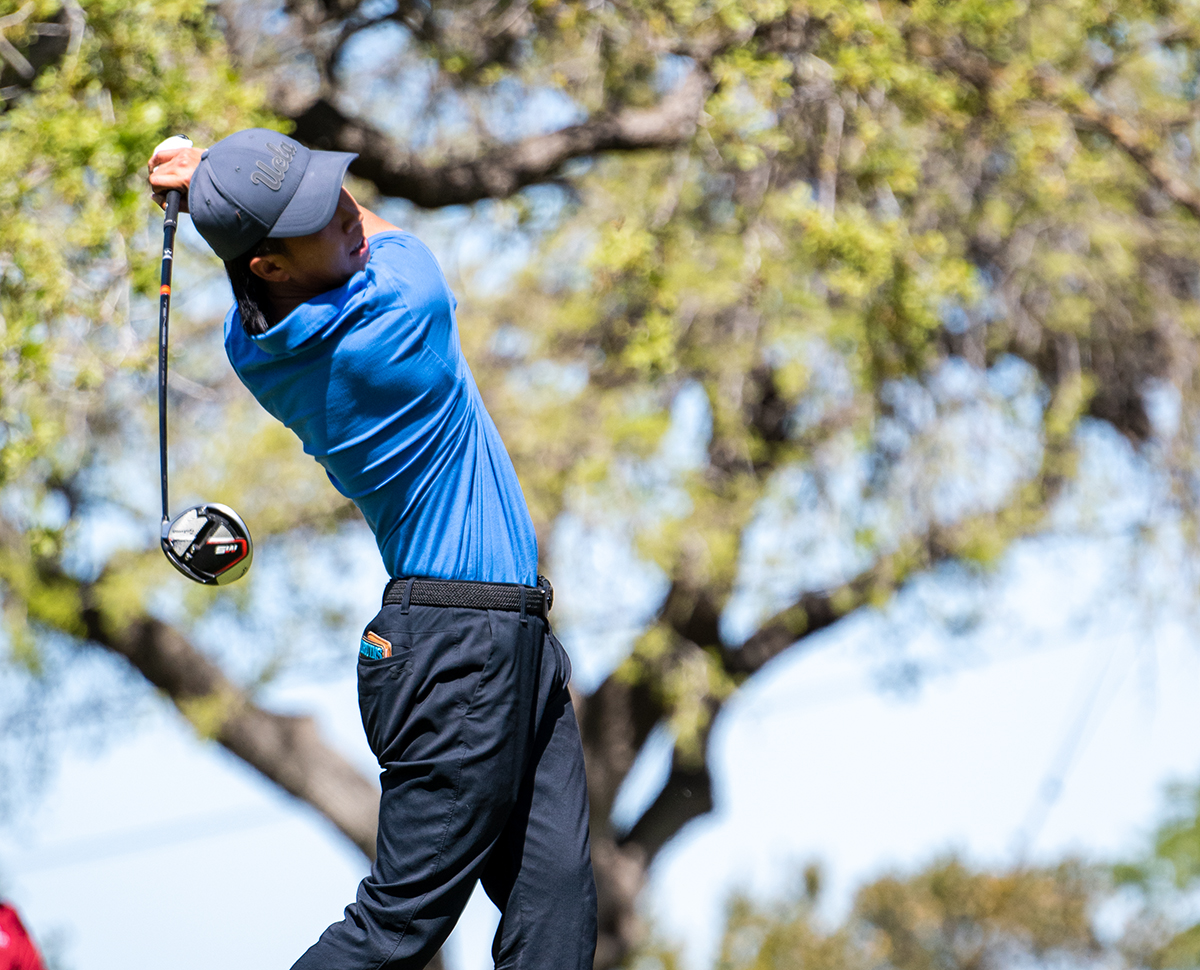 Graduate student Eddy Lai swings his club. Lai and freshman Omar Morales both paced UCLA men's golf at the Thunderbird Collegiate with 3-over par finishes. (Jeremy Chen/Daily Bruin staff)
MEN'S GOLF
Thunderbird Collegiate
15th place (+16, 868)
The Bruins started and ended in last place in their return to action.
Playing in its first competition since March 26, UCLA men's golf carded a 16-over par performance to finish last in the 15-team Thunderbird Collegiate from Friday to Saturday in Phoenix. The Bruins opened the tournament with a 16-over par first-round performance to put themselves behind the competition.
Despite the slow start, the Bruins' final two rounds trended upward. UCLA shot 2-over par on the second day in the second round and built upon that by concluding the third round with a 2-under par score.
Freshman Omar Morales was one of the golfers who rebounded after a slow start. His initial round of 4-over par was immediately followed by a round of 2-under par. At the end of the tournament, Morales finished tied as the Bruins' best performer at 3-over par.
Morales said while he has experienced both highs and lows, he has a few strategies to stay locked in.
"This is what I learned in the past when missing shots. … Instead of getting mad at yourself, tell yourself that it's always possible to be worse. The main thing that changed was me being a little more patient," Morales said. "Take it one shot at a time."
Other performances came from graduate student Eddy Lai, who shot a 3-over par and tied for 46th with Morales. Freshman Pablo Ereño Perez followed the performances of Morales and Lai by posting an overall score of 4-over par, granting him a tie for 53rd place.
In a written statement, coach Derek Freeman said the overall performance of his team was a bit underwhelming but added that he was proud of the way it finished.
"We have a quick turnaround and not much time to get a lot better," Freeman wrote. "We're disappointed in the play of the first round, which set the tone and put us too far behind."
El Macero Classic
After competing at the Thunderbird Collegiate, the Bruins will have a three-day rest before the El Macero Classic.
The tournament will be UCLA's last of the season before the Pac-12 championship. The blue and gold will travel to El Macero, California, for a three-day competition, which will run from Wednesday to Friday.
"We need to get ready for the (El Macero Classic) and Pac-12 Championships," Freeman said in a statement.
Freeman Sacker is currently a Sports contributor on the men's golf and track & field beats.
Freeman Sacker is currently a Sports contributor on the men's golf and track & field beats.