UCLA women's tennis concedes final regular-season matchup to Trojans at USC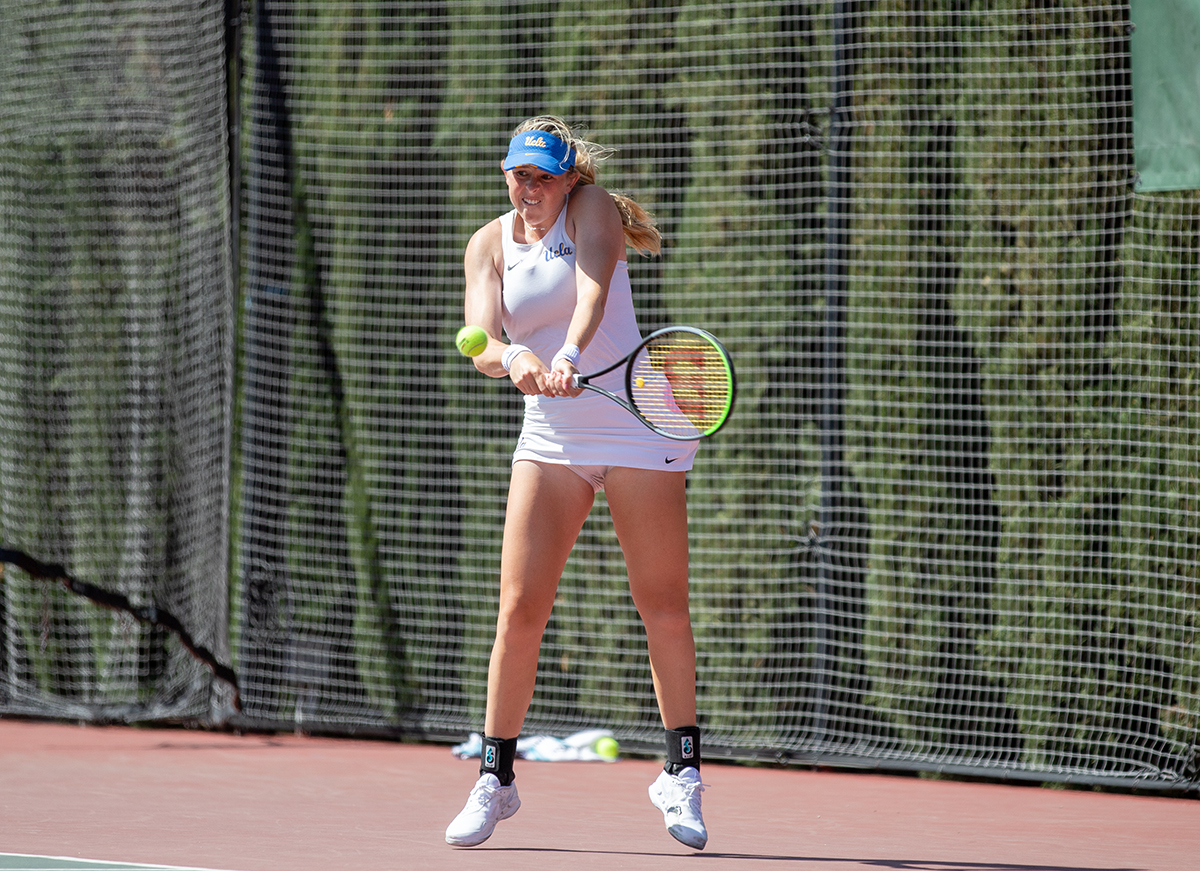 Senior Elysia Bolton jumps to hit the ball in a match. Bolton secured No. 15 UCLA women's tennis's match-tying third point in the Bruins' loss to No. 19 USC on Friday. (Kaiya Pomeroy-Tso/Daily Bruin senior staff)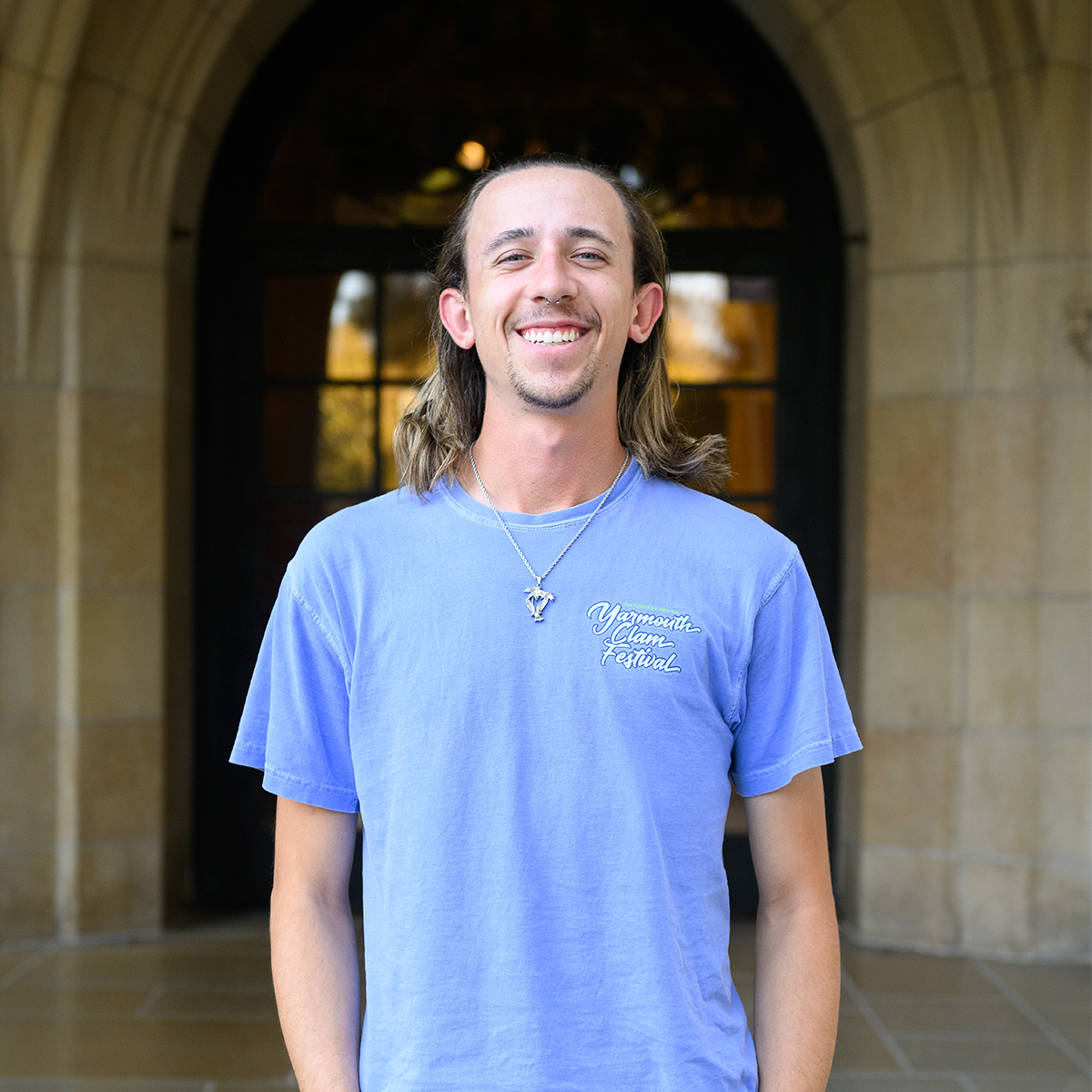 April 16, 2022 11:26 a.m.
This post was updated April 17 at 8:50 p.m.
One game separated Elysia Bolton from a straight-set defeat.
The same game also separated the Bruins from being shut out by the Trojans for the first time since at least 1999.
Down 6-2, 5-1 to the Trojans' No. 6 Eryn Cayetano, the No. 82-ranked senior proceeded to win six consecutive games en route to earning the blue and gold's third consecutive point, leaving junior Abbey Forbes in a position to provide the final dagger of the comeback.
"I looked at the board and saw we were down 0-3 and said, 'I'm not going to be the one that loses this match. I'm going to fight until the very end,'" Bolton said.
But on serve at 3-3 in her third set, Forbes faltered at 40-40 and did not claim another game, handing the victory to the Trojans.
Following Forbes' defeat, No. 15 UCLA women's tennis (11-5, 7-1 Pac-12) fell 4-3 to No. 19 USC (17-10, 7-3) on Friday afternoon at Marks Stadium in its final bout of the regular season. Despite avoiding the shutout loss, the Bruins failed to clinch their second consecutive outright Pac-12 regular-season title and snapped their five-match winning streak against their crosstown rivals.
More than an hour of doubles play set the tone for what would prove to be a four-hour match. Court two's No. 56 pair of Forbes and freshman Ava Catanzarite dropped a 6-4 contest to Naomi Cheong and Grace Piper, the only doubles match not decided by a tiebreaker.
Overcoming a USC comeback attempt, freshman Kimmi Hance and junior Sasha Vagramov snagged their 10th straight doubles victory following a 7-6 (6) battle on court three.
Hance said her chemistry with Vagramov helped the pair – a duo holding a team-best 12-1 record this season – pull through in the close contest.
"We thrive off each other – we are both really positive people," Hance said. "When one of us gets down, there's always positive energy right behind us. We were fired up – that match was crazy."
Bolton and freshman Elise Wagle were in position to put UCLA on the board first, but the No. 49 duo was overcome 7-6 (7) by Cayetano and Salma Ewing on court one.
Beginning singles play, the four Bruins involved in doubles tiebreakers all failed to win their first singles sets, winning a collective six games across their opening frames. Vagramov and Wagle went on to lose in straight sets to No. 98 Snow Han and No. 73 Cheong by scores of 6-3, 6-0 and 6-1, 6-3, respectively, bringing USC's lead to 3-0.
Coach Stella Sampras Webster said the deficit was an unprecedented scenario.
"We haven't been in that situation, and they may have panicked a little bit or just came out flat," Sampras Webster said. "All we can do is get their mindset right."
While Bolton clawed her way back into the second set, No. 120 Hance and No. 28 Forbes responded with 6-4 and 6-2 second-set wins, respectively. Hance built on her rebound second set with a 6-1 final set decision to claim her match 0-6, 6-4, 6-1 over Piper on court four.
The only Bruin not to play in doubles was also the only one not to drop a set, as sophomore Vanessa Ong brought the blue and gold within a point of the tie by upending Danielle Willson 7-6 (2), 7-5 on court six. Bolton followed Ong's win with a 2-6, 7-5, 6-3 defeat of Cayetano on court two, collapsing behind the baseline before walking up to the net to shake hands with her opponent.
"It was kind of a culmination of a lot of emotions of this being my last regular-season match and to win it in that way," Bolton said. "You could see it in the way I fell to the ground. I had a lot of emotions and it felt really good to be able to win that match for my team."
The chance at a three-point comeback against their crosstown rivals to end the regular season was no more when Forbes lost 6-4, 2-6, 6-3 on court one. Amid splashing water and flying towels, USC's players stormed the court to mob Ewing in celebration of claiming victory after four hours of play.
Sampras Webster said while UCLA ultimately lost, the match was still a valuable experience for the team.
"It's certainly something that we needed," Sampras Webster said. "It pushed us, it tested us, and I really felt it could've gone either way in the end."
With the loss, UCLA snapped its 21-match winning streak in conference play dating back to April 2019.
After her final regular-season match as a Bruin, Bolton said her belief in her team has not wavered ahead of the Pac-12 tournament starting Wednesday.
"I know we lost today, but today was such a great fight and we made 'SC work so hard," Bolton said. "I still believe we're the best team in the Pac-12, and I think we will go to the tournament and do really great things."
Nelson is currently an assistant Sports editor on the softball, men's tennis and women's tennis beats. He was previously a contributor on the men's tennis and women's tennis beats.
Nelson is currently an assistant Sports editor on the softball, men's tennis and women's tennis beats. He was previously a contributor on the men's tennis and women's tennis beats.