Op-ed: UCLA must remove hurdles preventing UC SHIP beneficiaries from receiving care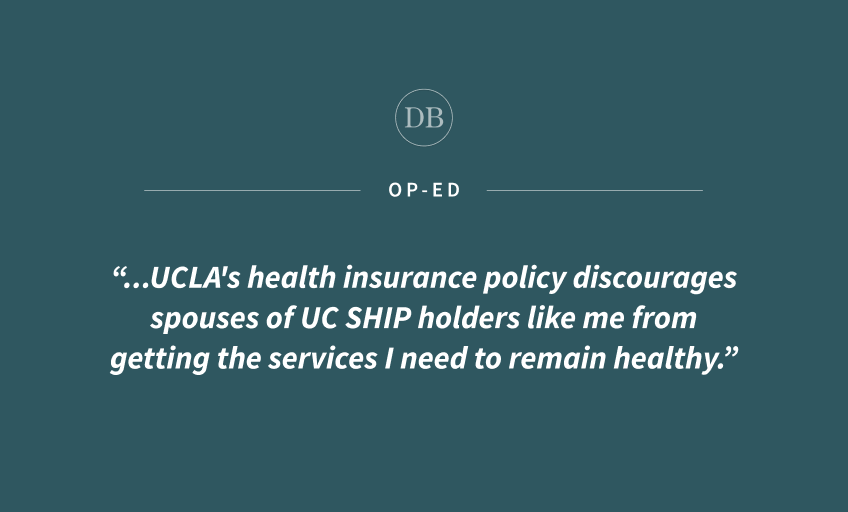 April 13, 2022 10:17 p.m.
One of the most generous perks of being affiliated with UCLA is your student health care plan. Unfortunately, if you are a UCLA student who is married, your partner is in for quite a surprise. UCLA's UC Student Health Insurance Plan Anthem Blue Cross for spouses is a bureaucratic nightmare, even by American health care standards. It has been a struggle to get appointments, approvals and medications I need to treat my health conditions as the spouse of a UCLA student.
This problem is not endemic to UCLA – the current state of American health care is shameful. Our fragmented, nonsensical health care system is a labyrinth of institutional hurdles that seeks to deny, delay or defer treatment you need for as long as possible. That should be no surprise to Bruins who have needed anything beyond routine health care at the Arthur Ashe Student Health and Wellness Center. American health care is a cash cow comprising nearly one-fifth of our GDP in 2020 and is the leading cause of personal bankruptcies, according to the National Consumer Law Center.
UCLA as an institution should do everything in its power to help shield students, faculty, staff and their families from our predatory health care system. However, UCLA's health insurance policy discourages spouses of UC SHIP holders like me from getting the services I need to remain healthy.
First, it is a fight even to add your spouse or other beneficiaries to your plan. My husband had to call to confirm coverage several times. I imagine many spouses quickly give up when they realize that the plan isn't made for them.
While the service I get as a spouse is subpar, the plan is not very affordable. I pay $2,708.12 every quarter for coverage. Luckily, I am blessed to be fully employed and have the resources to afford coverage.
Even though I pay my premiums on time and have requested a card multiple times for myself, to this day, Anthem (the plan's administrator) has never sent me a card with my name on it.
Because I have my husband's card, I know that UC SHIP cards say PPO, which in health care lingo means you have more flexibility in choosing your provider. Still, for some reason, Anthem and UCLA require you to go to the Ashe Center first to get a "referral." In practice, the UC SHIP plan functions more like an inferior type of health insurance called an HMO, where you often need a referral to see a doctor for anything more than primary care. This is something that should be top of mind for the UCLA student body.
After speaking with Anthem, I was told I could not go to the Ashe Center. So when I try to make an appointment at a UCLA provider, they often think I am a student and request a referral or take the liberty of canceling my appointment.
Non-student labs are also dramatically more expensive. Not to mention, OptumRx, a company that provides pharmacy care services, routinely declines my prescription drugs. Our plan is "playing doctor" by denying me my prescriptions, demanding something called "preauthorization or prior authorization." This maze of red tape allows bureaucrats at your pharmacy benefit manager to be the ultimate deciders of whether the medicine your doctor prescribed will be covered.
Not all academic institutions present barriers to accessing quality health care for students' spouses. Columbia University gave me excellent coverage when I was a spouse there. Nevertheless, UC SHIP at UCLA leaves much to be desired for families.
Institutions of higher learning should lead by example, and UCLA is no exception. We as a family are disappointed with the UC SHIP plan, and it is crystal clear that no one is advocating for spouses and families. UCLA must live up to its promise to be a positive agent of change, not just another complicit vendor in the complicated trillion-dollar web of American health care.
Grasso is the spouse of a UCLA Ph.D. candidate. He is a journalist and the CEO of Bold TV, a nonprofit media network dedicated to empowering young Americans through cultural and financial literacy. His op-eds have appeared in The Hill, CNN, Fox Business and Yahoo Finance.