UCLA men's volleyball lauds home advantage before approaching tournaments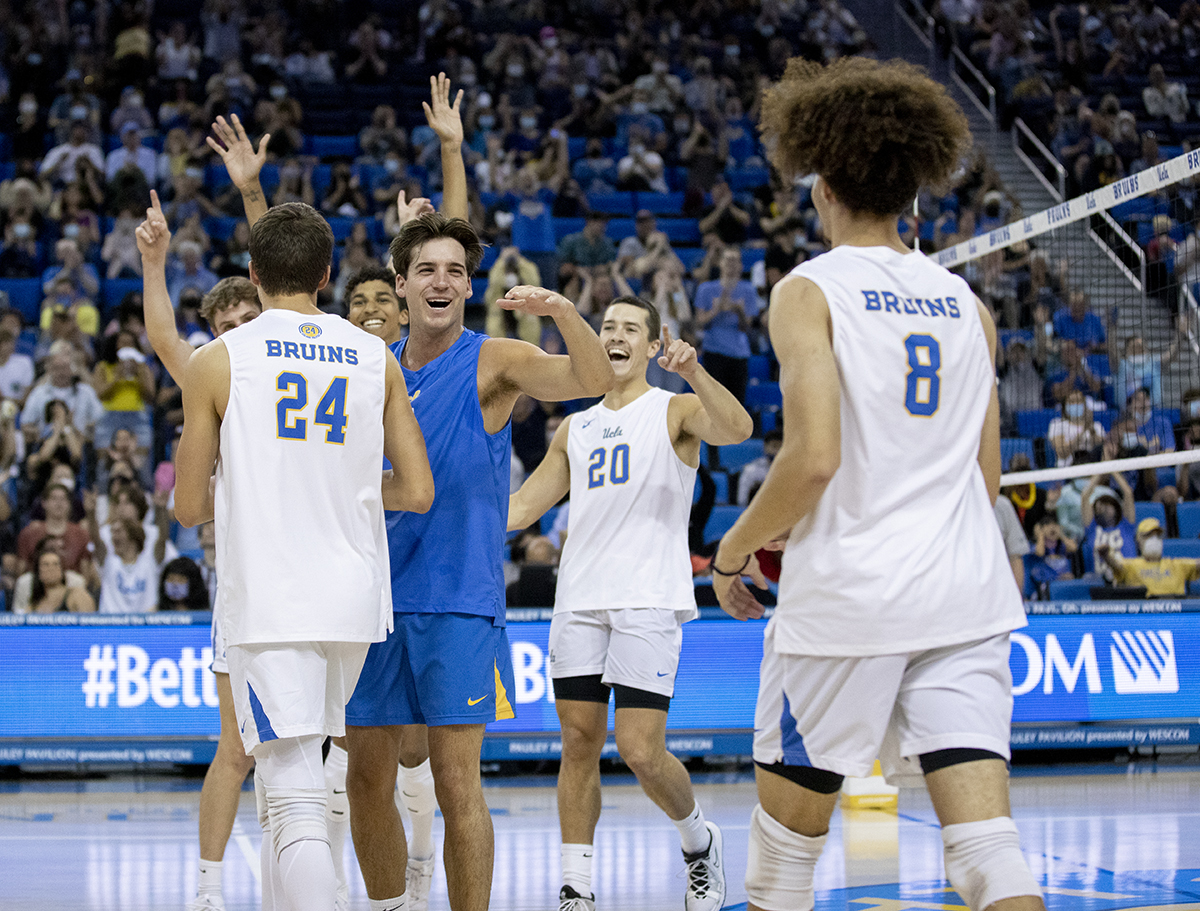 Members of No. 1 UCLA men's volleyball celebrate during a home match Saturday. The Bruins are undefeated through eight contests held at Pauley Pavilion this season. (Anya Yakimenko/Daily Bruin)
With 19 NCAA championships, the Bruins lead the nation in titles.
Of those trophies, nine were won in Pauley Pavilion — a 13,800 capacity arena that the blue and gold calls home.
"It's just a fun, unique environment to play in," said coach John Speraw. "It's big and probably hard for other teams to replicate, but it's comfortable for us."
No. 1 UCLA men's volleyball (19-3, 9-1 MPSF) will host the Mountain Pacific Sports Federation Tournament on April 20, 21 and 23 as well as the 2022 NCAA Tournament from May 1 to May 7 after having secured the conference's top seed for the first time since 1998.
With a chance to hoist their 20th national championship banner at the end of the season, redshirt sophomore middle blocker Merrick McHenry said the Bruins are looking forward to the opportunity to compete on their home floor.
"It's honestly pushing us a little bit harder than if they (the NCAA and MPSF tournaments) were somewhere else," McHenry said. "It's super exciting to know that it's going to be at home."
UCLA split the site of its home contests between the John Wooden Center and Pauley Pavilion until the start of conference play Feb. 23. Since then, it has played exclusively at the nearly 60-year-old arena.
Speraw, who won two championships with UCLA as a player, said one of Pauley Pavilion's distinct attributes is its size, adding that it forced his players to make adjustments.
"We love knowing that our gym is super big and the ceilings are super high," McHenry said. "We love knowing that we have that advantage of being able to practice in there when other teams have a very different atmosphere they're used to playing in."
Thus far this season, the Bruins hold an 11-1 home record and are undefeated in eight matches at Pauley Pavilion — an improvement from their 7-2 home record during their 2021 campaign and their 3-3 mark two years ago.
Sophomore outside hitter Ethan Champlin said the greatest benefit of home-court play is the crowd.
"You can't beat playing in front of fans, friends and family at home," Champlin said.
After playing in virtually empty arenas for most of last season, the blue and gold has appreciated the wave of support from Bruin faithful this campaign, according to Speraw. The rivalry matchups against Long Beach State on Feb. 19 and USC on April 2 drew in crowds of over 2,000 and 4,000 spectators, respectively.
McHenry said maintaining routines has been key to the team's home-court success.
"It helps to be able to play a match and go back and sleep in our beds and have things like that," McHenry said.
As the Bruins approach the end of regular season play and enter the postseason, Champlin said the opportunity to continue playing at Pauley Pavilion may be the key to another title.
"Whether the stands are full or not, I think it's the most beautiful gym there is," Champlin said. "Nothing beats it."
Chua is currently a Sports contributor on the men's volleyball beat.
Chua is currently a Sports contributor on the men's volleyball beat.