UCLA men's tennis fails to maintain early lead in Senior Day loss to USC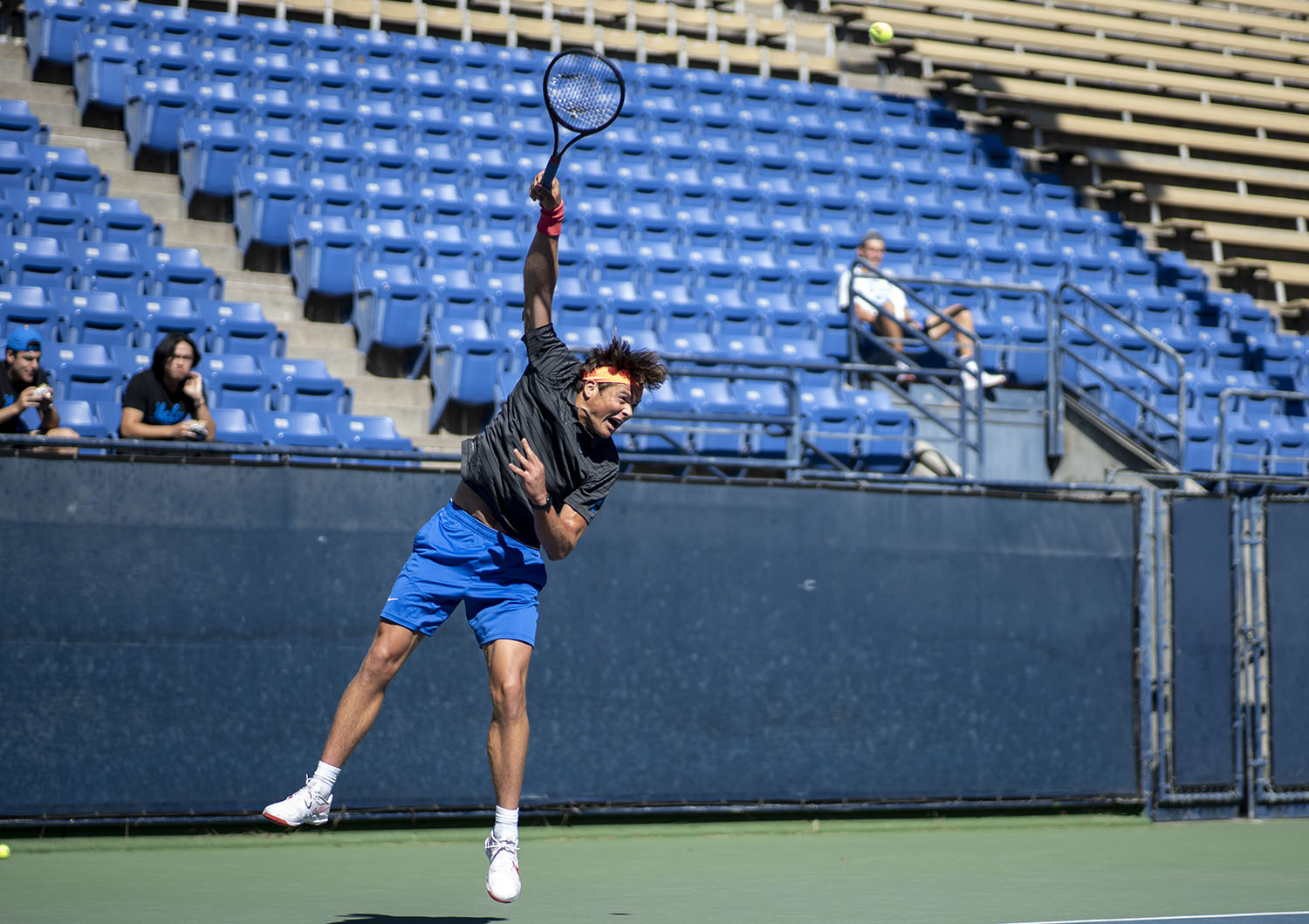 Senior Patrick Zahraj serves. Zahraj helped secure the doubles point for UCLA men's tennis before the team lost to crosstown rival No. 15 USC on Saturday. (Patrick Shao/Daily Bruin)
April 10, 2022 11:20 p.m.
Despite taking the doubles point early, the Bruins couldn't send their seniors off with a home win.
UCLA men's tennis (7-10, 2-3 Pac-12) was defeated by crosstown rival No. 15 USC (16-5, 6-1) by a score of 4-2 at the Los Angeles Tennis Center on Saturday. Even with the loss, the Bruins were still able to celebrate Senior Day, with senior Patrick Zahraj, senior Eric Hahn and redshirt senior Bryce Pereira playing against the Trojans.
Coach Billy Martin said he was encouraged by his team's doubles play, which set the tone for the match.
"We energized ourselves by winning the doubles point and got some belief, so that's all I could ask for," Martin said. "Some teams would be rattled after doubles. This (USC) is a good, experienced team."
This season's second rendition of the crosstown rivalry began with a doubles win on court two, as Zahraj and freshman Giacomo Revelli defeated Peter Makk and Lodewijk Weststrate 6-3. The duo of Pereira and freshman Alexander Hoogmartens defeated the No. 6 pair, Stefan Dostanic and Bradley Frye, 7-6 (4) to secure the doubles point for the Bruins.
"When you get on the board first, it's always beneficial. … It always sends a little bit of a different shock for the team," Zahraj said. "We needed that momentum coming from the doubles."
In singles play, Pereira extended the Bruins' lead on the back courts by defeating Samuel Rubell 6-1, 6-2 on court six in his fourth singles match of the season.
Pereira said his doubles triumph helped him relax and stay sharp in his singles match to give UCLA a 2-0 advantage.
"The biggest thing for me (is) just being very decisive with what I want to do and be very decisive for how I want to play each point," Pereira said. "To keep the momentum (after doubles), I just told myself to keep my foot on the pedal."
Pereira's win was the last point UCLA would register in the match, however, as Hoogmartens and fellow freshman Karl Lee were unable to capitalize on opportunities during their first sets and could not recover in their second sets.
The Trojans' first point came when Hoogmartens fell to Dostanic 7-5, 6-1 on court one, followed by Hahn losing 6-2, 6-4 on court five to No. 116 Weststrate.
The third point for USC came swiftly after, as Revelli fell to No. 52 Makk 6-3, 7-5 on court three while Lee's 7-6 (5), 6-4 defeat to Ryan Colby on court four clinched the match for the Trojans.
Zahraj said the Bruins still have a lot of positives to take into the postseason even with the loss.
"We're right there with the best teams in the country, whether it was TCU (on March 10) or USC today," Zahraj said. "We definitely belong at a different spot than where our record shows us right now, but we still can redeem ourselves and have a great finish to the season."
UCLA will next face nonconference opponent Hawai'i at home Tuesday followed by Utah on Sunday.
Diamantopoulos is currently a Sports contributor on the men's tennis beat. He was previously a contributor on the beach volleyball beat.
Diamantopoulos is currently a Sports contributor on the men's tennis beat. He was previously a contributor on the beach volleyball beat.