UCLA softball looks to maintain winning streak at weekend series against Stanford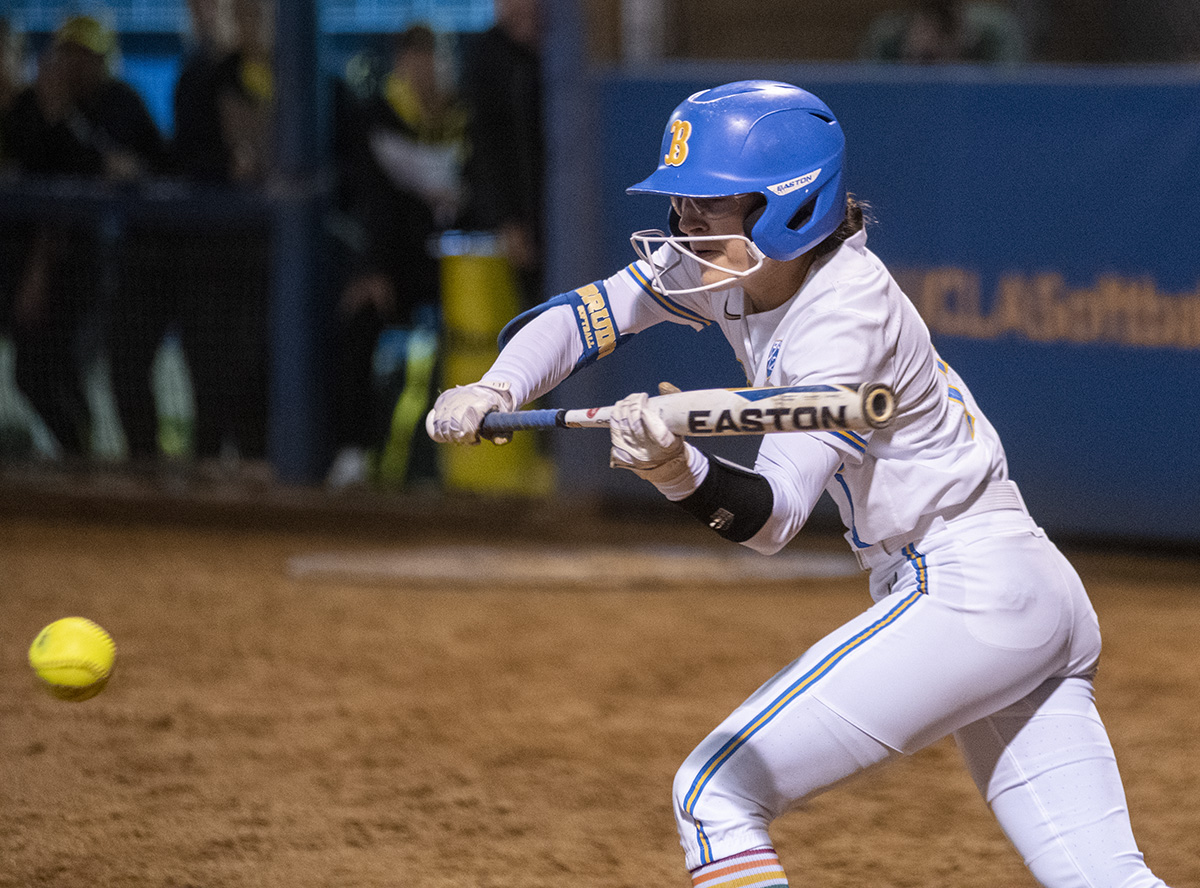 Redshirt junior Kelli Godin looks to bunt the ball in No. 3 UCLA softball's contest against then-No. 12 Oregon on April 1. Godin and the blue and gold will play at Stanford for a three-game series from Friday to Sunday. (Antonio Martinez/Daily Bruin staff)
softball
---
Stanford
Friday, 6 p.m.
Boyd & Jill Smith Family Stadium
Stanford Live Stream
---
Stanford
Saturday, 2 p.m.
Boyd & Jill Smith Family Stadium
Stanford Live Stream
---
Team
Sunday, noon
Boyd & Jill Smith Family Stadium
Stanford Live Stream
Defense has been paramount to the Bruins' success, according to redshirt junior outfielder Kelli Godin.
"Coach I (Kelly Inouye-Perez) always tells us that defense wins championships and she's right, it does," Godin said.
The team's defense has aided in a historically long winning streak for No. 3 UCLA softball (31-3, 9-0 Pac-12), which will continue its conference schedule with a weekend series against Stanford (24-9, 3-3) at Boyd & Jill Smith Family Stadium from Friday to Sunday. The Bruins' trip to the Farm comes amid a 24-game winning streak, one win away from tying Inouye-Perez's longest run of victories as coach of the blue and gold.
Godin credits UCLA's hot streak to its taxing preseason schedule.
"We didn't have the best preseason," Godin said. "We were challenged a lot. That contributed to the three sweeps against those three teams (Oregon, Washington and Arizona). If you look at last year, I don't think we were challenged enough in the beginning of the season."
One of the preseason losses came against No. 1 Oklahoma, a game in which UCLA committed a season-high four errors. In the 29 games since then, the Bruins have tallied three games with more than one fielding error.
Inouye-Perez said she is proud of how her team has bounced back after suffering its three preseason losses.
"I love how we've gotten better throughout the season," Inouye-Perez said. "That's always a sign of a great team – to get challenged early and not have things go our way and do something about it. … We've had different Bruins step up which is awesome, but the biggest reason that we're playing so well is our defense."
The Bruins sit atop the conference standings after rattling off nine straight wins to begin Pac-12 play, while the Cardinal are in fourth with a .500 winning percentage.
At the Farm, the Cardinal boasts the conference's third-best home record behind a pitching staff ranked in the top half of the league in several statistics. Stanford is third among Pac-12 teams in earned run average and opposing batting average and tied for fourth in wins. In the batter's box, the team sits dead last in multiple offensive statistics, including batting average, runs, hits and home runs.
While the Pac-12's worst offense is hitting this weekend, the best pitching staff will be in the circle. Behind redshirt junior Megan Faraimo, redshirt senior Holly Azevedo and graduate student pitcher Lauren Shaw the Bruins' pitchers lead the conference in ERA, strikeouts and wins.
Shaw said UCLA's pitching staff has been successful because it can depend on both the team's gloves and bats.
"Knowing that we have such a strong defense behind us and a strong offense, we can go out and do our thing," Shaw said. "(We) attack the zone knowing that no matter what happens, someone has our back."
The blue and gold have taken eight of the last ten matchups against the Cardinal, sweeping last year's four-game series in Westwood.
Regardless of UCLA's recent success against Stanford, Inouye-Perez said her team is approaching the weekend one step at a time.
"We got to take it one game at a time, one pitch at a time," Inouye-Perez said. "Stanford is very talented, they play the game well. Going on the road, you're not in your comfort zone as far as being in your own bed, playing in front of your own fans and your family. So we've got to settle in as quickly as possible."
First pitch on Friday is set for 6 pm.
Farinha is currently a Sports staffer on the softball beat. He was previously a reporter on the women's soccer beat.
Farinha is currently a Sports staffer on the softball beat. He was previously a reporter on the women's soccer beat.