Op-ed: Increasing polarization in French elections has consequences for US politics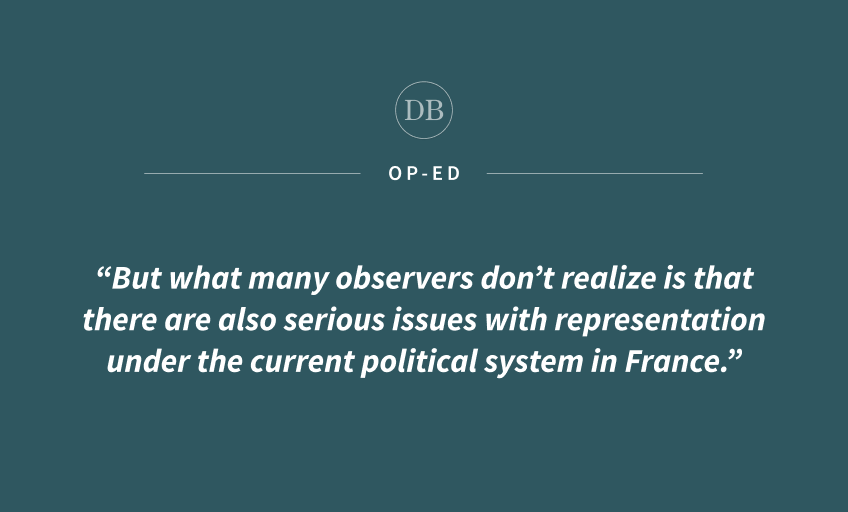 Something is rotten in the state of France.
Presidential elections are scheduled for Sunday, and given that no single candidate will obtain more than 50% of the vote on that date, there will be a run-off election two weeks later between the two leading candidates. This election coincides with the unfolding of a major conflict in Ukraine and the genuine concern that the situation will continue to escalate and eventually involve other nations. Furthermore, democratic principles are being threatened by extremist far-right parties and by the role of post-truth and polarizing rhetoric – something that should worry us all.
Leaders are struggling to defend democratic institutions and principles as they are confronted with illiberal populists determined to restrict media freedom and weaken constitutional and juridical standards. But what many observers don't realize is that there are also serious issues with representation under the current political system in France.
The system was designed to work best with robust broader parties, and it is now failing as voters are feeling extreme apathy or that their votes no longer count. This presents a grave political danger for a democracy because the remaining vacuum is being filled by empty and divisive rhetoric that has contributed to the spread of right-wing extremism as candidates have sought to manipulate people by exploiting their fears rather than seeking real solutions.
France is a Republic and parliamentary democracy, but the popular vote in the Presidential election has no correlation with the actual representatives that end up seated in parliament. This is determined later through parliamentary elections that have been recalibrated to coincide with the reduced five-year presidential term, thereby effectively consolidating the presidential powers. This "winner takes all" process means that the stakes are very high in the presidential elections and a serious concern, given ever-shrinking levels of popular support.
Almost every single poll since the last election in 2017 has had the incumbent Emmanuel Macron ahead of the far-right candidate Marine Le Pen, leader of the National Rally, formerly the National Front, a party that has narrowed the lead with each successive election and now has the potential to cause a major electoral upset. The twelve candidates cover the full spectrum of French political views, and five candidates are projected to score above 10% of the vote at the time of this piece's writing: Macron from La République En Marche! with 27%, Le Pen from Rassemblement National with 23%, Jean-Luc Mélenchon from La France Insoumise with 16.5%, Éric Zemmour from Reconquête! with 10% and Valérie Pécresse from Republicans with 10%. Traditional wisdom has been to "vote with the heart" in the first round and "vote with the head" in the second. This means that the overwhelming majority of French voters will have not voted for the eventual president, and the focus has already turned to who might end up in the run-off stage.
No one seriously doubts the incumbent will reach the run-off stage. But unlike the German political system in which proportional representation functions optimally and where coalitions have enabled consensus and compromise, initiatives to forge alliances or deploy strategic "useful votes" have proved futile in France. Given the incredibly narrow margins separating the three runner-up candidates in the previous election, every leading candidate continues to believe they have a real chance of making it to the next stage, and naturally, that they are best equipped to shift the terms of the debate.
Electoral themes include age-old questions pertaining to minimum wage levels, working hours, the retirement age, educational access and pension reform. There are also very French-specific issues, such as laws governing religious insignia in public spaces and emerging topics like whether to opt out of NATO or which energy sources to prioritize. But emotions are running high, all the more so as the country emerges – prematurely as recent COVID-19 case numbers indicate – from a pandemic that most feel was mishandled by the French authorities. A new extreme-right party named Reconquête! has also joined the fray, headed by the controversial journalist Zemmour. Together with the National Rally, they have not hesitated – much like Brexiteers across the channel – to engage in the kind of deliberate falsehoods and lies associated with the post-truth era. They distill these into well-rehearsed arguments that instrumentalize people's worst fears about a country in decline and prescribe a range of xenophobic solutions, with terms such as "remigration" bandied as the path to a "reconquest" of some bygone glorious era of colonial grandeur.
Mélenchon, the leader of the most powerful left-wing party, La France Insoumise (France Unbowed), is the only other candidate within striking distance of the run-off. However, he has not been able to lure voters away from other left-leaning parties, notably the French Communist Party or the Greens Party. Recent political events in Ukraine have exacerbated differences: the Greens support NATO membership and an embargo on Russian energy, but LFI does not. And although the Communists are closer to LFI, they believe in developing fourth-generation nuclear energy whereas LFI will not support that.
In a run-off debate, Macron will perform well on foreign policy issues, but he is extremely vulnerable when it comes to domestic ones. Ultimately, opponents will have to convince voters that they would be preferable alternatives and potentially reliable presidents at this moment of global political uncertainty. There are many parallels with the American context where traditional parties are being torn apart by partisan politics, and the resulting polarization has also been toxic in France. But France is an important Atlantic partner, and what happens in Europe and in this election, therefore, has very real implications for the United States.
Dominic Thomas is Madeleine L. Letessier Professor of French in the Department of European Languages and Transcultural Studies. He is also a CNN European Affairs Commentator.