The Quad: International students from China face challenges returning home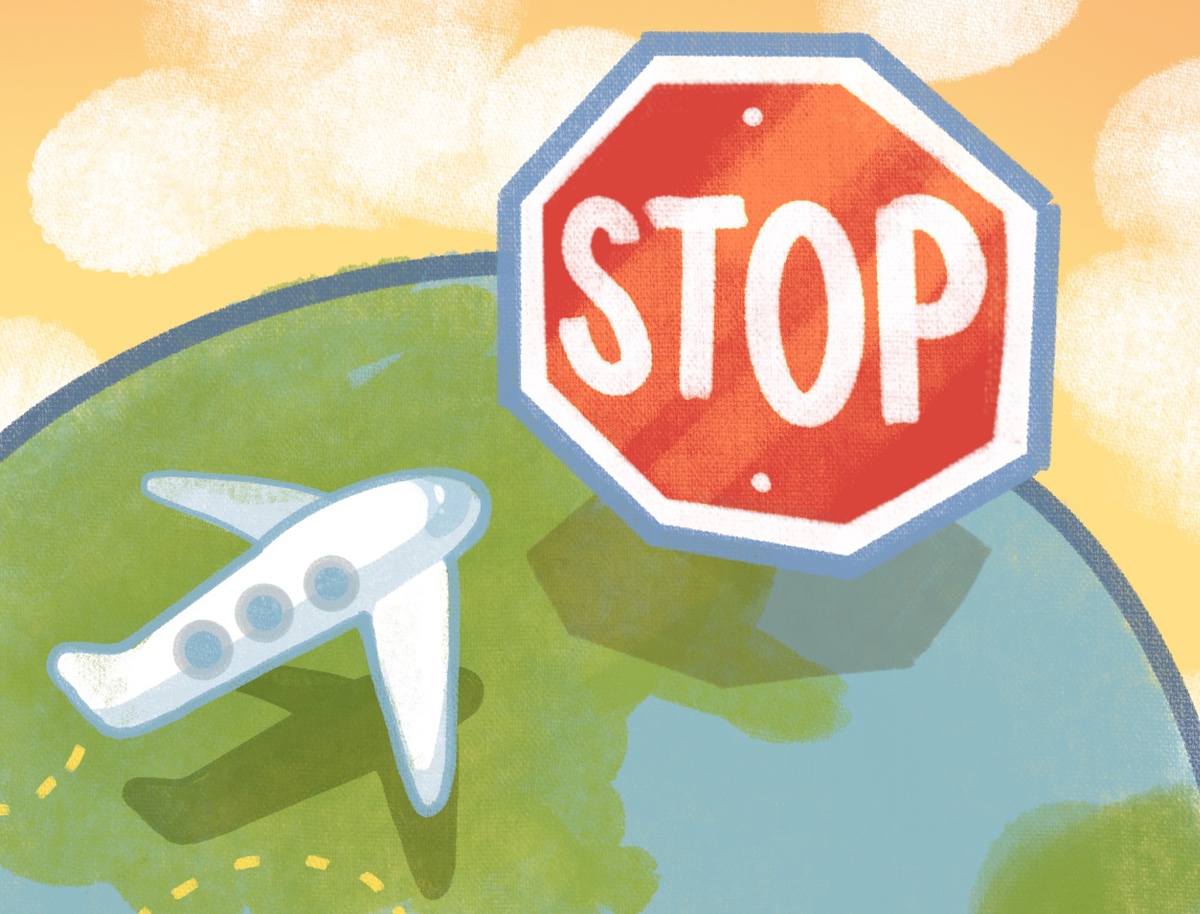 (Katelyn Dang/Illustrations Director)
This post was updated April 10 at 8:59 p.m.
"The date you have entered returns no results. Please choose another date." This is the reality for many Chinese students studying in the United States who cannot buy a homebound plane ticket for the summer.
Tickets to China have been difficult to obtain because the number of available flights is insufficient. In 2020, the Chinese air transport industry faced an 87.1% decrease in international flight passengers compared to the year prior. As of last year, international flights to China amounted to only 2.2% of pre-pandemic levels, according to NBC News.
Dr. Zuo-Feng Zhang, the chair of the Department of Epidemiology at the UCLA Fielding School of Public Health, said China began implementing restrictions on international travel after most COVID-19 cases in China came from international passengers.
"Circuit breaker" regulations have contributed to the reduced number of flights. These policies allow China's aviation authorities to suspend flights – an airline flying internationally to China is suspended for one week if five to nine passengers on the same flight test positive and four weeks if more than nine passengers test positive, according to Fortune.
Kerry Huang, a second-year sociology student, said she faced the consequences of this policy two years ago.
"Mentally, it is just not really healthy for me to (want) to go back to my country," Huang said. "You buy plane tickets – you got it – but then it (the flight) keeps getting canceled, and you have to rebuy tickets."
Besides the scarcity of tickets, the price of air transport also skyrocketed as a result of high demand and low supply. As of Thursday, the cheapest available direct flight from Los Angeles to Guangzhou, China, in July cost more than $20,000, according to Trip.com.
Beyond the difficulties of obtaining a ticket, the Chinese Embassy in the U.S. requires passengers to arrive at the city of departure at least seven days before the flight and obtain a negative nucleic acid RT-PCR test result. Then, a second and third PCR test must be completed within 48 hours of departure, according to the Chinese Embassy's official website.
Second-year mathematics/economics student Joyce Xu said the preflight COVID-19 tests add uncertainty to the journey, as sometimes results may be inaccurate.
After arriving in China, passengers must also complete the mandatory 14-day quarantine in a government-assigned hotel room.
Katty Geng, a second-year international development studies and mathematics/economics student, said she experienced the quarantine two years ago when returning to China from the U.S.
"Every single day you need to report your temperature, and they do PCR tests regularly to see if you have COVID or not," Geng said.
A significant implication of these policies is unpredictability in terms of internship, work, travel and social plans.
"I am a little bit luckier than some people because I have family friends living in Los Angeles, so I can stay with them," Huang said. "But for others, I think – if you weren't to go back – you have to look for housing, and you have to pay extra. It would be a lot of work."
Students like Geng said they also undergo the disappointment of not being able to see their family during their time off of school.
"I haven't visited my family (or) my parents. They're all back in China," Geng said. "If I don't go back, then it's going to be … more than a year that I don't see them. So, it's like this emotional connection that I think a lot of us are not experiencing."
According to The Economist, the government policies regarding international travel are part of China's "zero-COVID" approach, which relies on technology and local administrations to conduct frequent mass testing, contact tracing and occasional citywide lockdowns.
The zero-COVID policy had been adopted by Singapore, Vietnam, South Korea, Australia, New Zealand and Hong Kong in the past, although most of these regions are loosening up traveling and domestic restrictions.
Xu said she understands the zero-COVID policy's goal to protect the population, which has not yet acquired herd immunity from the virus.
"It's still reasonable for China to restrict their international travel to ensure at least people in the country are safe," Xu said. "Since China already has a lot of people, … their medical devices couldn't keep up with the large population if a large percentage of them gets COVID."
This concern aligns with some epidemiologists' hypothesis that exposing 1.4 billion individuals to COVID-19 can potentially lead to the emergence of new variants, according to Science. Variants arise from mutations in a virus when it replicates. The more hosts a virus can replicate itself in, the higher the probability of a mutation that can lead to an advantageous variant.
Nevertheless, many also express concerns about the severity of the measures taken to restrict international travel.
"Their policy definitely influences a big community of international students and people working abroad, traveling abroad and studying abroad," Geng said. "For us – this community – it's a bit too harsh … (with) no tickets for us to go back home."
Zhang added that reopening would require the Chinese public to achieve herd immunity, with 80% or 90% of the population acquiring antibodies either by infection or vaccination.
"I don't see any chance they can open the door by end of this year because they're not really there yet," Zhang said.
As of now, students can only hope for the release of more tickets near the end of spring.
"I don't know if there will be available tickets," Geng said. "Right now, there aren't too many, but people don't know if two months later there could be more tickets available for us to go back."