New mural integrates Native perspectives in representation of UCLA's land history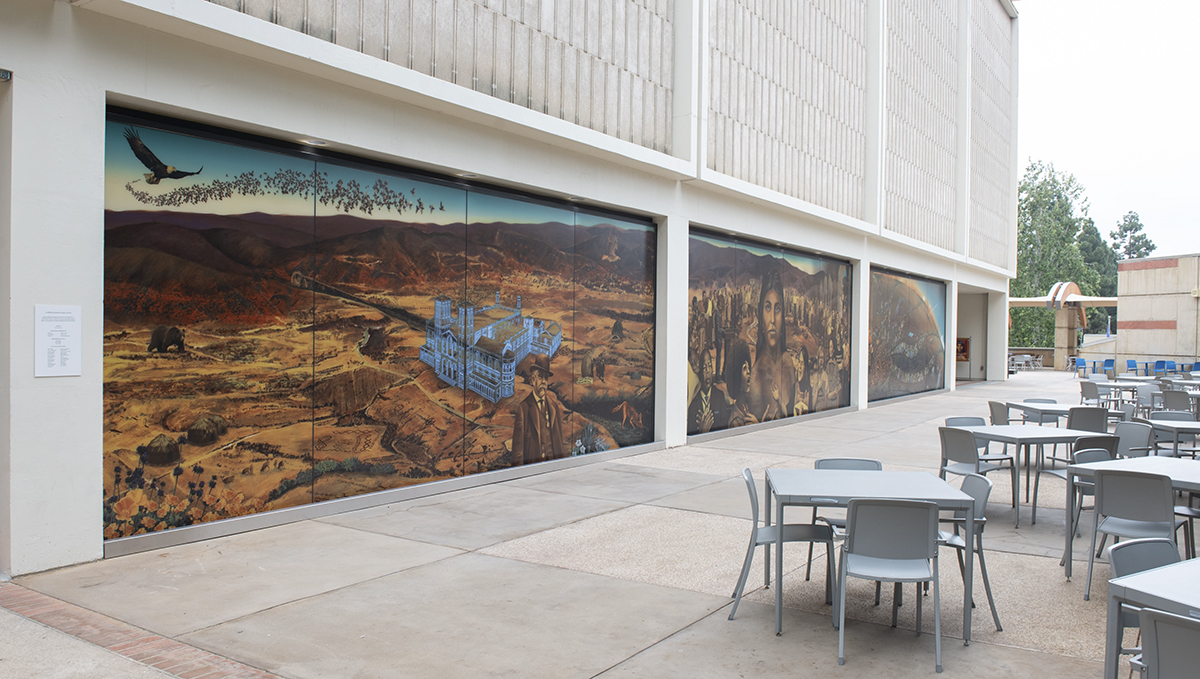 "La Memoria de La Tierra: UCLA" by UCLA professor emeritus and artist Judith Baca was unveiled at the Wescom Student Terrace at Ackerman Union on Friday. The mural portrays scenes from the history of UCLA's land, including Native peoples and influential figures from the UCLA community. (Courtesy of Don Liebig/ASUCLA Photography)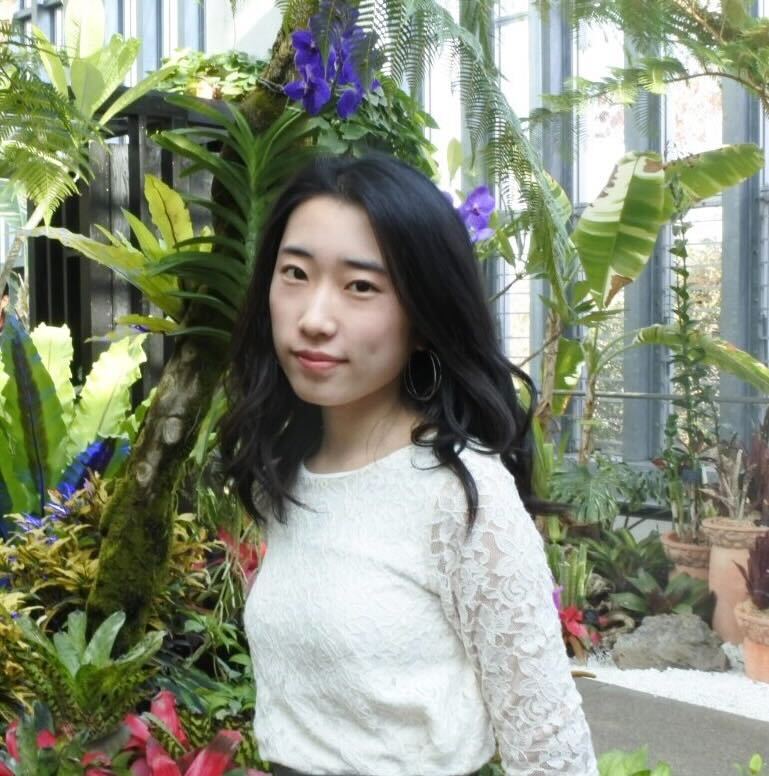 This post was updated April 7 at 9:24 a.m.
UCLA professor emeritus and artist Judith Baca's original mural was unveiled in Ackerman Union on Friday.
Located at the Wescom Student Terrace on level one of Ackerman Union, the mural is titled "La Memoria de la Tierra: UCLA" and consists of three 26-foot-long panels. The first panel depicts the original Los Angeles River and its original peoples, the second panel highlights influential members of the UCLA community, and the third panel displays a future in which the university recognizes and coexists peacefully with the Native land.
The UCLA Centennial Committee first commissioned the mural in 2019, and it was created in partnership with ASUCLA.
Pouria Abbassi, ASUCLA executive director and CEO, said ASUCLA chose to collaborate with Baca because of her renowned artistry and her relationship with UCLA.
"If you look at all the artists that have been part of UCLA, without a doubt the most prominent living artist at UCLA is Judy Baca," Abbassi said. "So when we were looking at how we can depict 100 years of UCLA and what it means in the future and all the moments that have come from UCLA, there was only one choice."
Baca said the mural captures the original state of Westwood's land, river and original people, according to UCLA Newsroom.
Baca did not respond in time for comment.
Gina Leon, Baca's studio and research assistant, said she was impressed by the innovative printing techniques of the mural.
Desirae Barragan, the co-chair of the American Indian Student Association, is depicted in the second panel of the mural. The third-year American Indian studies and human biology and society student said she helped connect Baca with other Gabrielino people to discuss the mural during her art process.
"(My meeting with Baca) just solidified the good intentions that she had behind it in ensuring that she got permission from the Gabrielino community to include our perspectives, our voices and peoples," Barragan said.
Barragan said she was stunned by the mural at the unveiling ceremony. The pieces of the mural represent society improving, and students passing by Ackerman Union will hopefully take more interest in the history of the people portrayed, Barragan added.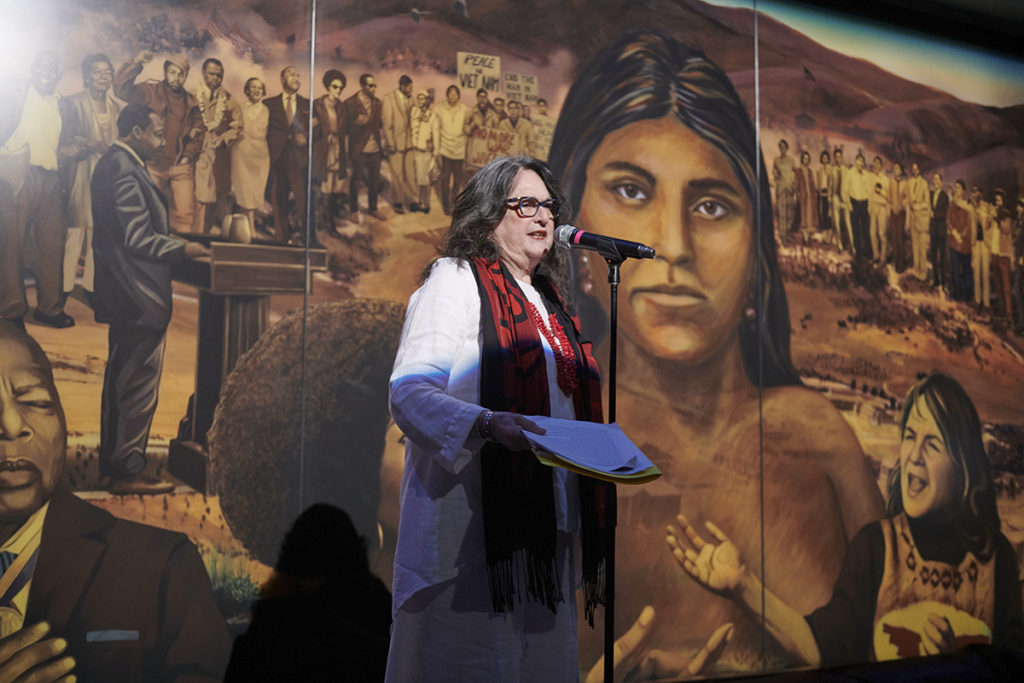 Sophia Balkovski, a third-year economics and public affairs student who attended the unveiling ceremony, said she appreciated the significance of the mural.
The mural is an important reminder of the history of mistreatment in California, said Kara Levy, a third-year materials engineering student who also attended the event.
As a member of the Gabrielino community, Barragan added, she hopes the mural will help improve Native representation and raise awareness of student issues and social justice movements at UCLA.
"As a Gabrielino woman studying on my land, I hope this mural brings Native representation to the university and a call to action for them to ensure that Native voices are amplified," Barragan said.
Jazz Kiang, the chair of the ASUCLA Board of Directors, said the mural is a representation of activism at UCLA.
"Throughout that 100 years, there is a story of activism," said Kiang, who is also a doctoral student in higher education and organizational change. "There's a story of building community, and there's a story of turning the wheels toward justice. And I think that theme, or all those themes together, are what we tried to have presented in a piece like this."
Abbassi added that he hopes the mural will help students reflect on America's land history and look toward the possibility of a brighter future while feeling welcome in Ackerman Union.
"It also reflects on our pasts and where this land came from – the Native land you're sitting on – and pays homage to that," Abbassi said. "During your lunchtime, when you come and sit here, you'll enjoy that visual experience."
Wakura is a features contributor. She is a first-year economics student at UCLA.
Wakura is a features contributor. She is a first-year economics student at UCLA.