2022 GSA Elections: Daily Bruin Editorial Board candidate endorsements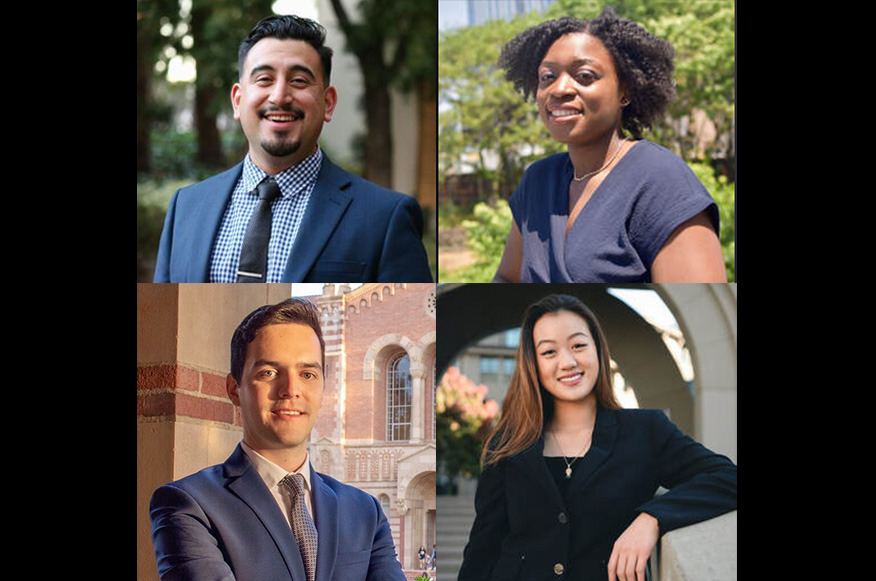 The Editorial Board endorses Donald Zelaya (top left) for Graduate Students Association president, Adejah Taylor (top right) for GSA vice president of Internal Affairs, Ernesto Arciniega (bottom left) for GSA vice president of External Affairs, and Candace Wang (bottom right) for GSA vice president of Academic Affairs. (Courtesy of GSA Elections Board)
Correction: The original version of this article incorrectly stated that graduate and professional students will select a president, vice president of Internal Affairs, vice president of External Affairs and vice president of Academic Affairs from eight candidates. In fact, they will select from nine candidates.
This post was updated April 7 at 12:41 a.m.
Voting for Graduate Students Association elections has begun. The GSA is a body of elected student leaders who advocate for the well-being of graduate and professional students at UCLA. This year, graduate and professional students will select a president, vice president of Internal Affairs, vice president of External Affairs and vice president of Academic Affairs from nine candidates, two of whom are running for president, one for vice president of Internal Affairs, three for vice president of External Affairs and three for vice president of Academic Affairs. Students will also vote on a referendum that will increase student fees by $2 per quarter or $3 per semester to expand GSA programming and services. The editorial board interviewed all candidates before deciding who to endorse. In its deliberations, the board considered the following factors: specificity and relevance of platforms, feasibility of campaign goals and candidates' experiences with advocacy and leadership. Below are the board's endorsements.
You can read more about the candidates, their platforms and the referendum here. Electronic ballots are located on MyUCLA. Voting will end Monday at noon.
President: Donald Zelaya
Predicting how a candidate would perform in office is a difficult task – but this year, Donald Zelaya has made a compelling case that his presidency would prove worthwhile for the UCLA community.
Zelaya's prior experiences – both personal and professional – have informed his clear, achievable plans to reshape the GSA to better serve its constituents. In consideration of his vision, willingness to challenge the status quo and recognition of the interconnected role the GSA plays in the campus community, the editorial board endorses Donald Zelaya for GSA president.
Zelaya is running with the Let's A.C.T. slate, which focuses on advocacy, campus life and transportation and transparency. Zelaya intends to use the presidency to support students with disabilities, first-generation students, students with dependents, students of color and those experiencing housing and food insecurity.
As a Master of Public Policy candidate, Zelaya is particularly well-suited to establishing and carrying out policy goals, a position backed by his platforms' strength and specificity. In particular, the editorial board was impressed by his plans to build a coalition with other campus leaders to more effectively identify and advocate for the positive change Bruins need and deserve.
Moreover, while Zelaya has spent just one year serving the GSA as its first-ever director of Internal Affairs, this was hardly his first time working as a representative and advocate. He has served on the Sylmar Neighborhood Council, sat on a nonprofit board and was also deeply involved in student government and advocacy as an undergraduate at UC San Diego. By leveraging these experiences and his other qualifications, Zelaya is poised to deliver on his ambitious campaign promises.
With that said, this editorial board applauds the other presidential candidate, Noor Nakhaei, for her focus on protecting the financial well-being of graduate students. Low stipends, high rent and inadequate coverage of nonresident tuition make it difficult for graduate students to work and pursue an education at UCLA, and Nakhaei, who serves in the GSA Office of the President as co-director of Campus Relations, has plans to tackle this problem head on.
The list of challenges that graduate students at UCLA face is a long one. Zelaya's plans are the best bet to address them.
Vice president of Internal Affairs: Adejah Taylor
Adejah Taylor sees eye to eye with her fellow students.
Taylor, an education and information studies doctoral student, displays a strong passion for supporting Bruins by pinpointing key issues and matching them with both short-term and long-term solutions. Her plans are organized and concrete, and she is driven by a willingness to listen to her peers. For these reasons, the editorial board endorses Taylor for vice president of Internal Affairs.
A strong proponent of community engagement, Taylor, who is running unopposed, hopes to create more opportunities for students to interact both within and between schools. She hopes these events will allow students to expand their circles and share more resources and knowledge – an endeavor that would require a revamp of the Office of Internal Affairs' social media presence and event advertising, for which she plans to use untouched council funds.
Taylor, who is running with the Let's A.C.T. slate, aims to initiate discussions with council members, administrators and a diverse range of students to figure out how to improve graduate student orientation and transition – something that especially impacts international students, first-generation students and first-time graduate students, she said. Furthermore, Taylor aims to launch a digital platform to house recorded webinars and tailored content for specific student groups.
Taylor said limited funding and staff for graduate student transition programs is one of the biggest challenges she foresees. While housing is another difficult issue to solve, Taylor added that she will advocate for an increased number of housing units.
The editorial board is confident Taylor will serve graduate and professional students well in the coming year.
Vice president of External Affairs: Ernesto Arciniega
Change requires a movement, and if there's anyone who can create that movement, it's Ernesto Arciniega.
Since transferring to UC Berkeley as an undergraduate in 2013, the sixth-year Hispanic literatures doctoral student has dedicated his time in the University of California to forging a more equitable future for his peers. His forward-thinking plans, advocacy experience and eagerness to create a better campus community are what drove the editorial board to endorse Arciniega for vice president of External Affairs.
Arciniega is a student advocate through and through. During his time at UCLA, he has been involved in a variety of organizations both on and off campus. Arciniega was president of the Hispanic Latinx Graduate Students Association for two years; the GSA's first director of diversity, inclusion and community engagement; and a member of the Associated Students UCLA Board of Directors. He now sits on the North Westwood Neighborhood Council as a graduate student member.
Arciniega will also be able to bring his vast knowledge of advocating at a systems level to the Office of External Affairs. As a student advocate to the regents, he called on the UC to increase financial assistance to undocumented students and advocated for SCA-5 – an amendment which, if passed by the State Assembly, would increase the number of student voting members on the UC Board of Regents to two. Arciniega also serves as the vice chair for the University of California Graduate and Professional Council, where he advocates for more affordable housing options for graduate students.
Knowing how to navigate the complicated network of local and systems-level stakeholders places Arciniega in a prime position to advocate for his constituents, especially as students face a litany of challenges. But more than that, Arciniega has a clear vision grounded in equity and student empowerment that makes him stand out from the pack.
If elected, Arciniega aims to increase TA wages, halve student housing costs, improve mental health services, increase campus sustainability, develop an advocacy program that teaches students leadership and lobbying skills and take students to Sacramento and Washington, D.C., to speak with legislators.
Arciniega wasn't the only candidate with commendable platforms and a passion for helping students. For example, Jamie Leonard, a second-year civil and environmental engineering doctoral student, plans on making graduate department budgets more transparent by hosting town halls. This is certainly important at a time when the vast majority of academic student employees and postdoctoral students spend more than 30% of their income on rent, but Arciniega's experiences and track record as a student advocate are hard to beat.
The editorial board can't wait to see Arciniega get to work.
Vice president of Academic Affairs: Candace Wang
Candace Wang may have spent the last six months as GSA's vice president of Academic Affairs, but the M.D./Ph.D. candidate isn't finished with student government.
The board endorses Wang for GSA vice president of Academic Affairs because it is confident she will use her passion for equality, accessibility and accountability to get the job done for another year.
Since stepping into the vice president of Academic Affairs position in October, Wang has accrued an impressive track record advocating with and on behalf of her peers.
As vice president of Academic Affairs, Wang successfully pushed for the hiring of four additional staffers for the Center for Accessible Education, the campus entity that handles accommodation requests for students with disabilities. She also helped an international student secure a full refund of the $20,000 in nonresident student tuition fees the student had to pay so they could stay in the United States during the pandemic while maintaining their time to candidacy.
Wang's readiness to listen to her constituents and to act on their concerns isn't the only thing that makes her a worthy contender. Wang isn't shy to call it as she sees it, even if it means letting administrators know they've made a mistake. After a former philosophy lecturer threatened campus with a mass shooting at the end of January, Wang brought her concerns about the university's response directly to administrators, who subsequently created a Threat Response Task Force to investigate how UCLA can better respond to future emergencies.
If elected for her first full term as vice president of Academic Affairs, Wang, who is running on the Let's A.C.T. slate, wants to serve as a liaison between the community and university officials, build a better community for graduate students by hosting more cross-campus events like Grad Bars and maintain an open line of communication with administrators. Wang also plans on surveying students to learn more about their needs so her office can best support them – an important goal when serving such a diverse student body.
Based on her achievements this year, the editorial board has no doubt she will follow through on most if not all of these promises.
Granted, Wang wasn't the only candidate the editorial board was impressed by. Sonya Brooks' thoughtful approach to supporting students and Priyanka Sigar's commitment to improving retention on campus make them more than qualified for the position. However, the editorial board believes Wang will be best equipped to steer the office of Academic Affairs through a year that will certainly be challenging in more ways than one.
The editorial board looks forward to seeing what Wang will accomplish.
GSA Graduate Opportunity and Learning Experience (GOLD) Referendum: Yes