UCLA women's tennis prepares for last home matches of regular season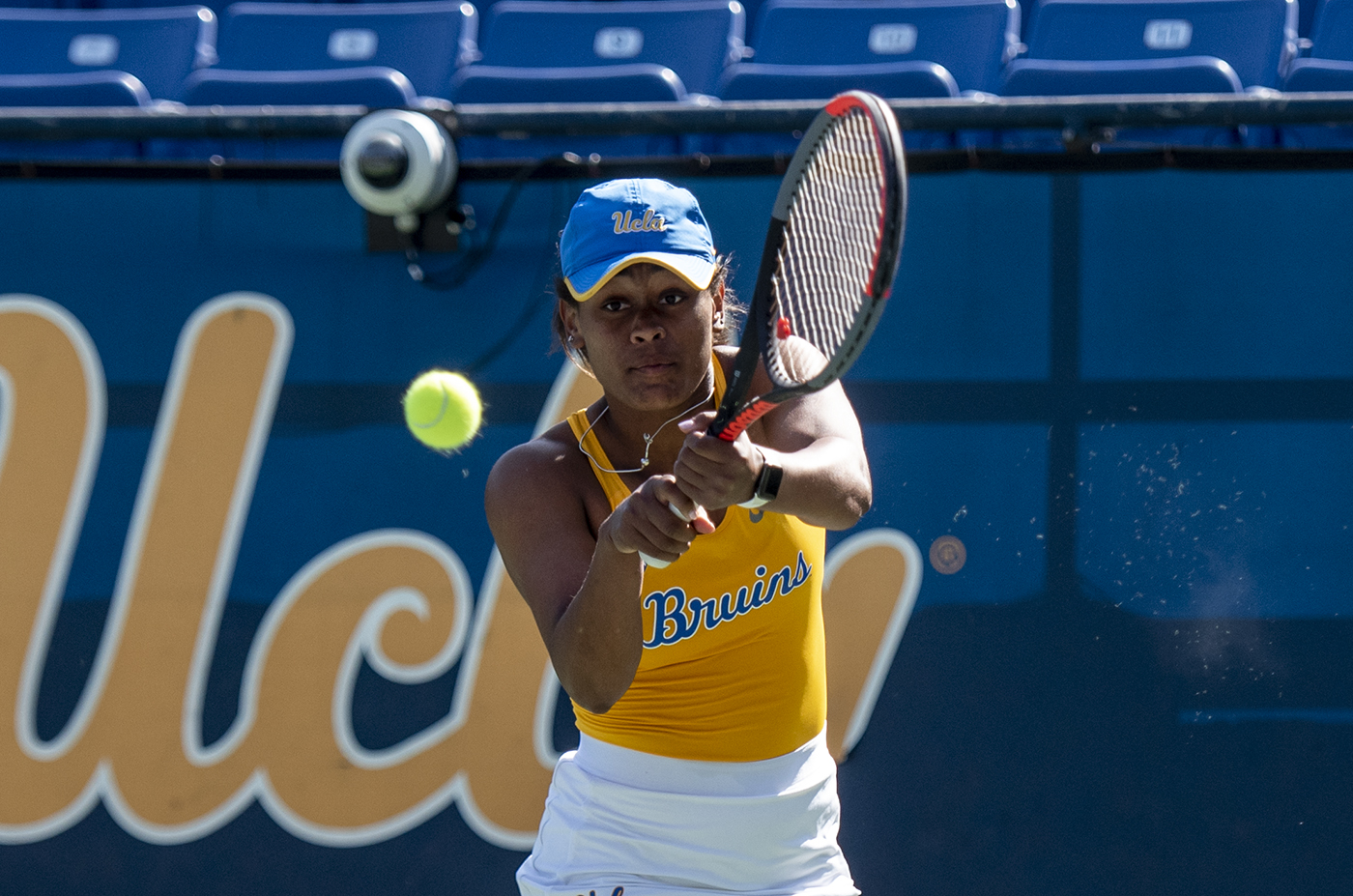 Junior Abbey Forbes hits the ball in a match on Feb. 21. Forbes and No. 15 UCLA women's tennis will be facing off against No. 5 Pepperdine on Wednesday and Oregon on Friday at the Los Angeles Tennis Center. (Shane Yu/Daily Bruin)
Women's tennis
---
No. 5 Pepperdine
Wednesday, 1:30 p.m.
Los Angeles Tennis Center
UCLA Live Stream
---
Oregon
Friday, 1:30 p.m.
Los Angeles Tennis Center
UCLA Live Stream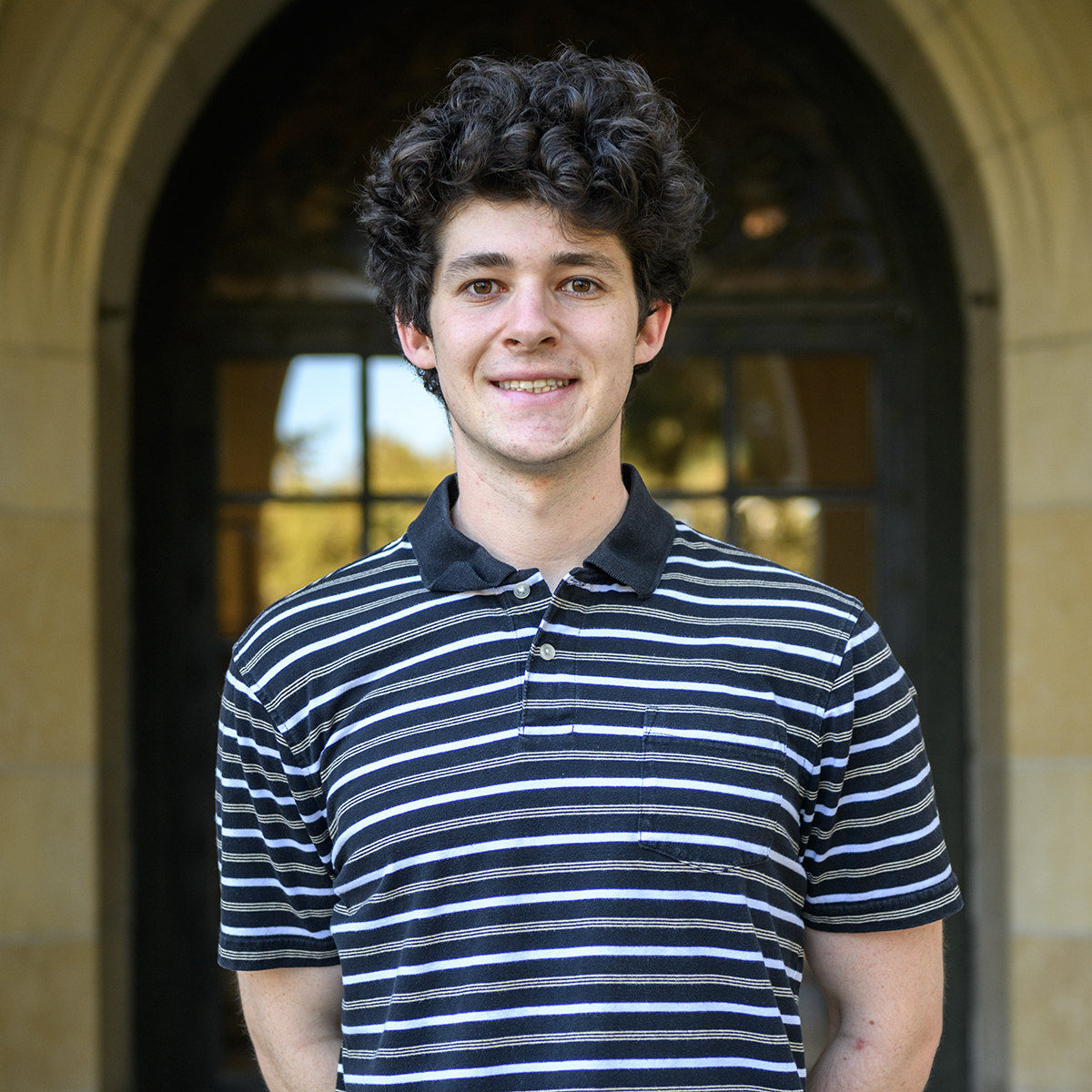 The Bruins will conclude regular-season home play with a pair of West Coast matchups.
Coming off wins versus No. 24 Washington and Washington State on Friday and Saturday, respectively, No. 15 UCLA women's tennis (10-3, 6-0 Pac-12) will face No. 5 Pepperdine (14-4, 4-0 WCC) on Wednesday and Oregon (14-5, 5-3) on Friday at the Los Angeles Tennis Center.
The Waves boast seven top-100 ranked players, headlined by No. 9 Shiori Fukuda, No. 17 Lisa Zaar and No. 36 Taisiya Pachkaleva. Fukuda, Zaar and Pachkaleva all played in the quarterfinals match that eliminated the Bruins from the 2021 NCAA tournament.
Coach Stella Sampras Webster said she was ready to embrace the challenge Pepperdine creates.
"They got a lot of talent, but we do too," Sampras Webster said. "It's going to just be a battle. I'm really excited to see it."
Wednesday will be the sixth time that UCLA has played Pepperdine in the last two seasons, with the most recent matchup being a 5-2 Pepperdine victory Feb. 5 in Malibu.
Freshman Kimmi Hance said she was enthusiastic about the team's improvement since the Bruins' last matchup with the Waves.
"Since the last time we played them, we've definitely improved a lot individually and as a team," Hance said. "We have a really good opportunity, especially being at home."
No. 47 junior Abbey Forbes said she hasn't forgotten the Bruins' recent history with the Waves, either.
"What happened at NCAAs last year with us losing to them in the Elite Eight stings a lot," Forbes said. "We have a rule as Bruins – no one beats us twice in a row, so we got to come out strong on Wednesday, and we're really excited for it."
Friday's matchup with Oregon will be Senior Night for three Bruins – senior Elysia Bolton, senior Taylor Johnson and Forbes, who is graduating from UCLA a year early.
Sampras Webster said she had nothing but praise for her three graduating players.
"We've been so fortunate to have all three of them be part of the program," Sampras Webster said. "Why this team has done so well is because of the leadership that we've had."
Since the 1999-2000 season, the Bruins are 22-1 against the Ducks, with their sole loss coming in the 2017 Pac-12 tournament.
Oregon, however, enters the contest riding a six-game winning streak and currently sits fourth in the Pac-12 standings.
With No. 17 Stanford and No. 12 California losing a match last week, UCLA now holds sole possession of top spot in the conference. The blue and gold can clinch the Pac-12 regular-season title with wins over Oregon on Friday and USC on April 15.
First serve for both matches will be at 1:30 p.m.