Track and field finds victories in weekend meets while nearing postseason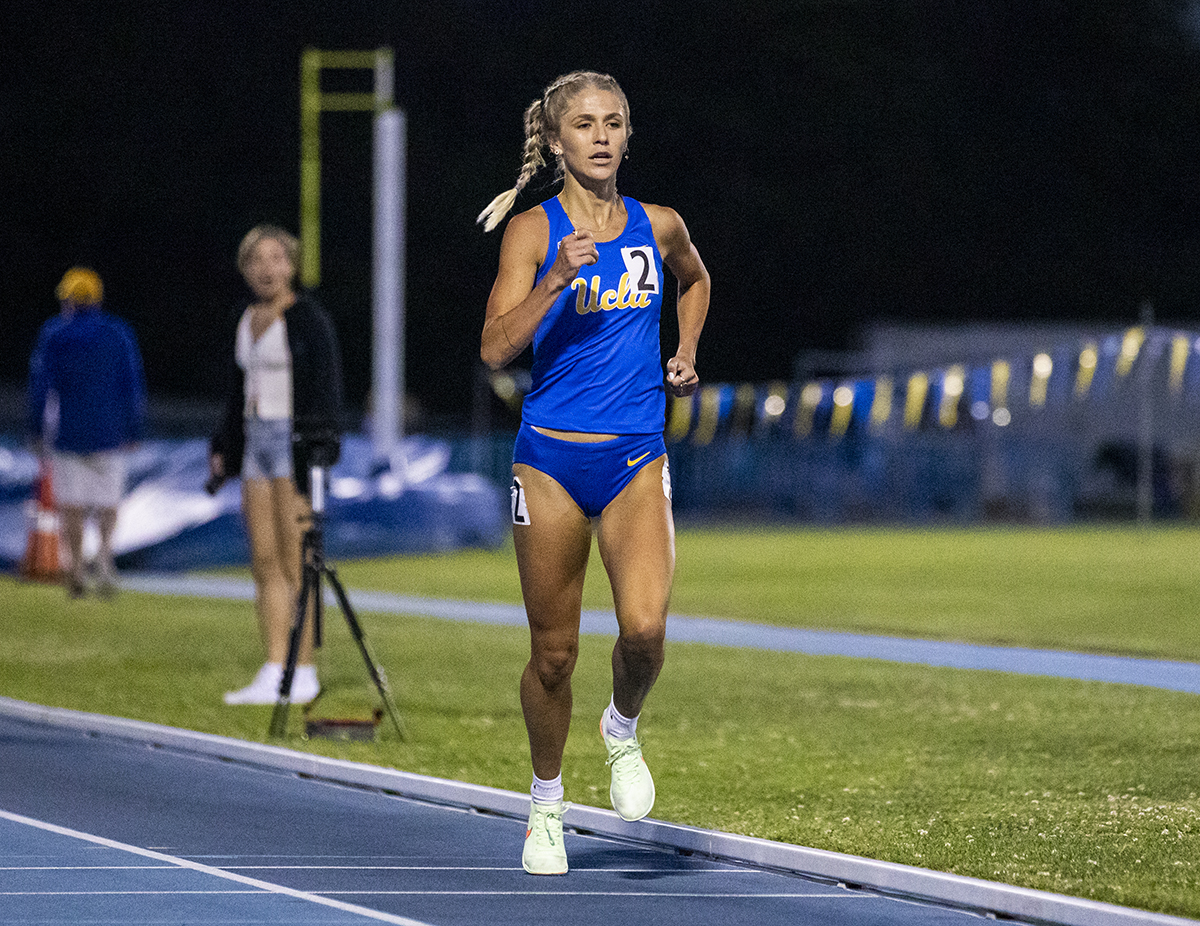 Senior distance runner Gwyn George runs on the track during a home meet March 25. George reached a personal record in the 1500-meter at the Stanford Invitational on Saturday for the second consecutive meet. (Anya Yakimenko/Daily Bruin)
The Bruins are coming off a pair of California-based meets.
UCLA track and field competed in the West Coast Relays on Friday in Fresno, California, before traveling to the Stanford Invitational on Saturday. The blue and gold posted multiple victories across the weekend of competition.
With three meets remaining before the postseason, coach Avery Anderson said he is making sure his athletes remain on course with the one goal in mind.
"I've been preaching a lot (about) taking care of your body, staying healthy and getting rest," Anderson said. "You need to live your best to perform your best. This is what the month of April is about. The small things are the big things at this point."
On Friday, junior sprinters Cameron Reynolds and Maddy Doane both posted personal bests in the men's and women's 400 meter with times of 46.11 seconds and 54.40 seconds, respectively.
Junior sprinter Catherine Leger was victorious in both the 100 meter with a time of 11.49 seconds and the 200 meter with a time of 23.32 seconds. On the men's side, junior sprinter Cristian Moore won the 100-meter with a time of 10.67 seconds, while junior sprinter Myles Misener-Daley took the 200 meter with a 20.92 second showing.
Another personal-best performance for the Bruins came from senior distance runner Gwyn George, who competed in the 1500 meter. Clocking in at 4:20.77, George has now reached a personal record in the event in two straight races.
George said there are a few reasons why her times have gotten better of late, most notably being a fresh graduate.
"I was able to graduate after winter, now it feels like I'm training like a pro," George said. "I only need to focus on running. I've never been able to do that. There isn't a lot of outside noise to distract me."
The senior's time in the 1500 meter is now two seconds away from cracking the program's top 10 all-time performers for the event. Coming into this year, George said she held herself to one promise.
"I do want to get into the top 10, but don't want to say that's enough," George said. "I want to get as deep as I can on that list and strive for running my best time."
On the field side, jumpers and throwers followed the same trend of earning victories and personal bests. The high jump saw a victory from both senior Sean Lee, who cleared 2.16 meters (7-01.00), and freshman Amber Jackson, winning with a 1.72-meter (5-07.75) jump.
Sophomore thrower Aidan Elbettar also grabbed a victory, breaking his previous personal-best throw in discus. The 58.47-meter (191-10) toss is tied for 10th in the country and top three among first-year throwers.
Another underclassman thrower, freshman Kris Emig, also earned high mark. A 65.80-meter (215-10.50) hammer throw now puts him fifth all-time on the UCLA record books.
Emig said he shares the same sentiment as many other athletes when it comes to his goals.
"This year, the one and only goal is to make the NCAA championships. With the mark I got, it would be good enough to get into that meet," Emig said. "The other half of it is maintaining it."
Emig added that the best way to maintain his performance heading into the postseason is to focus on the mental aspect of the game.
"Easily 50% is determined by the mental state," Emig said. "Knowing and telling yourself (to) … make it happen."
Like Emig, Anderson said he stresses to his team the mental aspect of being a track and field athlete.
"The mental aspect is a huge part of what's going to lead to performance," Anderson said. "Every step you take you need to be locked in."
Freeman Sacker is currently a Sports contributor on the men's golf and track & field beats.
Freeman Sacker is currently a Sports contributor on the men's golf and track & field beats.