Men's tennis prepares to face Washington, Oregon during Pacific Northwest trip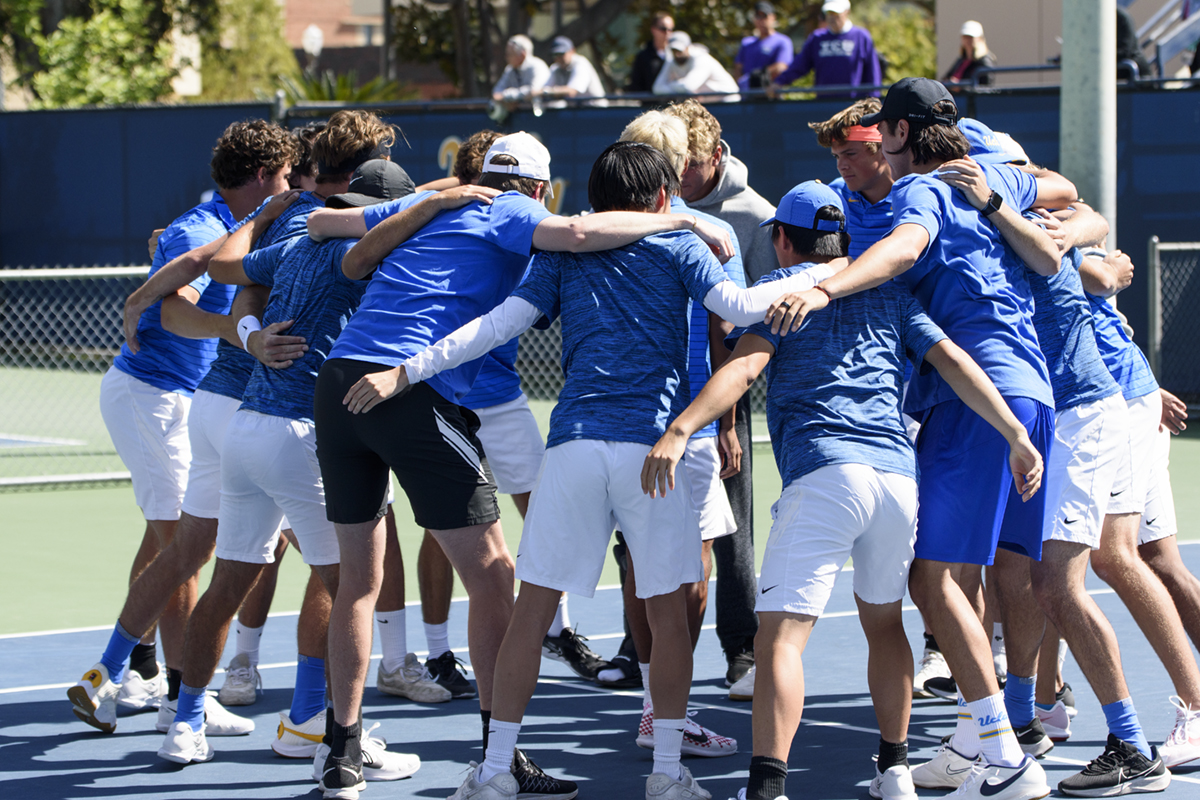 UCLA men's tennis huddles up during a match March 10 at the Los Angeles Tennis Center. The Bruins will be heading north to take on Washington and Oregon on the road over the weekend. (Jeremy Chen/Daily Bruin staff)
Men's tennis
---
Washington
Friday, 3 p.m.
Seattle
No TV info
---
Oregon
Sunday, 12 p.m.
Eugene
Oregon Men's Tennis
March 31, 2022 11:27 a.m.
After routing a fellow Southern California school at home, the Bruins will restart conference play in the Pacific Northwest.
Following a 7-0 sweep of San Diego State on Tuesday, UCLA men's tennis (6-8, 1-1 Pac-12) will travel north to take on Washington (13-5, 1-1) and Oregon (9-7, 0-2) on Friday and Sunday, respectively. The Bruins hold a 39-2 all-time record against the Huskies and are 30-0 against the Ducks.
Despite the blue and gold's record against its upcoming opponents, all three teams stand within six places of one another in the national rankings, with Washington, UCLA and Oregon sitting at No. 50, 49 and 44 respectively. Redshirt senior Bryce Pereira said he would not let the Bruins' historic success against the teams influence his game.
"We've dominated them over the years, but – as you can see throughout the season – anything can happen," Pereira said. "We're going to go in and respect both those teams tremendously. We're going to compete our hearts out and just give it our all."
Following his seventh consecutive singles win Tuesday against the Aztecs, freshman Alexander Hoogmartens was named Pac-12 Player of the Week. Hoogmartens will face another Pac-12 honoree this weekend in No. 4 ranked singles player Clement Chidekh of Washington, who has received the weekly award twice this season.
Hoogmartens said he was looking forward to playing a top-ranked opponent.
"I know I'll be playing good players on one, so I'm very excited to play those guys," Hoogmartens said. "Especially the Washington guy. … That's a challenge."
Both the Huskies and Ducks are coming off 4-0 defeats to No. 28 Utah in Salt Lake City, but both teams have won at least two thirds of their matches at home this season. The Bruins are winless on the road this year with a 0-6 record away from the Los Angeles Tennis Center.
Coach Billy Martin said his team is looking to properly prepare for its two upcoming Pac-12 opponents.
"We certainly want to control what we can control, but tennis is a funny sport, and one day you don't know what's going to be letting you down and what's going to be feeling really good," Martin said. "You just got to roll with the punches a little bit and find a way to win."
The Bruins' matchup against the Huskies will start at 3 p.m. on Friday.
Chesney is currently a Sports contributor on the men's tennis beat.
Chesney is currently a Sports contributor on the men's tennis beat.