UCLA track and field records top-10 times, personal bests at home meets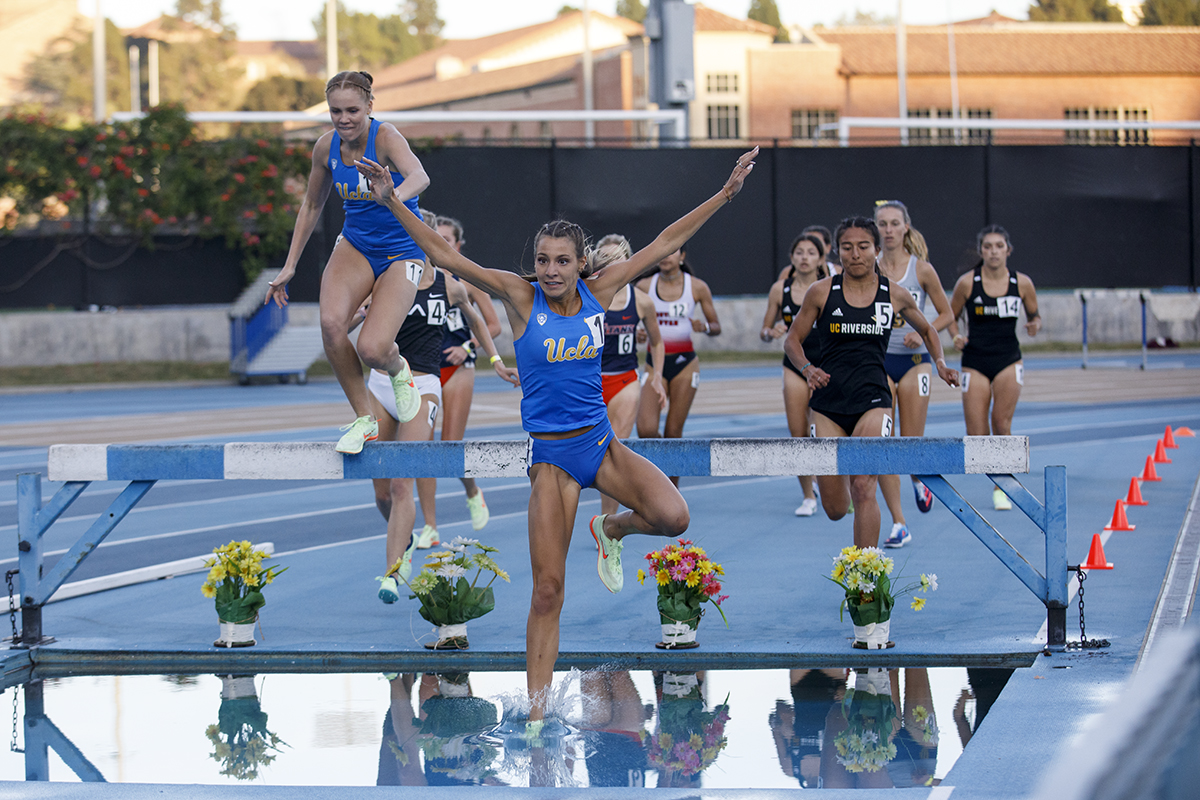 Junior distance runner Emma Tavella performs a water jump during the steeplechase event. Tavella made her debut in the event Friday. (Anya Yakimenko/Daily Bruin)
A bevy of Bruins secured multiple top-10 times in program history in their first and only home meets of the season.
UCLA track and field competed in the Bob Larsen Distance Invitational and the Rafer Johnson/Jackie Joyner-Kersee Invitational at Drake Stadium from March 25 to 26. The Bruins earned multiple first-place finishes throughout the weekend, exemplified by men's and women's victories in the steeplechase event.
Coach Avery Anderson said he was happy to be able to host a home invitational with fans for the first time in almost three years.
"The environment at Drake Stadium was great," Anderson said. "It was great to get back to normal track and field. It had been a long time since I've seen the buzz and excitement at Drake."
While not all members of the squad competed, UCLA competed in every event and managed multiple top placements. On Friday, Bruins won both the men's and women's steeplechase events. Junior distance runner Emma Tavella crossed the finish line first with a program second-best time of 10:12.65. Senior distance runner Munir Kabbara secured a first-place finish on the men's side with a time of 8:46.67, the 10th-fastest time in program history.
Anderson said he was excited by the performances of his steeplechase runners, which held extra international significance.
"Not a lot of folks know, but every time Kabbara PRs, he breaks a Lebanese national record," Anderson said. "Emma Tavella was running in her very first steeplechase race, and she was number two on our all-time list."
Tavella had never competed in the steeplechase before and was 1.35 seconds under the school record, set in 2016 by alumnus Emily Scharmann.
"I was super excited. I had never done steeplechase before and had only practiced in the water pits once before," Tavella said. "I was very nervous going into it because I didn't really know what to expect, but while I was competing, it was a lot of fun, and I enjoyed that it was something different than running in a straight line."
Tavella said despite the novelty of the event, her coaches' prior experience helped prepare her for it.
"I didn't really go in with any expectations, but coach Austin (O'Neil) really believed in me," Tavella said. "That was definitely super helpful going into the event, and he helped give me confidence because he was so good at steeplechase."
Three Bruins placed in the top five in the men's mile on Friday. Junior distance runner Peter Herold also won the men's mile on Friday with a time of 4:02.13 seconds, the fastest time ran at Drake stadium since 2019. Freshman distance runner Ajani Salcido placed third in the event with a time of 4:03.51, and sophomore distance runner Jake Parker crossed the finish line with a time of 4:05.33 for fifth place.
The Bruins will next compete at the daylong West Coast Relays at Fresno State on Friday.
Hallum is currently a contributor on the track & field and swim & dive beats.
Hallum is currently a contributor on the track & field and swim & dive beats.