UCLA men's tennis sweeps San Diego State behind freshmen performances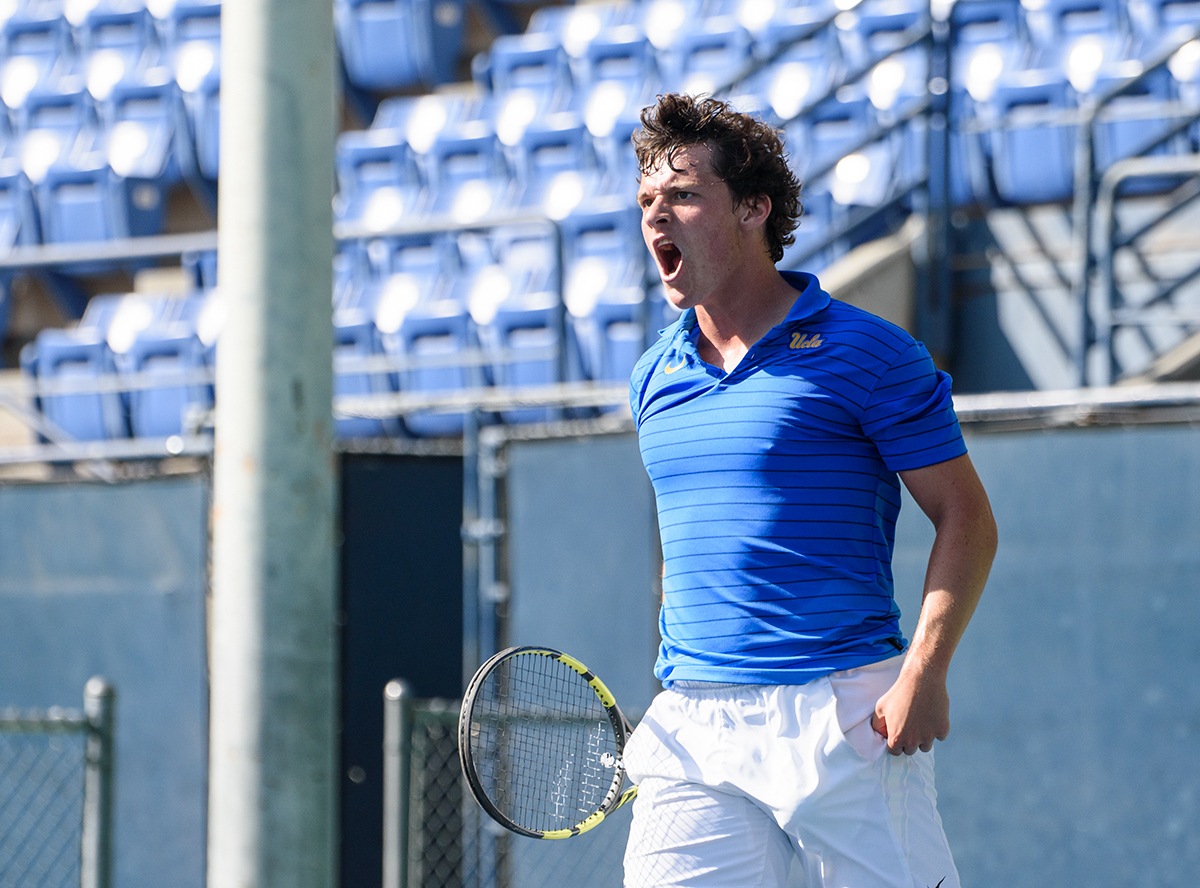 UCLA men's tennis freshman Alexander Hoogmartens celebrates during a match March 10 at the Los Angeles Tennis Center. Hoogmartens was one of three freshmen playing on the front courts for the Bruins in their sweep of San Diego State on Tuesday. (Jeremy Chen/Daily Bruin staff)
This post was updated March 31 at 12:26 a.m.
The Bruins swept the Aztecs at home behind the performances of three freshmen playing on the top courts.
UCLA men's tennis (6-8, 1-1 Pac-12) defeated San Diego State (5-8, 1-0 Mountain West) by a score of 7-0 at the Los Angeles Tennis Center on Tuesday. With junior Drew Baird and senior Patrick Zahraj unable to play, the Bruins sent only freshmen to the top courts in singles play for the first time this season.
Coach Billy Martin said the changes in his lineup allowed his team to gain valuable experience against a respected Aztecs team.
"We have a young team, but this was an incredibly young team," Martin said. "The scores were a lot closer than 7-0 makes it seem like, but that was a very good win for us because we're not a super experienced team, especially with (Baird and Zahraj) out of the lineup."
The nonconference intrastate battle began with a doubles win on court three, as freshman Karl Lee and sophomore Stefan Leustian defeated Judson Blair and Jules Auffray 6-1. The duo of redshirt senior Bryce Pereira and freshman Alexander Hoogmartens defeated Joe Tyler and Alexander Mandma 6-2 to secure the doubles point for the Bruins.
In singles play, Lee made his debut on the front courts, where he defeated Johannes Seeman 6-4, 6-7 (2), 7-6 (4), and freshman Giacomo Revelli took down Victor Castro in straight sets 6-1, 7-6 (4). Hoogmartens faced off against Tyler again, defeating him 7-5, 7-6 (4) on court one to increase his unbeaten singles streak to seven.
"Beginning of the season, it wasn't easy to adapt to the new environment," Hoogmartens said. "It's different, but I managed to adapt to that really, really fast, and I'm still on a roll. I think I'm undefeated here at home, so that's great."
On the back courts, senior Eric Hahn edged out a three-set victory over Mandma 6-3, 2-6, 7-5, and the Bruins then earned another three-set triumph as Leustian defeated Auffray 6-3, 5-7, 7-6 (4). Pereira claimed a win over Blair on court six by a score of 6-4, 6-0 in his first singles match of the season.
Pereira said his spot in the singles lineup was no surprise to him and he has been prepared to step up for a while.
"Billy always tells me to be ready to be put in for singles, so playing or not, I always keep a mentality of – worse comes to worst – someone gets injured or something, I'll be ready to play," Pereira said. "So I'm always ready to play singles, and (it's) a lot of fun out there because it's competing."
The Bruins will next face Pac-12 opponents Washington and Oregon on the road Friday and Sunday, respectively.
Chesney is currently a Sports contributor on the men's tennis beat.
Chesney is currently a Sports contributor on the men's tennis beat.