UCLA administrators review new COVID-19 protocols following fall in positive cases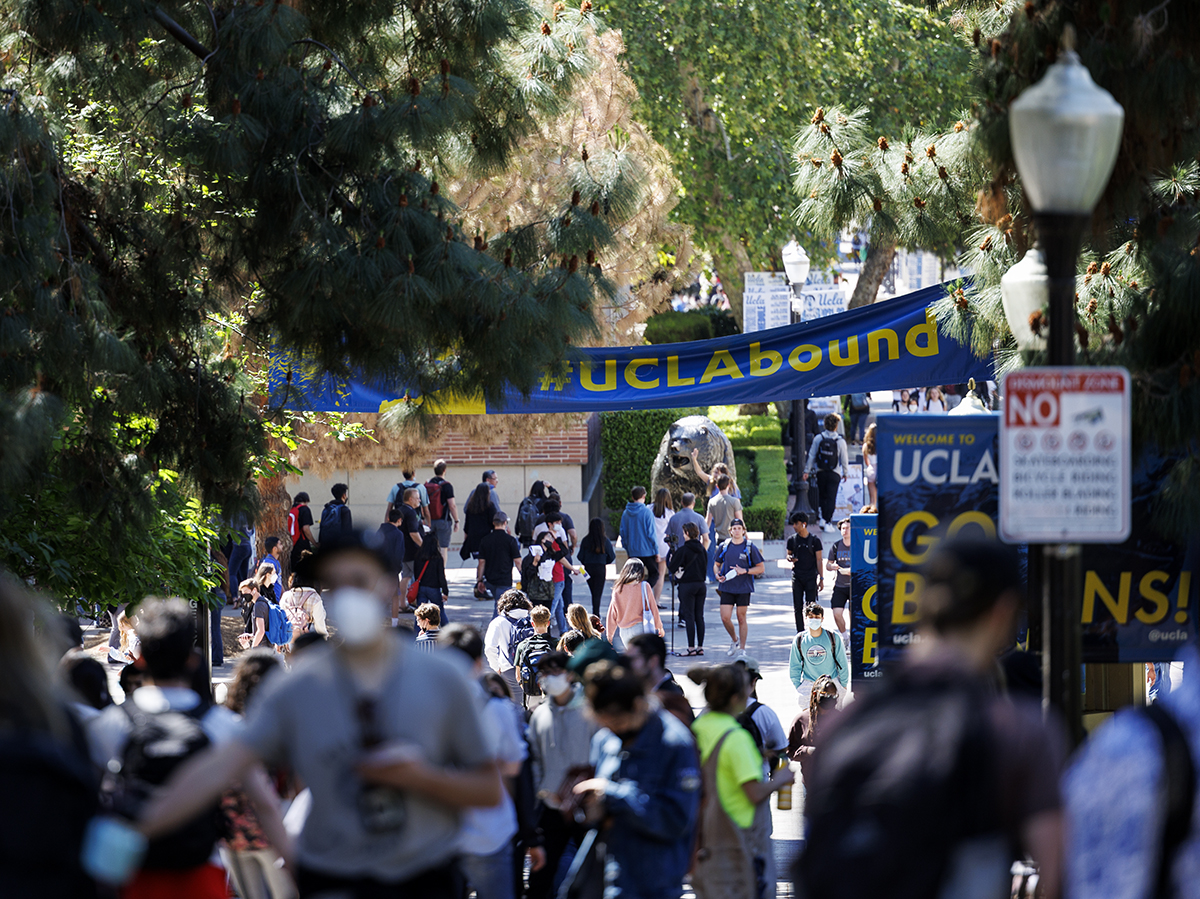 UCLA students walk on Bruin Walk, returning to in-person classes at the start of the quarter for the first time since fall 2021. UCLA held a town hall Tuesday to review safety protocols for the spring quarter, including details about masking, COVID-19 testing and learning accommodations. (David Rimer/Assistant Photo editor)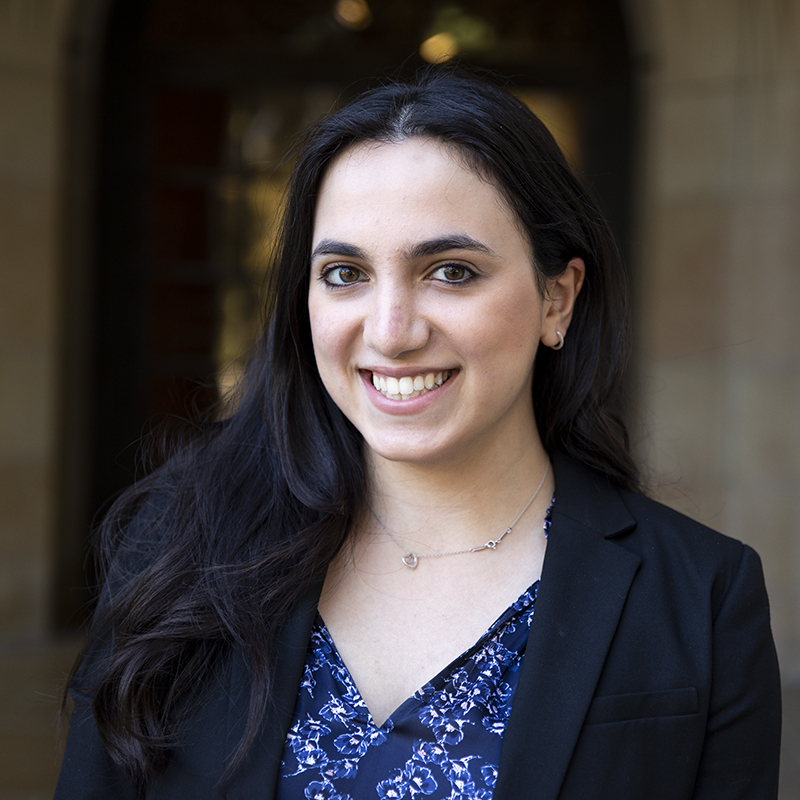 March 30, 2022 10:55 p.m.
UCLA administrators further discussed the eased COVID-19 masking and testing requirements during a virtual town hall Tuesday.
On March 11, UCLA announced that from April 11 onward, students, faculty and staff who are up to date on their vaccinations will no longer need to mask indoors or test weekly. Dr. Chaitali Mukherjee, executive director of the Arthur Ashe Student Health and Wellness Center, said UCLA has passed the omicron surge and is in a better state compared to January.
[Related: UCLA to lift on-campus masking, testing requirements beginning April 11]
Los Angeles County has also entered post-surge criteria and is in the low community risk level, based on the Centers for Disease Control and Prevention's metrics.
She said that at the peak of the surge, UCLA was recording hundreds of positive COVID-19 test results each day, at one point reaching nearly 900 new positive cases in one day. However, there are now only dozens of cases recorded on campus each week.
Mukherjee added that the percentage of positive COVID-19 tests is also very low and trending below LA County and the state. The test positivity rate was approximately 0.5% the week of spring break, compared to 3% the week before when more tests were administered.
"But we're still not quite out of the woods just yet, knowing that there is a variant that's still out there and cases have not completely leveled out," Mukherjee said.
The new BA.2 omicron subvariant is the dominant variant circulating globally, according to the World Health Organization. While it is more contagious, it does not appear to be more severe.
LA County is currently monitoring the new BA.2 omicron subvariant, Mukherjee said. As of a few weeks ago, 14.7% of cases in LA County were BA.2, an increase from 6.4% the week before. This increase is following similar trends across the nation and in Europe, Mukherjee added.
"While we've been seeing a very, very brisk drop in case rates since the initial omicron surge after the new year, that may slow down, but it's not likely to spike," Mukherjee said.
Mukherjee added that vaccines are still effective against this new variant, so it is important to get the booster vaccination when eligible.
"Vaccines remain a factor in preventing severe disease," Mukherjee said. "They do reduce the likelihood of getting long COVID. Even if people do get breakthrough cases, if you are vaccinated and boosted, it's very unlikely that you will have long-term symptoms."
While it will no longer be required for vaccinated individuals, wearing a mask with a good fit and filtration is still highly recommended, said Megan McEvoy, co-chair of the COVID-19 Response and Recovery Task Force.
There are a few current exceptions to masking and testing requirements. McEvoy said instructors are permitted to unmask while lecturing, as long as they can socially distance themselves. Mukherjee added that any student who has tested positive for COVID-19 in the past 90 days is exempt from the surveillance testing requirements because the PCR test may still result as positive for several weeks even though the individual is no longer infectious.
Surgical masks, as well as KN95 and N95 respirators, will continue to be available free of charge to students, faculty and staff. UCLA also announced complimentary N95 training sessions, which include respirator fit testing for students, faculty and staff.
Michelle Sityar, chief of staff for the administrative vice chancellor, elaborated on updates to organized gatherings. For indoor meetings and events, consuming food and drink will be allowed indoors for those up to date on their vaccinations.
The COVID-19 Symptom Monitoring Survey will continue to be required every day students are on campus or engaging in in-person activities, in line with an LA city ordinance, Sityar added.
If a student or someone they live with tests positive for COVID-19, Mukherjee said they should contact the exposure management team to receive tailored guidance about what to do based on their personal situation.
Students in the town hall asked questions about the impact of lifting requirements while COVID-19 is still spreading, as well as the implications for vulnerable groups including immunocompromised students.
McEvoy said students with medical conditions that make them more vulnerable to COVID-19 can seek accommodations through the UCLA Center for Accessible Education. She said she also encourages students to discuss concerns with their instructors, especially if they have specific concerns that may not be met by CAE.
"I would always encourage those kinds of conversations to help make your educational experience the best that it can be," McEvoy said.
Suzanne Seplow, assistant vice chancellor for student development, said Student Affairs and other entities have been working with the Disabled Student Union, Undergraduate Students Association Council and other organizations to help with the concerns and questions of immunocompromised students.
Students requiring regular remote instruction because of extenuating circumstances can also access resources on the Student In Crisis website, Seplow said.
McEvoy said UCLA's updated guidelines reflect the improving state of the pandemic.
She added that even though masks will not be mandated after April 11, they will still be recommended, which is in line with other UC campuses, USC and LA County's guidance.
"I am thankful that we're in a much better place now than we were at the beginning of winter quarter," McEvoy said. "Most classes are back in person, and I'm really cautiously optimistic that this quarter is going to be much more of a return to more familiar campus conditions than we've had in the last two years."