Scouting report: UCLA gymnastics at NCAA Raleigh Regional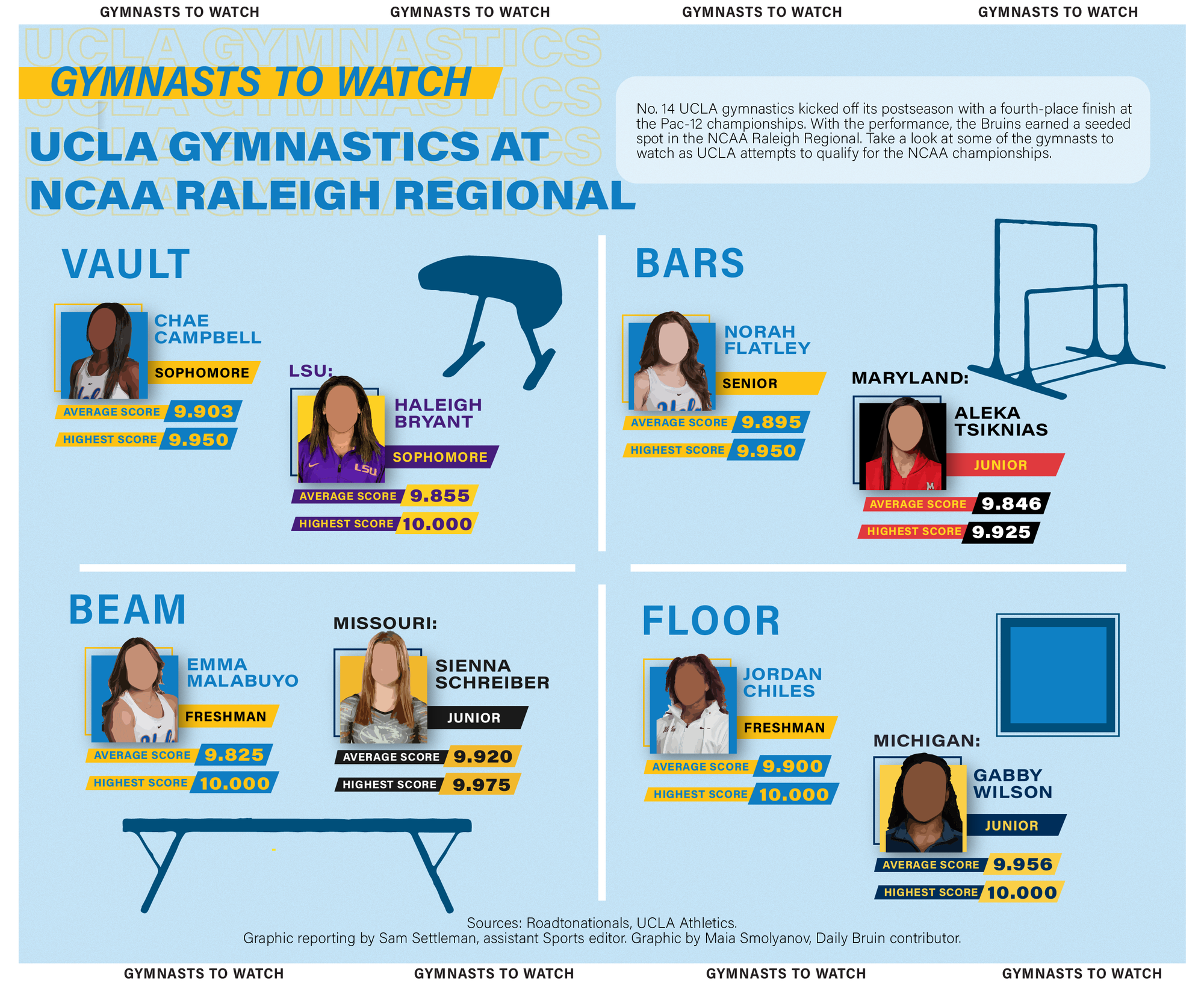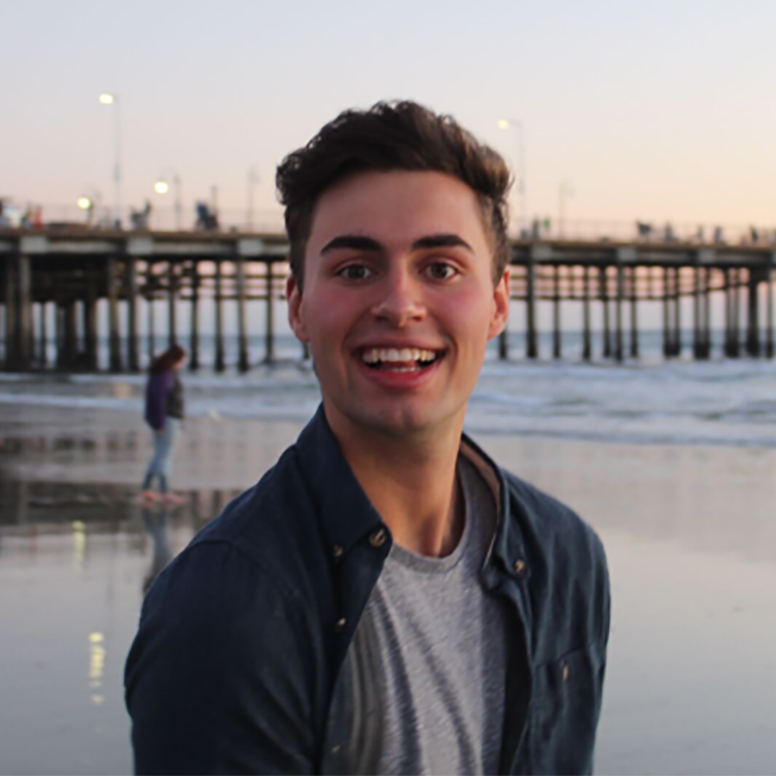 No. 14 UCLA gymnastics will travel across the country when it competes in the NCAA Raleigh Regional in North Carolina this week. The blue and gold will go up against No. 3 Michigan, No. 20 Maryland and North Carolina in the second round Thursday. If the Bruins advance, they'll likely compete against Michigan, No. 6 LSU and No. 11 Missouri in the regional final Saturday. Here is this week's scouting report from gymnastics reporter Nico Edgar – who is annoyed UCLA is competing in North Carolina and not his hometown of Seattle.
UCLA
Strength: Beam
Weakness: Bars
X-factor: Big floor scores
The Bruins will be looking to right the ship coming off their first sub-197 performance in a month.
I've excessively chronicled UCLA's struggles away from Pauley Pavilion in my past two scouting reports, so in lieu of repeating myself, I'll give a one-paragraph update.
Following the Bruins' season-high away score of 196.950 at the Maverik Center almost two weeks ago, the team now averages a 196.085 outside of Southern California. Needless to say, UCLA will need a score higher than 197 to advance to the NCAA championships.
A big floor rotation could prove crucial toward that goal, as each time the team has scored 49.500 or higher on the event, it has surpassed a 197.500.
After starting the season slowly on the floor, the Bruins have demonstrated their floor prowess to the tune of three performances at or above 49.550 this season, with no score lower than 49.325 since Feb. 12.
Prior to the postseason, sophomore Chae Campbell, freshman Jordan Chiles and senior Norah Flatley led the charge with eight combined 9.950-plus scores in their past nine performances on floor. However, all three tallied a sub-9.900 score on the event at the Pac-12 championships. Getting the three all-arounders back above that threshold could seriously boost the Bruins' score.
A return to form for senior Pauline Tratz would also bolster UCLA's floor lineup. Following three consecutive scores of 9.900 or 9.925, last season's Pac-12 floor champion has stepped out of bounds in two straight routines. If Tratz stays in the lineup – and stays inbound – the team should have no problem posting another high event score.
UCLA will also need to bounce back on vault – where it scored a 49.025 last time out – in order to keep pace with Michigan's high-powered lineup.
Only three gymnasts – Flatley, Campbell and Chiles – have scored a 9.900 or better on the event this season as the team has used eight different vaulters this year. Of that subset, four are averaging a 9.800 or lower, while Campbell leads the team with a 9.903 average and a 15th-place ranking nationally.
Freshman Emma Malabuyo, an All-Pac-12 honorable mention on beam, averages 9.800 on vault, but she scored a 9.775 at the Pac-12 championships after subbing in at the last minute for fellow freshman Brooklyn Moors. If Malabuyo can approach her career high of 9.875 on the event, the Bruins' vault rotation could near the 49.475 ceiling the team showed earlier this season.
UCLA has used 10 total gymnasts on bars, where the loss of senior Margzetta Frazier continues to hurt the team. The Bruins have scored sub-49.200 in three of their last four meets and in seven total meets this season.
Freshman Ana Padurariu continued to struggle on the event at the Pac-12 championships, posting her third straight score lower than 9.700 and fifth this year as she is averaging a 9.467 on the event.
In all, this Bruin team is poised for a big score if it can translate its home success across the country and the freshmen can shake their postseason nerves.
The rest of the field
Top team: Michigan
Threats: Missouri and LSU
No need to worry: Iowa, North Carolina and North Carolina State
Dark horse: Maryland
Like my last scouting report, I'm going to ignore the no-need-to-worry teams here for sake of simplicity and because none of them have a season high of over 197.
Last season's national champion, Michigan, should have no problem dominating the second round of regionals and potentially the regional finals, as the Wolverines are averaging 197.841 with a 198.015 national qualifying score this season.
After sitting comfortably in the No. 1 spot of the rankings the first eight weeks of the season, Michigan slipped to No. 3 after a surprising 196.475 against Nebraska. Since then, the team from Ann Arbor has regained its form, with two 197.900-plus scores and a 198.200 at the Big Ten championships.
Michigan paces the nation on both vault and floor while ranking fourth on bars. Outside of a meltdown on vault against Nebraska, the team hasn't scored lower than a 49.350 on the event, with a season high of 49.875 — the best score in the nation.
Junior Sierra Brooks leads the Wolverines with 414.625 total points on the season, and senior Abby Heiskell is close behind with 414.250. Senior Natalie Wojcik has tallied 403.350 points, and all three gymnasts have a perfect score on vault this season.
Outside of Michigan, UCLA will need to worry about both LSU and Missouri.
Led by star sophomore Haleigh Bryant – who has scored a 9.950 or higher on all four events this season – the Tigers rank third in the nation on vault and fifth on beam.
However, after a season-high 198.125 in a victory against No. 4 Utah on March 11, the team posted a 196.725 at the Southeastern Conference championships en route to a fifth-place finish. LSU counted a fall on bars, scoring below 49 on an event for the first time since the season's opening week.
Similar to the Bruins, the Tigers shine on floor, where they have scored a 49.775 and a 49.675 so far this year.
One team who beat out LSU at the SEC championships was Missouri, which posted a 196.875 to finish fourth. While the Tigers haven't scored higher than a 197.675 this season, they also haven't dropped below a 196.275, giving the team a consistency the Bruins wish they could replicate.
Missouri ranks highest on floor at 10th and lowest on bars at 22nd, and the Tigers are led by junior Sienna Schreiber, who has a 9.900 or higher on all four events.
If UCLA has a poor showing, it'll need to watch out for Maryland, which boasts a season high of 197.175 – a score that is higher than UCLA's score in seven of its 10 meets this season.
Now, to give my prediction after I perfectly prophesied the outcomes of the Pac-12 championships: I think UCLA and Michigan move on Thursday, with the Bruins landing solidly in the 197.400 vicinity. On Saturday, LSU, UCLA and Missouri fight it out, with the Bruins ultimately besting one group of Tigers but not the other, as Missouri heads to nationals with Michigan.
Edgar is currently a Sports staffer on the gymnastics beat. He was previously a contributor on the men's tennis beat.
Edgar is currently a Sports staffer on the gymnastics beat. He was previously a contributor on the men's tennis beat.