Opinion: Workers get left behind as fast food companies look to protect the bottom line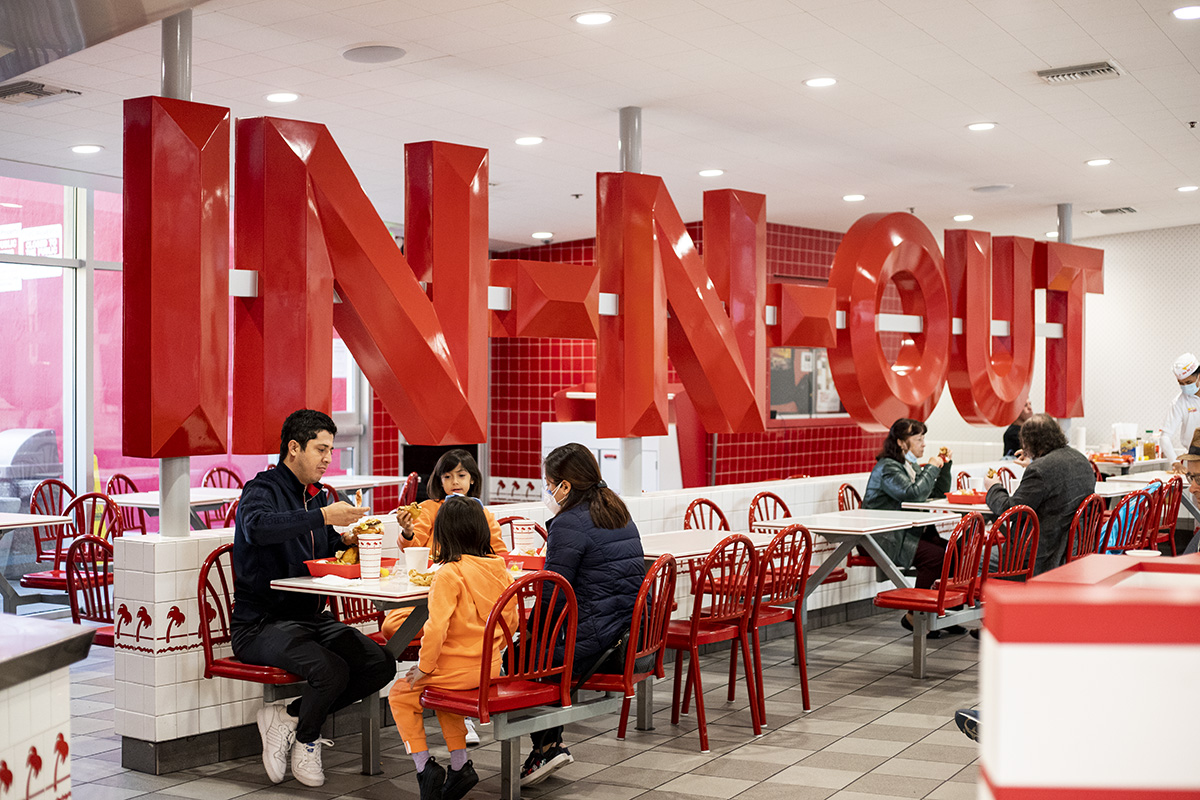 Customers eat inside of an In-N-Out Burger. Given the uncertainty of the COVID-19 pandemic, workers at fast food restaurants such as In-N-Out deserve higher wages, better protection and greater representation in decision-making spaces. (Kaiya Pomeroy-Tso/Daily Bruin senior staff)
March 27, 2022 10:19 p.m.
Twice this January, I received calls informing me that I had been exposed to the coronavirus while working at Chipotle Mexican Grill. Unless I received an additional call from upper management, I was told I could return to work for my next scheduled shift – as long as I felt comfortable doing so.
After listening to the voicemail, I knew I had to return to work regardless of my comfort level.
If I called out, my managers and co-workers would have to compensate for my absence. But they were already struggling amid the ongoing shortage of fast food workers.
Therefore, I was hesitant to text my manager that I couldn't come in.
Due to this hesitancy, there were days when I would work even when I felt slightly under the weather or exhausted. Working five days a week at the time, I felt the physical toll of long, laborious shifts, during which I often took on multiple roles due to staff shortages.
Such occurrences are common at fast food restaurants that prioritize sales and customer satisfaction over employee health.
A recent report published by UCLA and UC Berkeley researchers regarding poor conditions faced by fast food workers found that more than half of respondents weren't notified by management when exposed to the coronavirus in the workplace.
According to the career service platform Zippia, more than half of fast food workers are between 20 and 30 years old, making subpar working conditions a pressing issue for the UCLA community.
Legislative action, such as a higher minimum wage and greater representation of fast food workers in the policymaking process, can best address the conditions discussed in the report and experienced by myself and other students.
Though the fast food industry implemented some COVID-19 precautions, their effectiveness in preventing exposure for workers is questionable. UCLA and UC Berkeley researchers found that 25% of respondents said they had contracted COVID-19 and 50% said they knew a co-worker who had tested positive, despite the case rate for Los Angeles County being 15% at the time of research.
Luke Shen, a first-year data theory student, worked at Furai Chicken in Orange County last summer. Shen said there were precautions against COVID-19 in place, but he was still concerned about being exposed to the coronavirus.
"So many people had it, so just with the regular flow of customers in and out, I think the chances are that (I was exposed) at some point," Shen said.
Too often, managers and customers alike place the responsibility of ensuring safety on the workers.
Once, while working as a cashier, a customer confronted me for not enforcing the mask policy. I politely agreed with her as she said unmasked customers were a threat to customers and employees.
I had heard from other employees about confrontations with unmasked customers that turned hostile. As an 18-year-old who was navigating her first job then, I was unwilling to tell a potentially aggressive grown man to put on his mask.
I didn't get paid enough for that.
Hostile interactions related to COVID-19 precautions weren't limited to my workplace. In the report, 53% of the workers surveyed said they had negative interactions with customers when requesting compliance with COVID-19 regulations.
Ixáyac Cortéz, a third-year history student and barista at Starbucks, said he once encountered a customer who claimed to be exempt from wearing a mask.
"​​It was our responsibility (to speak with maskless customers), and if they weren't listening, then a supervisor would get involved," Cortéz said.
He added that if a customer wasn't cooperating, the employees would try to serve them as quickly as possible or simply refuse service.
With LA County having removed its mask mandate at the beginning of March, the issue of confronting maskless customers has not gone away but rather evolved into asking dine-in customers for proof of vaccination.
Worryingly, there are also discrepancies in safety protections for workers between locations. Silvia Hernandez, an apprentice manager at Chipotle Mexican Grill in Westwood, said employees are supposed to take time off if exposed to the coronavirus. However, the manager at the Chipotle I worked at until February told me to come in if I was comfortable.
It should not be the responsibility of workers to ensure the safety of the public and themselves, but rather the company's, regardless of the financial costs. Businesses can invest in higher quality masks, thermometers and cleaning supplies, and employers can encourage employees to prioritize their well-being by offering paid sick leave.
However, there are financial and logistical limitations that may inhibit companies from offering such measures.
In an interview with the Daily Bruin for an article published in January, UCLA and UC Berkeley researchers said that although there are corporations that may refuse to provide adequate protective measures, some business owners simply may not make enough revenue to fund such measures.
That reasoning makes sense, but it's difficult to stomach when you're working for a multibillion-dollar company that has more than enough resources to keep its workers safe. In 2020, Chipotle Mexican Grill generated $6 billion in revenue, an adequate amount for providing us with more than a thermometer that only worked half of the time.
Better conditions require legislation. Voters must show their support for bills in favor of workers' rights and representation to pressure corporate officials to prioritize the safety of their employees.
In addition to increasing the federal minimum wage to $15 per hour, we should all encourage our state senators to pass Assembly Bill 257, which would establish the Fast Food Sector Council within the Department of Industrial Relations and include seats on the council for fast food workers. Having passed by a 41-21 vote in favor of the bill by legislators, the bill will now be considered by the California Senate.
Only with the representation of employees can conditions for workers improve.
Fast food workers shouldn't be expected to put aside their safety to protect a corporate bottom line.