UCLA swim and dive leaves NCAA championships with personal records, season bests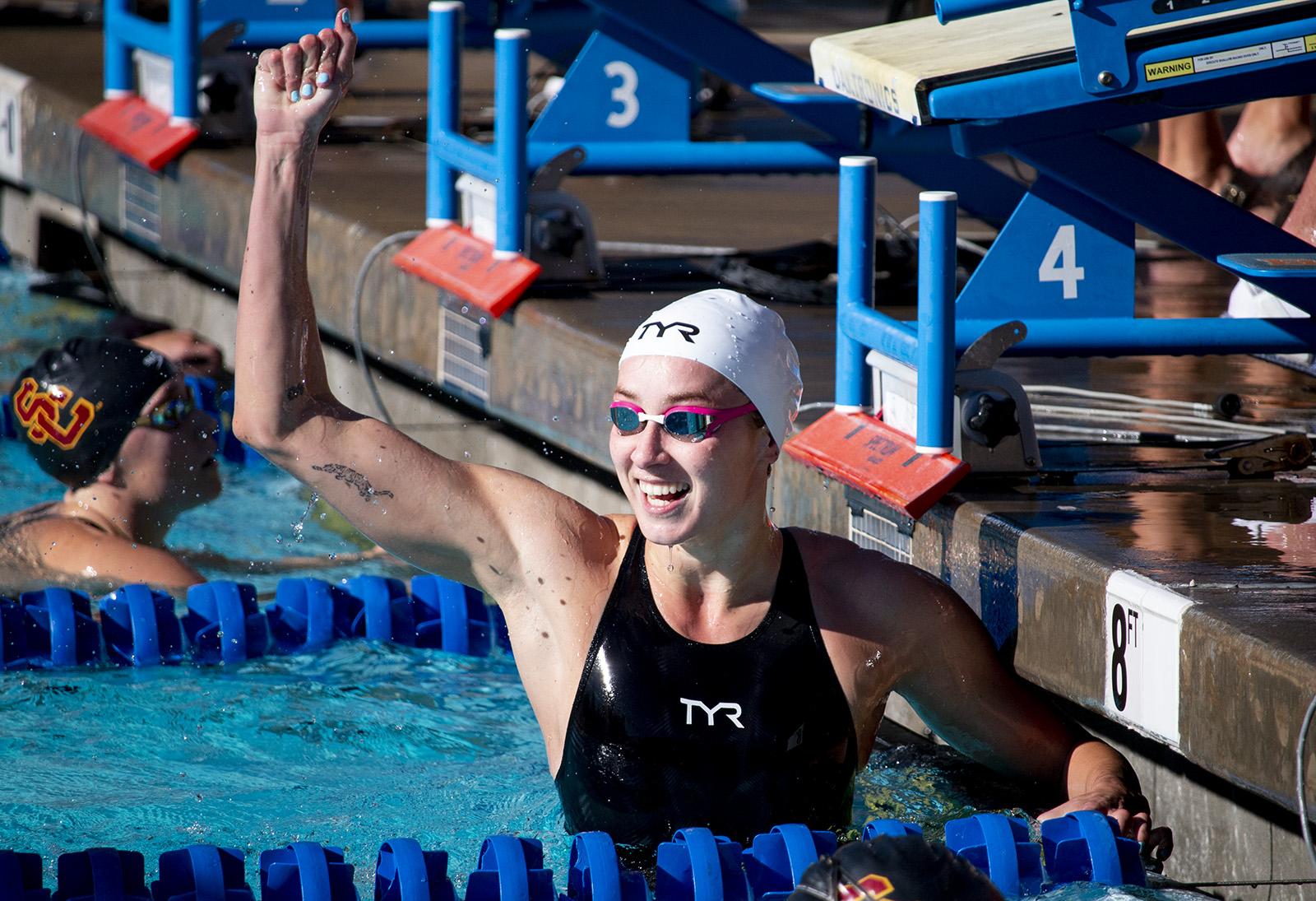 Senior swimmer Claire Grover smiles in the pool after a race in a dual meet against USC at Spieker Aquatics Center on Feb. 11. Grover logged a personal-best time in the 50-yard freestyle Thursday at the NCAA championships in Atlanta. (Megan Cai/Daily Bruin)
The Bruins set several personal records on the biggest stage of the season.
UCLA swim and dive (3-5, 1-5 Pac-12) sent four athletes – three swimmers and a diver – to Atlanta to compete in the NCAA championships from Wednesday to Saturday. UCLA finished in 34th place overall with a team score of four points, while three Bruins walked away with a personal- or season-best performance in their respective events.
Coach Jordan Wolfrum said she was pleased with the team's performance, especially with the improvement from a year ago.
"We did a really nice job. One of the most important things for us was that we scored swimming points for the first time in three or four years," Wolfrum said. "That was an improvement over last year."
Senior swimmer Claire Grover set a personal record in the preliminary round of the 50-yard freestyle competition while freshman swimmer Paige MacEachern also set one in the 400-yard individual medley. Grover's time of 21.82 seconds marked the second-best mark in program history, and her performance in the consolation final in the same event gave the Bruins their first swimming points in the NCAA championships in four seasons.
Wolfrum said while the national championships are an unusual time to post season-best times, she was happy with Grover's improvement.
"Most people don't swim faster than the time they enter into the meet with, and we had a lot of swims where we improved," Wolfrum said. "And that's a really big deal. There's not a lot of that, and it is a hard meet to swim fast at."
Grover competed in three different events over the week, swimming in the 50-yard freestyle, 100-yard breaststroke and the 100-yard freestyle. Along with the personal best in the 50-yard freestyle Thursday, the senior swam the 100-yard breaststroke in a season-best 59.54 seconds Friday.
Grover said her performance was a great chance to prove to herself that she is not ready to move on from competitive swimming just yet.
"It was a really good learning meet," Grover said. "I plan on continuing to swim after this meet, so it wasn't my final swimming competition. Especially after getting surgery back in August, it was really nice to see what I was capable of in getting a PR."
The only Bruin diver at the event, junior Hannah Butler, competed in both the 1-meter and 3-meter diving competitions. Butler earned a score of 240.00 in the 1-meter. In the 3-meter dive, she finished 33rd overall with a score of 283.30.
Junior swimmer Gabby Dang competed in two events as well for UCLA, placing 65th overall in the 50-yard freestyle preliminaries and 38th in the 100-yard butterfly. Dang said her performance will help prepare her for next year as she begins her offseason.
"I felt a lot of confidence after competing, so I am excited for next season," Dang said. "There were some things to clean up, and I know what to fix now, so I am really excited about that."
Hallum is currently a contributor on the track & field and swim & dive beats.
Hallum is currently a contributor on the track & field and swim & dive beats.