Scouting report: UCLA gymnastics at Pac-12 championships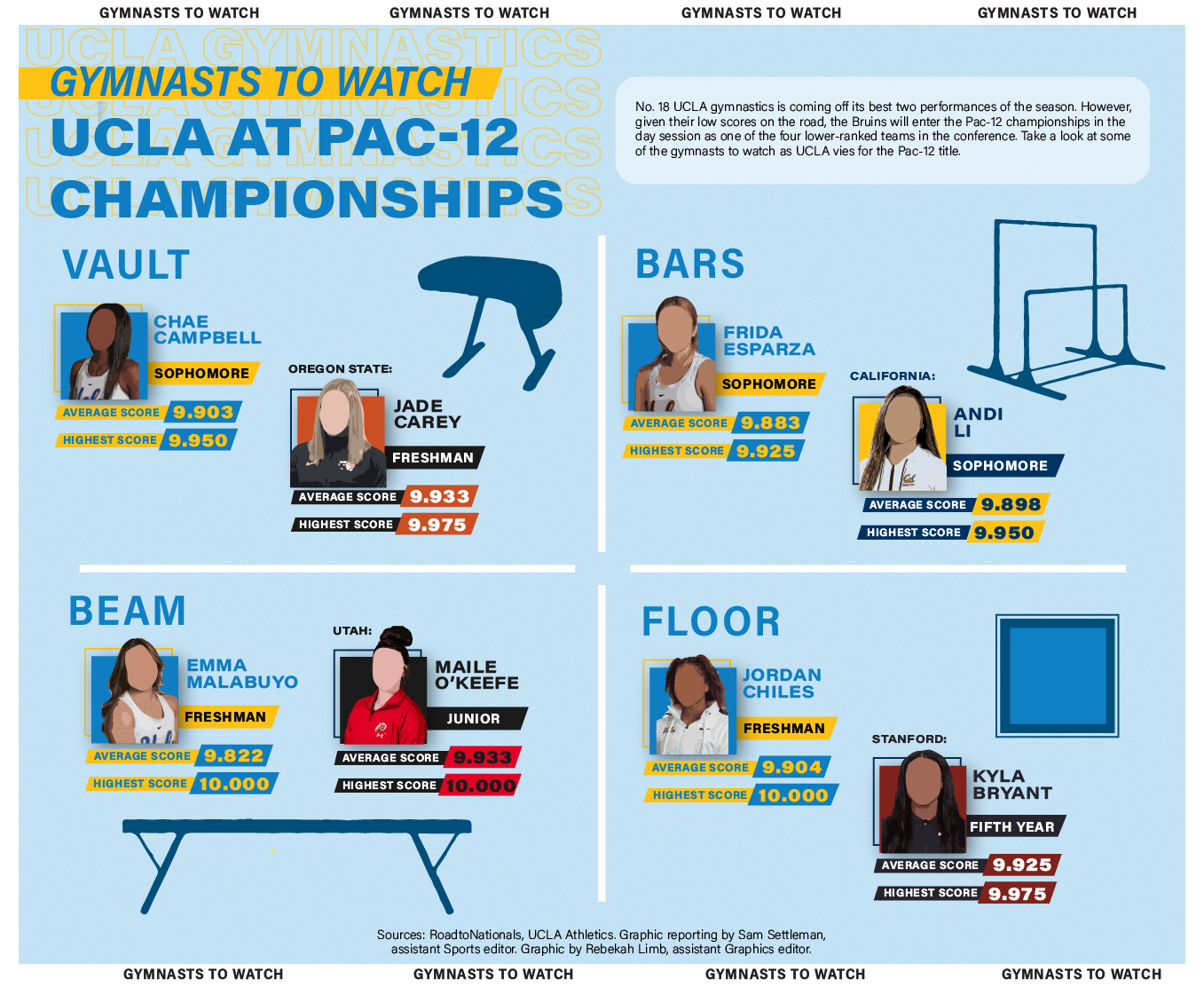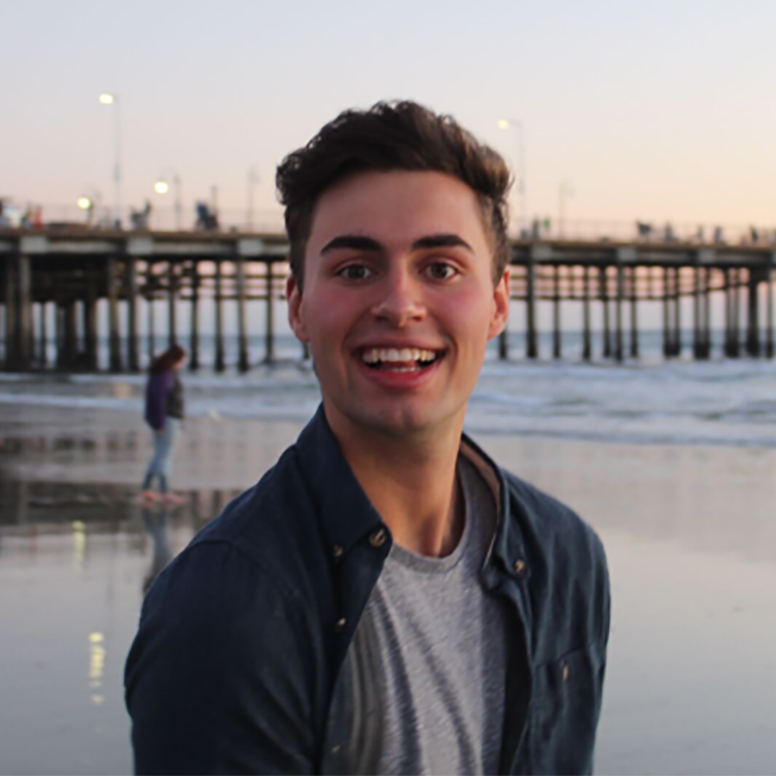 No. 18 UCLA gymnastics will head to unfamiliar territory when it competes in the morning session of the Pac-12 championships at the Maverik Center in Utah on Saturday. The blue and gold finished fifth in the conference, demoting it to a meet with Washington, Stanford and Arizona – none of which rank higher than 27th in the nation. The Bruins will be looking to secure the Pac-12 crown despite competing hours before top-10 teams California and Utah take the floor – and with two straight scores of 197.700 or higher, they might just be able to. Here is this week's scouting report from gymnastics reporter Nico Edgar – who is ecstatic about getting to host his gymnastics buddy Sam Settleman at his home in snowy Utah for the weekend.
UCLA
Strength: Floor
Weakness: Bars
X-Factor: Jordan Chiles
The Bruins have six perfect 10s this season. They've scored a 198.050 and have 25 scores of 9.900 or higher in their past two meets. Sophomore Chae Campbell is averaging a 39.667 in the all-around the last three weeks.
But there's one problem – most of this success has come at home.
If UCLA wants to have a chance at the Pac-12 title, the team needs to find a way to translate its success in Pauley Pavilion to the Maverik Center, where The Den won't be dancing with or high-fiving it on the sidelines.
The Bruins' away scores have been nothing short of disastrous this season with zero 197s, two 196s, a 195 and a 194. Needless to say, there is a reason this team ranks 18th, its lowest end of season ranking in at least two decades.
When things go awry outside of the blue and gold's home haven, lineups tend to spiral. Recall the team's 48.300 on bars in its season-opening meet in Minneapolis, or its 47.825 on bars in Tempe a month ago.
In four foreign arenas, the Bruins have counted 18 scores 9.750 or lower compared to eight such performances in five home meets. Freshman phenom Jordan Chiles – who owns half of UCLA's perfect 10s – is a microcosm of the Bruins' away struggles, averaging a 9.767 on routines on the road. At Pauley Pavilion, that number jumps to 9.878.
But why be so negative when this team has looked like a bonafide contender for a national championship spot these past two weeks?
UCLA has looked amazing in its past two meets, compiling its highest scores in back-to-back meets since 2019. Add in a 197.650 in a close defeat to Utah earlier this year, and the blue and gold have shown enough for me to confidently see them as a top-10 team despite its ranking.
Campbell looks like the next superstar for the Bruins, with six scores of 9.900 or higher since her first career perfect 10 three weeks ago. The sophomore's all-around scores have inched up in successive weeks, culminating in a career-high 39.725 all-around score against UC Davis in UCLA's last meet.
Few gymnasts have tallied a higher all-around score this season, including Chiles' 39.800 to prevent Cal from snatching the outright regular season Pac-12 title.
Even though the freshman has undeniably proved her ceiling, the Olympic silver medalist has fallen prey to mistakes in routines as she chases the most difficult skills possible, including an upgrade to a full-twisting double layout on floor in the Bruins' most recent meet.
Chiles hasn't scored in the 9.800 range in any of UCLA's past three meets – with eight scores 9.900 or higher and four scores lower than 9.800 – and registered a 9.750 on floor against Davis, her lowest of the season.
If Chiles manages to push the scores in the 9.700 range up a notch, her all-around scores should sit comfortably in the 39.600 range, making UCLA all the more dangerous at the championships.
I'd be remiss not to mention senior Norah Flatley, whose 39.663 average in the all-around in the past two weeks ranks second on the team. Flatley's 324.350 total points lead the team and she has a score of 9.900 or better on every event this season.
On beam, two freshmen will be key for the Bruins. Emma Malabuyo, who coach Chris Waller proclaimed a "beam queen," scored her first perfect 10 ever on the event against Davis and is averaging a 9.935 on the apparatus in her past five appearances. If fellow freshman Ana Padurariu gets her scores on beam back in the 9.900 range after three such scores in a row earlier this year, UCLA should be well on its way to dominating the morning session.
After presenting both the current state of the team and its struggles outside of Southern California, I feel quite confident in predicting a mid-197 score for the blue and gold. If everything breaks right, watch out Pac-12 crown. Let's not forget that the Bruins scored a 198.050 while counting a 9.550.
The rest of the field
Top team: Utah
Threats: Oregon State and California
No need to worry: Washington, Arizona and Stanford
Dark Horse: Arizona State
It's officially the postseason. That means we get to settle who rules the Pac-12 after a four-way tie for the regular-season title.
Because of matters of precision and word count, I'm going to ignore Washington, Arizona and Stanford here, since UCLA should have no problem winning the morning competition. Besides, that gives me more words to spend on Oregon State freshman Jade Carey.
So let's start with the No. 13-ranked Beavers, who have the lowest season-high score of any evening session team with a 197.375.
Carey has been the Pac-12 Freshman of the Week six times in her debut season and has scores of 9.975 or higher on all four events. The Olympic gold medalist on floor has yet to score below a 9.850 in her NCAA career and has just two scores lower than 9.900 in 36 routines. Add in three perfect 10s and you have perhaps the best debut season in the Pac-12 ever. Oh, and she paces the nation in the all-around with a 39.764 average.
Outside of Carey, only three other Oregon State gymnasts have scored a 9.950 or higher this year. The Beavers do rank 10th in the nation on vault, but the ceiling just isn't there for this team to make a serious run at the championship and compete with the likes of Utah and Cal.
Speaking of the No. 4-ranked Red Rocks, they come into the tournament as the favorite and even more scary than when UCLA went toe to toe with them in February. Since that head-to-head meet, Utah has two 198s under its belt along with a 197.950 and a 197.850.
After welcoming back Olympic alternate freshman Kara Eaker to their beam lineup, the Red Rocks reclaimed the top spot in the beam rankings nationally. Carey's Team USA teammate, freshman Grace McCallum, leads Utah with 423.025 total points and sits seventh in the nation in the all-around, while junior Maile O'Keefe and senior Cristal Isa rank fourth and sixth on beam, respectively.
Add in fifth year Sydney Soloski and her top-three ranking on floor, as well as freshman Sage Thompson's emergence as a bars specialist, and you have a deep team that may well run away with the title for the second-straight year.
However, Utah did fall to Cal earlier this season, and the Golden Bears are headed to the Pac-12 championship after a season-high 197.900 against Iowa. Beam seems to be the charm for Pac-12 teams this year, as it also stands as Cal's best event.
The team ranks eighth on the apparatus, but just like with Oregon State, my worry here is the ceiling. Cal doesn't have a score higher than 9.950 this year and hadn't scored above 197.200 in any of its three meets leading up to the breakout performance last week.
One of the teams to take down the Golden Bears during that three-week lull was No. 14 Arizona State, which might be the hardest team to predict in this group.
Led by Canadian junior Hannah Scharf, the Sun Devils rank 11th in the nation on vault but have yet to eclipse a 49.350 on the event. Similar to Cal, no Arizona State gymnast has scored higher than a 9.950 on any event, and its season high of 197.800 seems like an anomaly at this point.
That performance came against the Bruins, but the Sun Devils have failed to reach the 197.500 threshold in any of their other meets and only have two rotations surpassing the 49.500 mark this season.
I see this competition going one of two ways. Either UCLA puts up a massive score in the early session, sending off an arms race between Cal, Utah and Arizona State to try and match it — or the Bruins falter, setting up Utah for an easy Pac-12 win as Cal comes in a distant second while Jade Carey's heroics guarantee Oregon State the bronze.
Edgar is currently a Sports staffer on the gymnastics beat. He was previously a contributor on the men's tennis beat.
Edgar is currently a Sports staffer on the gymnastics beat. He was previously a contributor on the men's tennis beat.